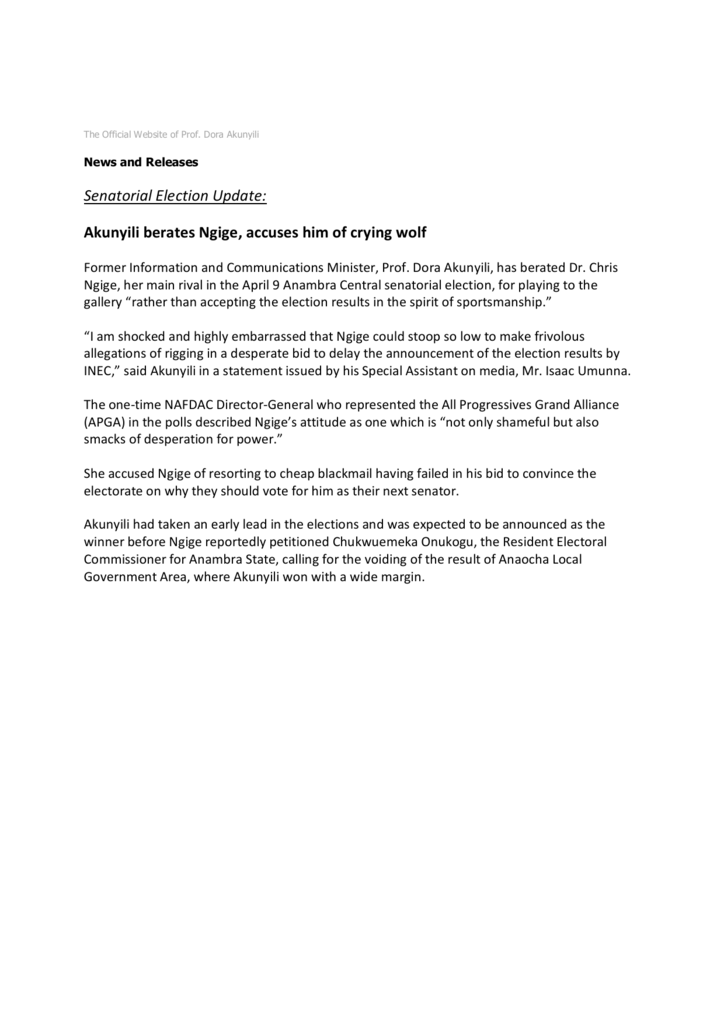 The Official Website of Prof. Dora Akunyili
News and Releases
Senatorial Election Update:
Akunyili berates Ngige, accuses him of crying wolf
Former Information and Communications Minister, Prof. Dora Akunyili, has berated Dr. Chris
Ngige, her main rival in the April 9 Anambra Central senatorial election, for playing to the
gallery "rather than accepting the election results in the spirit of sportsmanship."
"I am shocked and highly embarrassed that Ngige could stoop so low to make frivolous
allegations of rigging in a desperate bid to delay the announcement of the election results by
INEC," said Akunyili in a statement issued by his Special Assistant on media, Mr. Isaac Umunna.
The one-time NAFDAC Director-General who represented the All Progressives Grand Alliance
(APGA) in the polls described Ngige's attitude as one which is "not only shameful but also
smacks of desperation for power."
She accused Ngige of resorting to cheap blackmail having failed in his bid to convince the
electorate on why they should vote for him as their next senator.
Akunyili had taken an early lead in the elections and was expected to be announced as the
winner before Ngige reportedly petitioned Chukwuemeka Onukogu, the Resident Electoral
Commissioner for Anambra State, calling for the voiding of the result of Anaocha Local
Government Area, where Akunyili won with a wide margin.