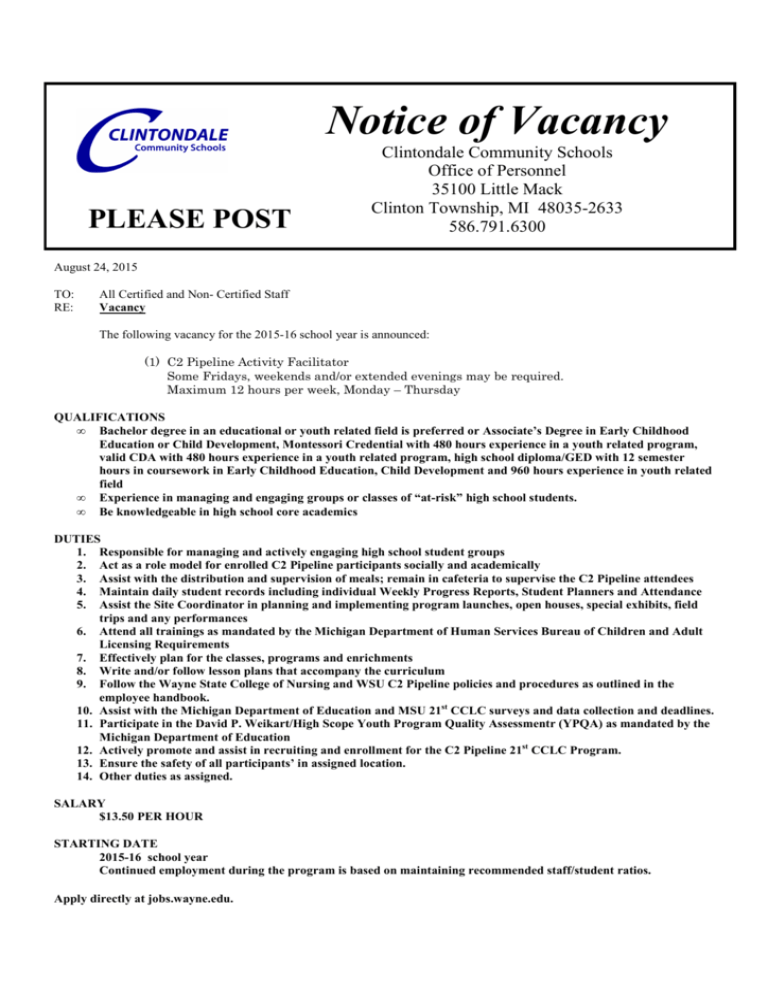 Notice of Vacancy
PLEASE POST
Clintondale Community Schools
Office of Personnel
35100 Little Mack
Clinton Township, MI 48035-2633
586.791.6300
August 24, 2015
TO:
RE:
All Certified and Non- Certified Staff
Vacancy
The following vacancy for the 2015-16 school year is announced:
(1) C2 Pipeline Activity Facilitator
Some Fridays, weekends and/or extended evenings may be required.
Maximum 12 hours per week, Monday – Thursday
QUALIFICATIONS
• Bachelor degree in an educational or youth related field is preferred or Associate's Degree in Early Childhood
Education or Child Development, Montessori Credential with 480 hours experience in a youth related program,
valid CDA with 480 hours experience in a youth related program, high school diploma/GED with 12 semester
hours in coursework in Early Childhood Education, Child Development and 960 hours experience in youth related
field
• Experience in managing and engaging groups or classes of "at-risk" high school students.
• Be knowledgeable in high school core academics
DUTIES
1. Responsible for managing and actively engaging high school student groups
2. Act as a role model for enrolled C2 Pipeline participants socially and academically
3. Assist with the distribution and supervision of meals; remain in cafeteria to supervise the C2 Pipeline attendees
4. Maintain daily student records including individual Weekly Progress Reports, Student Planners and Attendance
5. Assist the Site Coordinator in planning and implementing program launches, open houses, special exhibits, field
trips and any performances
6. Attend all trainings as mandated by the Michigan Department of Human Services Bureau of Children and Adult
Licensing Requirements
7. Effectively plan for the classes, programs and enrichments
8. Write and/or follow lesson plans that accompany the curriculum
9. Follow the Wayne State College of Nursing and WSU C2 Pipeline policies and procedures as outlined in the
employee handbook.
10. Assist with the Michigan Department of Education and MSU 21st CCLC surveys and data collection and deadlines.
11. Participate in the David P. Weikart/High Scope Youth Program Quality Assessmentr (YPQA) as mandated by the
Michigan Department of Education
12. Actively promote and assist in recruiting and enrollment for the C2 Pipeline 21st CCLC Program.
13. Ensure the safety of all participants' in assigned location.
14. Other duties as assigned.
SALARY
$13.50 PER HOUR
STARTING DATE
2015-16 school year
Continued employment during the program is based on maintaining recommended staff/student ratios.
Apply directly at jobs.wayne.edu.