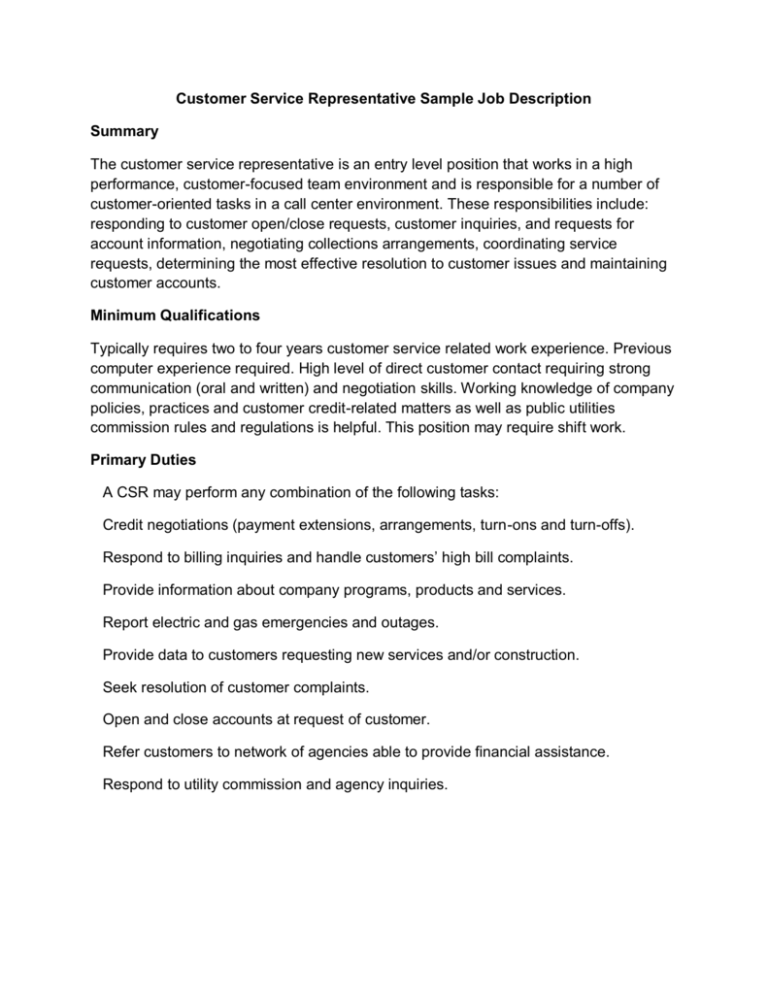 Customer Service Representative Sample Job Description
Summary
The customer service representative is an entry level position that works in a high
performance, customer-focused team environment and is responsible for a number of
customer-oriented tasks in a call center environment. These responsibilities include:
responding to customer open/close requests, customer inquiries, and requests for
account information, negotiating collections arrangements, coordinating service
requests, determining the most effective resolution to customer issues and maintaining
customer accounts.
Minimum Qualifications
Typically requires two to four years customer service related work experience. Previous
computer experience required. High level of direct customer contact requiring strong
communication (oral and written) and negotiation skills. Working knowledge of company
policies, practices and customer credit-related matters as well as public utilities
commission rules and regulations is helpful. This position may require shift work.
Primary Duties
A CSR may perform any combination of the following tasks:
Credit negotiations (payment extensions, arrangements, turn-ons and turn-offs).
Respond to billing inquiries and handle customers' high bill complaints.
Provide information about company programs, products and services.
Report electric and gas emergencies and outages.
Provide data to customers requesting new services and/or construction.
Seek resolution of customer complaints.
Open and close accounts at request of customer.
Refer customers to network of agencies able to provide financial assistance.
Respond to utility commission and agency inquiries.