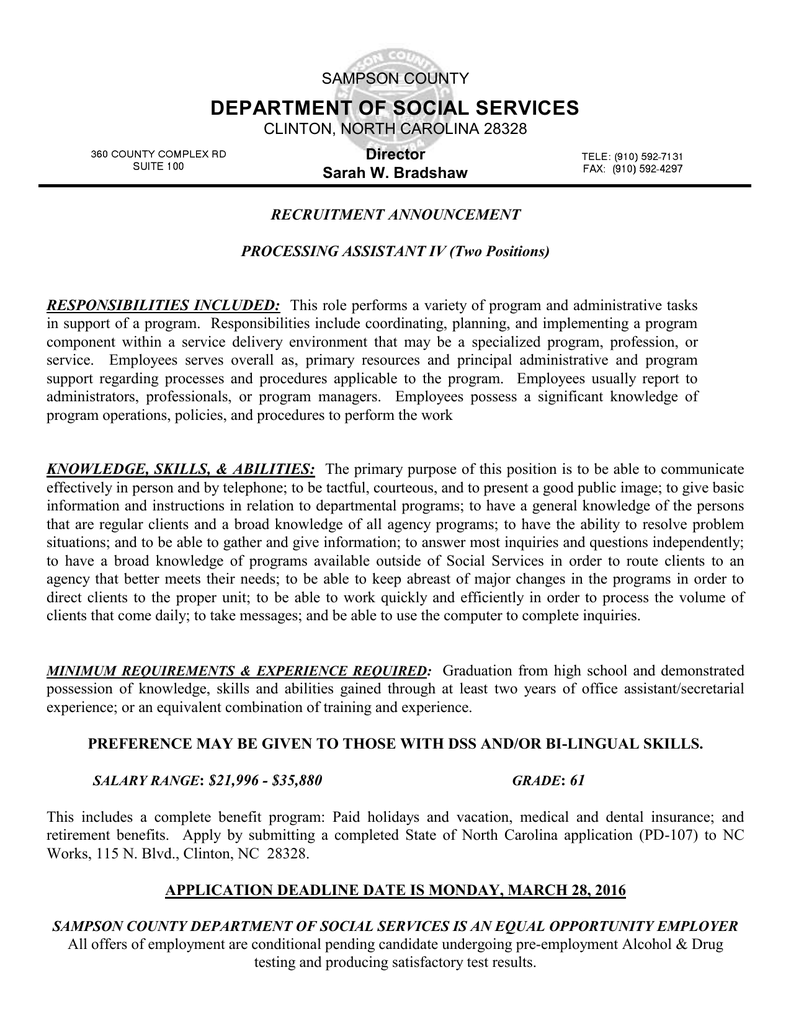 SAMPSON COUNTY
DEPARTMENT OF SOCIAL SERVICES
CLINTON, NORTH CAROLINA 28328
Director
Sarah W. Bradshaw
RECRUITMENT ANNOUNCEMENT
PROCESSING ASSISTANT IV (Two Positions)
RESPONSIBILITIES INCLUDED: This role performs a variety of program and administrative tasks
in support of a program. Responsibilities include coordinating, planning, and implementing a program
component within a service delivery environment that may be a specialized program, profession, or
service. Employees serves overall as, primary resources and principal administrative and program
support regarding processes and procedures applicable to the program. Employees usually report to
administrators, professionals, or program managers. Employees possess a significant knowledge of
program operations, policies, and procedures to perform the work
KNOWLEDGE, SKILLS, & ABILITIES: The primary purpose of this position is to be able to communicate
effectively in person and by telephone; to be tactful, courteous, and to present a good public image; to give basic
information and instructions in relation to departmental programs; to have a general knowledge of the persons
that are regular clients and a broad knowledge of all agency programs; to have the ability to resolve problem
situations; and to be able to gather and give information; to answer most inquiries and questions independently;
to have a broad knowledge of programs available outside of Social Services in order to route clients to an
agency that better meets their needs; to be able to keep abreast of major changes in the programs in order to
direct clients to the proper unit; to be able to work quickly and efficiently in order to process the volume of
clients that come daily; to take messages; and be able to use the computer to complete inquiries.
MINIMUM REQUIREMENTS & EXPERIENCE REQUIRED: Graduation from high school and demonstrated
possession of knowledge, skills and abilities gained through at least two years of office assistant/secretarial
experience; or an equivalent combination of training and experience.
PREFERENCE MAY BE GIVEN TO THOSE WITH DSS AND/OR BI-LINGUAL SKILLS.
SALARY RANGE: $21,996 - $35,880
GRADE: 61
This includes a complete benefit program: Paid holidays and vacation, medical and dental insurance; and
retirement benefits. Apply by submitting a completed State of North Carolina application (PD-107) to NC
Works, 115 N. Blvd., Clinton, NC 28328.
APPLICATION DEADLINE DATE IS MONDAY, MARCH 28, 2016
SAMPSON COUNTY DEPARTMENT OF SOCIAL SERVICES IS AN EQUAL OPPORTUNITY EMPLOYER
All offers of employment are conditional pending candidate undergoing pre-employment Alcohol & Drug
testing and producing satisfactory test results.