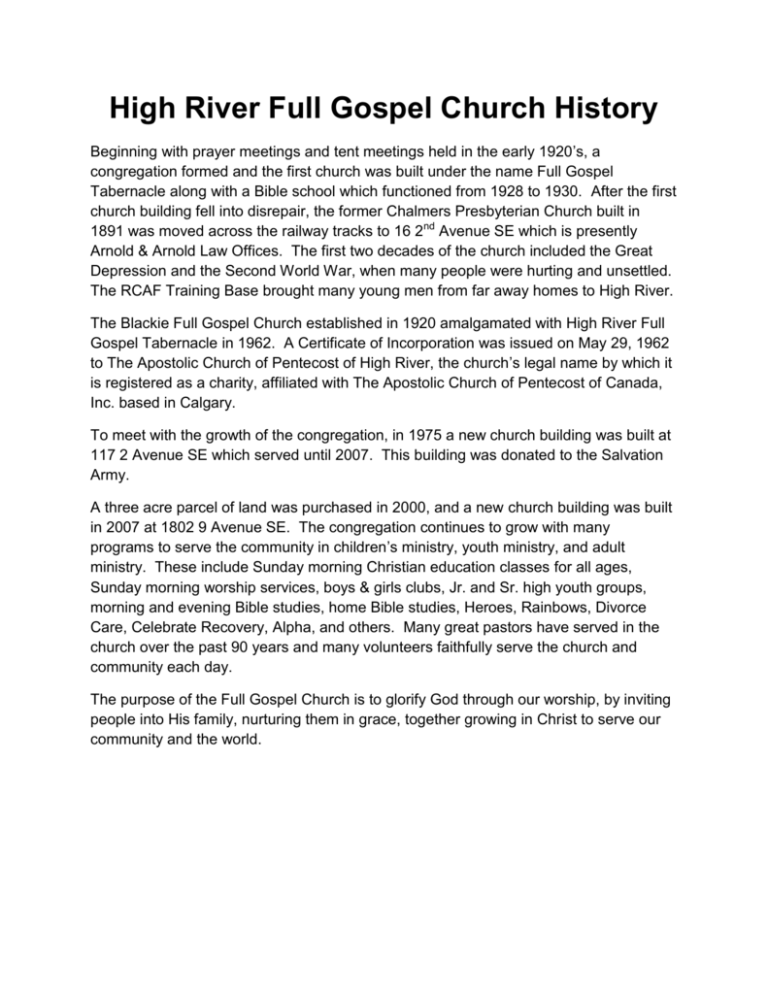 High River Full Gospel Church History
Beginning with prayer meetings and tent meetings held in the early 1920's, a
congregation formed and the first church was built under the name Full Gospel
Tabernacle along with a Bible school which functioned from 1928 to 1930. After the first
church building fell into disrepair, the former Chalmers Presbyterian Church built in
1891 was moved across the railway tracks to 16 2nd Avenue SE which is presently
Arnold & Arnold Law Offices. The first two decades of the church included the Great
Depression and the Second World War, when many people were hurting and unsettled.
The RCAF Training Base brought many young men from far away homes to High River.
The Blackie Full Gospel Church established in 1920 amalgamated with High River Full
Gospel Tabernacle in 1962. A Certificate of Incorporation was issued on May 29, 1962
to The Apostolic Church of Pentecost of High River, the church's legal name by which it
is registered as a charity, affiliated with The Apostolic Church of Pentecost of Canada,
Inc. based in Calgary.
To meet with the growth of the congregation, in 1975 a new church building was built at
117 2 Avenue SE which served until 2007. This building was donated to the Salvation
Army.
A three acre parcel of land was purchased in 2000, and a new church building was built
in 2007 at 1802 9 Avenue SE. The congregation continues to grow with many
programs to serve the community in children's ministry, youth ministry, and adult
ministry. These include Sunday morning Christian education classes for all ages,
Sunday morning worship services, boys & girls clubs, Jr. and Sr. high youth groups,
morning and evening Bible studies, home Bible studies, Heroes, Rainbows, Divorce
Care, Celebrate Recovery, Alpha, and others. Many great pastors have served in the
church over the past 90 years and many volunteers faithfully serve the church and
community each day.
The purpose of the Full Gospel Church is to glorify God through our worship, by inviting
people into His family, nurturing them in grace, together growing in Christ to serve our
community and the world.