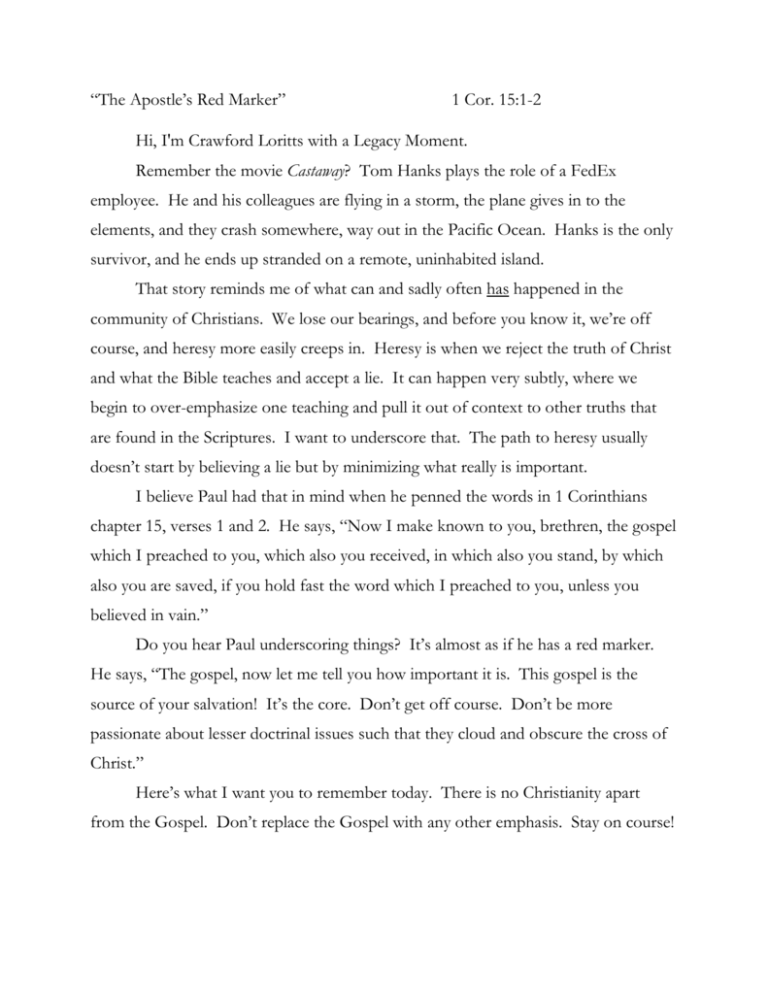 "The Apostle's Red Marker"
1 Cor. 15:1-2
Hi, I'm Crawford Loritts with a Legacy Moment.
Remember the movie Castaway? Tom Hanks plays the role of a FedEx
employee. He and his colleagues are flying in a storm, the plane gives in to the
elements, and they crash somewhere, way out in the Pacific Ocean. Hanks is the only
survivor, and he ends up stranded on a remote, uninhabited island.
That story reminds me of what can and sadly often has happened in the
community of Christians. We lose our bearings, and before you know it, we're off
course, and heresy more easily creeps in. Heresy is when we reject the truth of Christ
and what the Bible teaches and accept a lie. It can happen very subtly, where we
begin to over-emphasize one teaching and pull it out of context to other truths that
are found in the Scriptures. I want to underscore that. The path to heresy usually
doesn't start by believing a lie but by minimizing what really is important.
I believe Paul had that in mind when he penned the words in 1 Corinthians
chapter 15, verses 1 and 2. He says, "Now I make known to you, brethren, the gospel
which I preached to you, which also you received, in which also you stand, by which
also you are saved, if you hold fast the word which I preached to you, unless you
believed in vain."
Do you hear Paul underscoring things? It's almost as if he has a red marker.
He says, "The gospel, now let me tell you how important it is. This gospel is the
source of your salvation! It's the core. Don't get off course. Don't be more
passionate about lesser doctrinal issues such that they cloud and obscure the cross of
Christ."
Here's what I want you to remember today. There is no Christianity apart
from the Gospel. Don't replace the Gospel with any other emphasis. Stay on course!