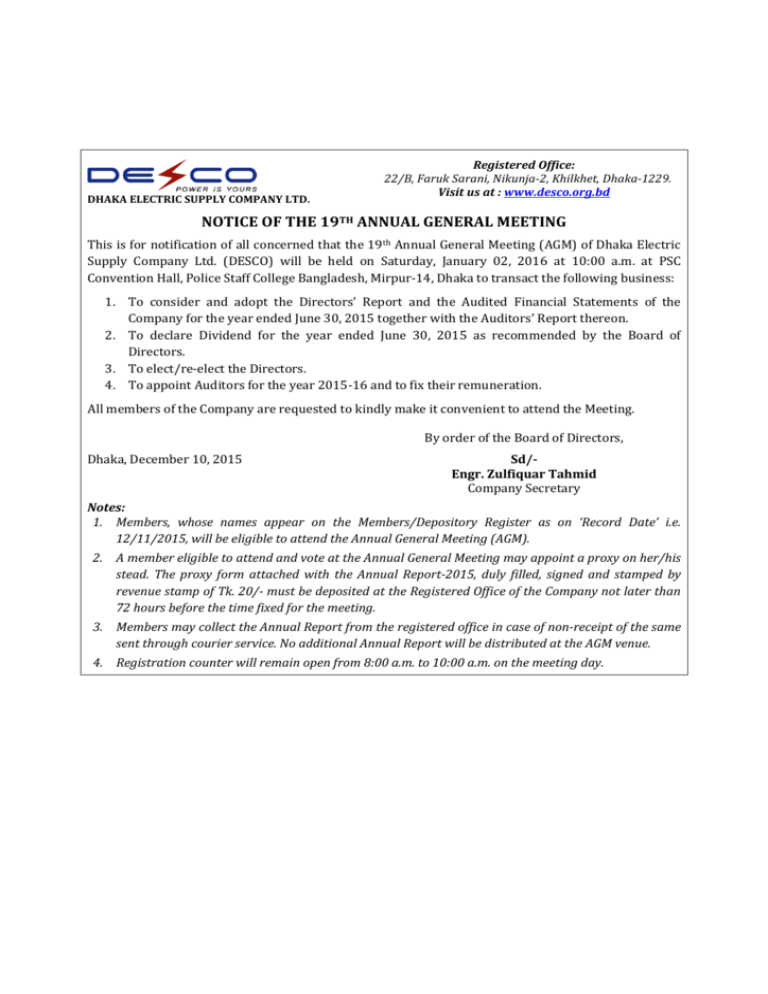 DHAKA ELECTRIC SUPPLY COMPANY LTD.
Registered Office:
22/B, Faruk Sarani, Nikunja-2, Khilkhet, Dhaka-1229.
Visit us at : www.desco.org.bd
NOTICE OF THE 19TH ANNUAL GENERAL MEETING
This is for notification of all concerned that the 19th Annual General Meeting (AGM) of Dhaka Electric
Supply Company Ltd. (DESCO) will be held on Saturday, January 02, 2016 at 10:00 a.m. at PSC
Convention Hall, Police Staff College Bangladesh, Mirpur-14, Dhaka to transact the following business:
1. To consider and adopt the Directors' Report and the Audited Financial Statements of the
Company for the year ended June 30, 2015 together with the Auditors' Report thereon.
2. To declare Dividend for the year ended June 30, 2015 as recommended by the Board of
Directors.
3. To elect/re-elect the Directors.
4. To appoint Auditors for the year 2015-16 and to fix their remuneration.
All members of the Company are requested to kindly make it convenient to attend the Meeting.
By order of the Board of Directors,
Dhaka, December 10, 2015
Sd/Engr. Zulfiquar Tahmid
Company Secretary
Notes:
1. Members, whose names appear on the Members/Depository Register as on 'Record Date' i.e.
12/11/2015, will be eligible to attend the Annual General Meeting (AGM).
2. A member eligible to attend and vote at the Annual General Meeting may appoint a proxy on her/his
stead. The proxy form attached with the Annual Report-2015, duly filled, signed and stamped by
revenue stamp of Tk. 20/- must be deposited at the Registered Office of the Company not later than
72 hours before the time fixed for the meeting.
3. Members may collect the Annual Report from the registered office in case of non-receipt of the same
sent through courier service. No additional Annual Report will be distributed at the AGM venue.
4. Registration counter will remain open from 8:00 a.m. to 10:00 a.m. on the meeting day.