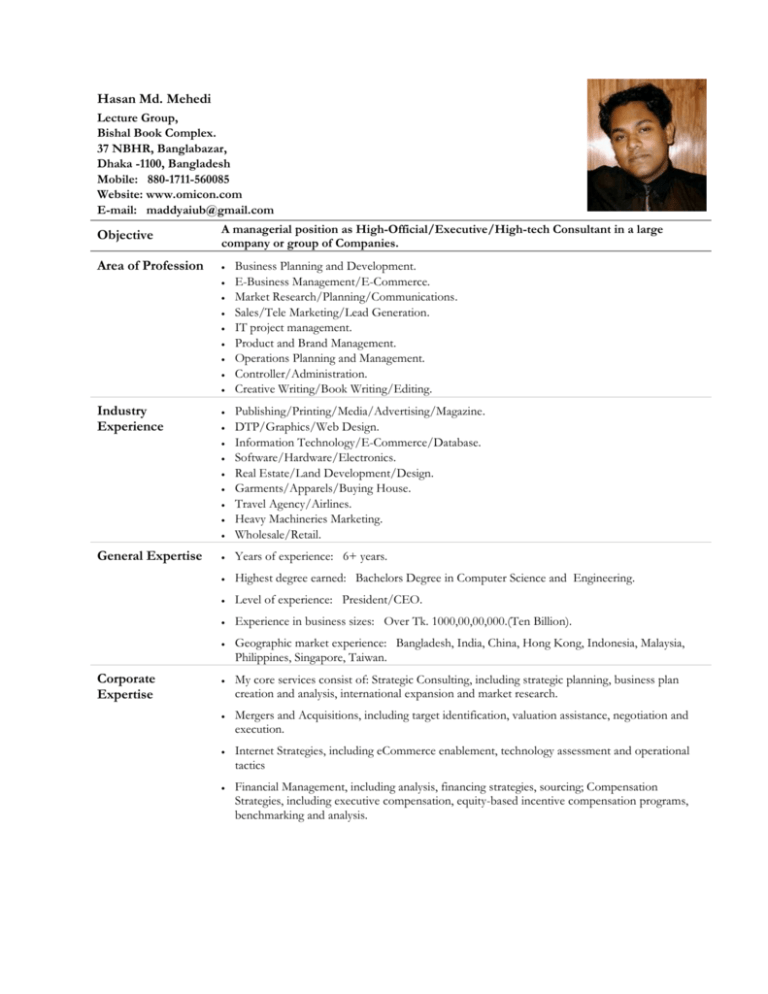 Hasan Md. Mehedi
Lecture Group,
Bishal Book Complex.
37 NBHR, Banglabazar,
Dhaka -1100, Bangladesh
Mobile: 880-1711-560085
Website: www.omicon.com
E-mail: maddyaiub@gmail.com
Objective
A managerial position as High-Official/Executive/High-tech Consultant in a large
company or group of Companies.
Area of Profession









Industry
Experience

Publishing/Printing/Media/Advertising/Magazine.
DTP/Graphics/Web Design.
Information Technology/E-Commerce/Database.
Software/Hardware/Electronics.
Real Estate/Land Development/Design.
Garments/Apparels/Buying House.
Travel Agency/Airlines.
Heavy Machineries Marketing.
Wholesale/Retail.

Years of experience: 6+ years.

Highest degree earned: Bachelors Degree in Computer Science and Engineering.

Level of experience: President/CEO.

Experience in business sizes: Over Tk. 1000,00,00,000.(Ten Billion).

Geographic market experience: Bangladesh, India, China, Hong Kong, Indonesia, Malaysia,
Philippines, Singapore, Taiwan.

My core services consist of: Strategic Consulting, including strategic planning, business plan
creation and analysis, international expansion and market research.

Mergers and Acquisitions, including target identification, valuation assistance, negotiation and
execution.

Internet Strategies, including eCommerce enablement, technology assessment and operational
tactics

Financial Management, including analysis, financing strategies, sourcing; Compensation
Strategies, including executive compensation, equity-based incentive compensation programs,
benchmarking and analysis.








General Expertise
Corporate
Expertise
Business Planning and Development.
E-Business Management/E-Commerce.
Market Research/Planning/Communications.
Sales/Tele Marketing/Lead Generation.
IT project management.
Product and Brand Management.
Operations Planning and Management.
Controller/Administration.
Creative Writing/Book Writing/Editing.
Project Expertise
General Profile

Created/managed strategic alliances and distribution partners across 12 categories and multiple
industries.

Initiated new product processes cross-functionally to achieve software product roll-out, launch,
marketing, partnering strategies on time.

Business Planning, strategy and product planning and expansion of product lines for one of the
countries largest Book Publishing company.

Implemented market research methodologies, demographics, consumer buying habits, trending
patterns; focus groups; market feedback.

Evaluated business processes and practices company-wide, determining the most efficient
methods for marketing, engineering, administrative success.

Managed high-end online matching service.

Conceived marketing messaging to successfully label software product as industry standard.

Identified and secured strategic relationships.

Created & communicated business, product definition, positioning, competitive landscape to
Board of Directors, key industry influencers, advisors, employees.

Strong technology and media company contacts.

Authored 10+ product/Business Plan and more than 15 marketing plan.

Implemented matrix management, competitive analysis, promotions, product acquisition and
sell-off.

Cultivated industry analysts, managed PR company and consultants.

Created/secured Board of Advisors. (Current advisory board member for Land Development
company)

Managed marketing, engineering, product, art department, writers, user interface team members
cross-divisionally and internationally.

Created 3rd party developers association - online and offline. Grew association from 0 - 2000+
paying members.

Served as a lead role in product design, graphics, web, software design & development, project
management, marketing and customer service plan in some largest and renowned companies.

Extensive background in Printing-Packaging and Information Technology.

Experienced as IT Director in a 100% Export Oriented Garments in Dhaka.

Experienced as IT Admin and Project Manager in a foreign related Buying House in Dhaka.

Hand on Experienced background in human resources, training, safety, operations, consumer
affairs, Marketing and Software Project Management.

Versatile and a quick learner.
Ability to direct complex projects from concept to fully operational status.
Extensive corporate, entrepreneurial, dynamic background.
Goal-oriented individual with strong leadership capabilities.
Organized, highly motivated, and detail-directed problem solver.
Proven ability to work in unison with staff, volunteers, and board of directors.
Excellent experience in developing and implementing a variety of corporate programs, including
those that must comply with corporate, state, bank, lawyer and government officials.
Tenacious in building new business, securing customer loyalty, and forging strong relationships
with external business partners.








Organizational Leadership, Team Building and Human Resource Development.
Core Competency
Technical Skills

Corporate Managerial Ability.

Strategic Development Techniques.

Vast Knowledge about business and entrepreneurship and

Real World Industry Experience.

E-Commerce/CMS/Portal/Web Applications.

Software Quality Testing & Auditing.

Enterprise Security.

Multimedia & Content Publishing.

Desktop publishing and Web design Adobe Photoshop, Illustrator, Premiere, Acrobat; Quark
Express; Corel Draw; Macromedia Flash, DreamWeaver, Freehand.

DHTML,GIF Animator, HTML, MS FrontPage, Ulead Products.

Excellent skill in web-based Content Management System Design including experience of
consulting, redesigning and configuring more than world leading 15 open source software with
internationally renowned software project managers.

Color, Black and white Photography with digital camera and media.

Excellent skill in Microsoft Office Package including Business Analysis with Spreadsheet.

Proficient in Web based software development including VB, C#, Java and PHP.

Extensive skill in configuring and operating popular operating systems including Dos, Linux,
BeOS, Windows XP and Windows Server 2003.

Proficient in understanding Business Case Analysis and Database Design with Oracle, MS-SQL
Server, MySQL.

Vast experienced in Developing and Managing ERP and E-Commerce Software project with
real time industrial experience.
Education
SSC, Science,1997, First Division*, Marks-848, A.k High School and College.
Academic
HSC, Science, 2000, First Division*, Marks-788, Dhaka College.
Pursuing B.Sc, Computer Engineering, (Last semester, Thesis and design project is going on), American
International University - Bangladesh.
Education
Pursued ACCP (2001), Aptech Certified Computer Professional
Vendor Based
Pursued MCSE (2002), Microsoft Certified System Administrator
Pursued CCNA (2003), Cisco Certified Network Administrator
Professional
Development
Courses
Persued Leadership Through Quality, Trained by a David Brandon Sales Professional.
Professional Manager Course, Briddhi institute for Professionals.
Co-ordination and Project Management, Charlie Hunter, President, Student life and Health
Department,Mount Allison University-Canda.
Employment
History
Chief Executive Officer, Corporate Planning, Implementing and IT
2002-present
Consultant
Lecture Publications, NBHR, Banglabazar, Dhaka
 Provided service as a Chief Executive to Achieve leadership place in highly
competitive market.



Re-structured corporate infrastructure and management to achieve goals.
Developed and managed a country's largest Book Publication
Management Software to maintain overall process with world class
publication management software features including ERP solution
with supporting Bengali.
Designed and Illustrated over corporate identity, posters and
marketing brochures and 300 books which are praised by customers
and clients and corporate management.

Created very effective production and marketing plan and helped to
achieve extensive profit margin within record time.

Now managing a project to build another ERP (Enterprise Resource
Planning) which could be compared to AXAPTA from Microsoft. It can
be used for virtually any kind of business including business intelligence.
It will be fully web based and dynamic. The features of the software can
be availed on request.
Consultant, IT and Corporate Marketing, Orion Group, Tejgaon, Dhaka



Working as a consultant to Managing Director in developing a ERP
for Orion Group's infrastructure management system(virtually
paperless) to maintain over 5000 employees in several companies of
the group
Consulting on managing 800 crore land business project including City
Center (The largest landmark in Bangladesh) and Jatrabari-Gulistan
flyover (Another historical and one of the largest construction project
in the country) management with software which will support Artificial
Intelligence and most futuristic features.
Created a Marketing Plan for Corporate Market to manage and sale
Consultant, IT and Strategic Business Plan, Ryans Computer, IDB
Bhaban, Agargaon, Dhaka



2005-Present
Worked as a consultant to Managing Director in developing a News
Archive Software and achieved the record profit margin and praised by
marketing it to the corporate sector including Prime Ministers Office,
Bangladesh Army, UNICEF and some corporate clients who became
clients of this Software.
Served as a consultant and lead planner to build a Movie Floor, which
became country's only one and the biggest Movie Shop. As a result
Ryans Computer now opened a business names "Home-Time" which
only sales all movies including some rare collection.
Created a Marketing Plan for Corporate Market to manage and sale
Computer and Electronics Accessories.
2002-Current
Consultant, Research and Development, Azad Products, Paltan, Dhaka
 Served as a consultant to the Director of Research and Development.
Created a product printing and packaging plan which was very effective and
helped to increase net profit by more than 25 percent.
IT Admin and Project Manager, MB Fashions Ltd., Mohakhali, DOHS
Dhaka
 Created new production program which included a MRP (Manufacturing
Resource Planning) and increased production accuracy and customer
satisfaction by 75%
2003-Current
2004(Part time)
Developed and managed an online order tracking system for tracking
shipments, LC, Banking Information and other programs related to orders.
Language
English and Bengali (Very Proficient in reading and writing both).
Tenacious in learning Japanese and French.
Community
Involvement
Bangladesh Book Publisher and Seller Association, Strategic Planning Committee.
Leadership and Business Management, Operation Manager.
Lalkuthi Business Club, Life Member.
Chamber of Commerce, Member.
AnZ Club, Member.
Privilege Club, Member .
Basis, Member.
Honors & Awards
Young Scholar, For achieving the high score which is unbeatable by none for ten years.
Young Business Entrepreneur, For developing new land development and software business.
Best Business Software Analyst, Praised by university authority for showing one of my
developed software in AIUB stall which broke other competitor's records at the SoftExpo 2004.