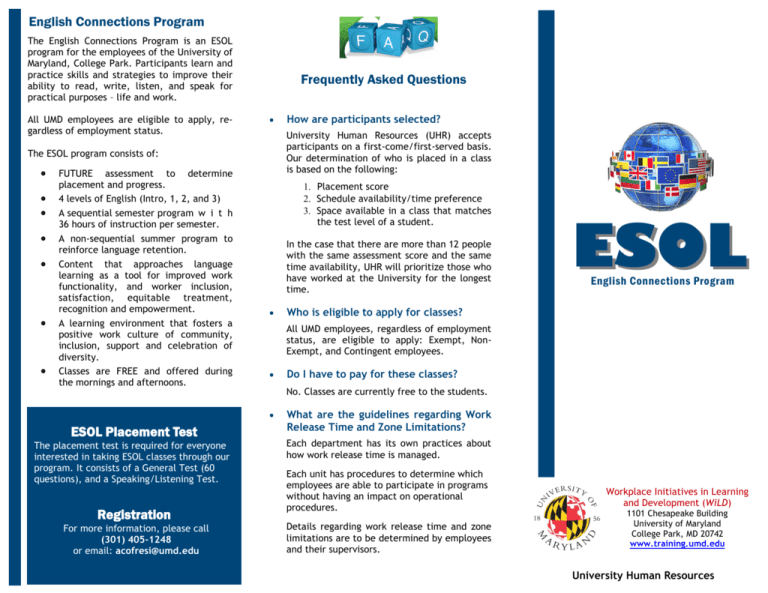 English Connections Program
The English Connections Program is an ESOL
program for the employees of the University of
Maryland, College Park. Participants learn and
practice skills and strategies to improve their
ability to read, write, listen, and speak for
practical purposes – life and work.
All UMD employees are eligible to apply, regardless of employment status.
Frequently Asked Questions

University Human Resources (UHR) accepts
participants on a first-come/first-served basis.
Our determination of who is placed in a class
is based on the following:
The ESOL program consists of:







FUTURE assessment to determine
placement and progress.
4 levels of English (Intro, 1, 2, and 3)
A sequential semester program w i t h
36 hours of instruction per semester.
A non-sequential summer program to
reinforce language retention.
Content that approaches language
learning as a tool for improved work
functionality, and worker inclusion,
satisfaction, equitable treatment,
recognition and empowerment.
A learning environment that fosters a
positive work culture of community,
inclusion, support and celebration of
diversity.
Classes are FREE and offered during
the mornings and afternoons.
 Placement score
 Schedule availability/time preference
 Space available in a class that matches
the test level of a student.
In the case that there are more than 12 people
with the same assessment score and the same
time availability, UHR will prioritize those who
have worked at the University for the longest
time.

ESOL Placement Test
Registration
For more information, please call
(301) 405-1248
or email: acofresi@umd.edu
ESOL
English Connections Program
Who is eligible to apply for classes?
All UMD employees, regardless of employment
status, are eligible to apply: Exempt, NonExempt, and Contingent employees.

Do I have to pay for these classes?
No. Classes are currently free to the students.

The placement test is required for everyone
interested in taking ESOL classes through our
program. It consists of a General Test (60
questions), and a Speaking/Listening Test.
How are participants selected?
What are the guidelines regarding Work
Release Time and Zone Limitations?
Each department has its own practices about
how work release time is managed.
Each unit has procedures to determine which
employees are able to participate in programs
without having an impact on operational
procedures.
Details regarding work release time and zone
limitations are to be determined by employees
and their supervisors.
Workplace Initiatives in Learning
and Development (WiLD)
1101 Chesapeake Building
University of Maryland
College Park, MD 20742
www.training.umd.edu
University Human Resources
Program Description
Course Materials
The goal of the English Connections Program
(ESOL) is to provide English language learning
opportunities to employees so that they are
better able to:
 Communicate with supervisors and
coworkers.
 Understand and follow general work-related
tasks, guidelines and procedures.
 Express ideas and opinions, provide feedback
and make requests.
 Communicate and connect with the larger
campus community and access campus
resources.
 Engage with faculty, staff and students.
 Participate in campus activities, events
and decisions.
Future is an engaging four (4) level adult English
language course. It serves students' real-life
needs by addressing what is most critical to the
students' success in their personal and family
lives, in the workplace, their academic pursuits,
and as members of the community.
Courses Offered
The course levels offered each year are determined
by applicants' placement scores, which correspond
with the standard Future ESOL levels:




Intro
Level 1
Level 2
Level 3
Due to the number of instructional hours needed to
complete a proficiency level, each level has been
split into two (2) sections, one per semester.
Each class meets twice a week (1.5 hours per day,
for a total of 3 hours per week), on Mondays and
Wednesdays - or- Tuesdays and Thursdays.
Commitment
Participants MUST devote their time twice each
week for the entire semester. To remain in
good standing in the program, they must:
 attend each ESOL class.
 arrive on time.
 remain for the entire class and semester.
In the event that participants are scheduled
to be off or are on leave on the day of class,
notice must be provided in advance (except in
cases of emergency).
Future: English for Results provides outstanding
coverage of life skills competencies. It bases
language teaching on actual situations students
are likely to encounter and equips them with the
skills they need to achieve their goals.
The student books are provided to participants
with an interactive Practice Plus CD-ROM that
enables them to persist by providing multiple
pathways to learning.
In order to accommodate work schedules, classes
are offered during mornings and afternoons. The
timings for the classes (at different levels) are:

9:00am - 10:30am
 11:00am - 12:30pm

1:30pm - 3:00pm
Summer Courses
Assessment
ESOL summer classes are available but do not
follow the sequence. They last 10 weeks
(June-August) and focus on English language
retention as well as reinforcement of skills
taught during the academic year.
Participants' progress is determined by Future
test scores and assessment tools/quizzes, their
ability to perform classroom tasks, and teacher
assignments. At the end of the semester, teachers
submit a written assessment of their students'
progress to University Human Resources (UHR).