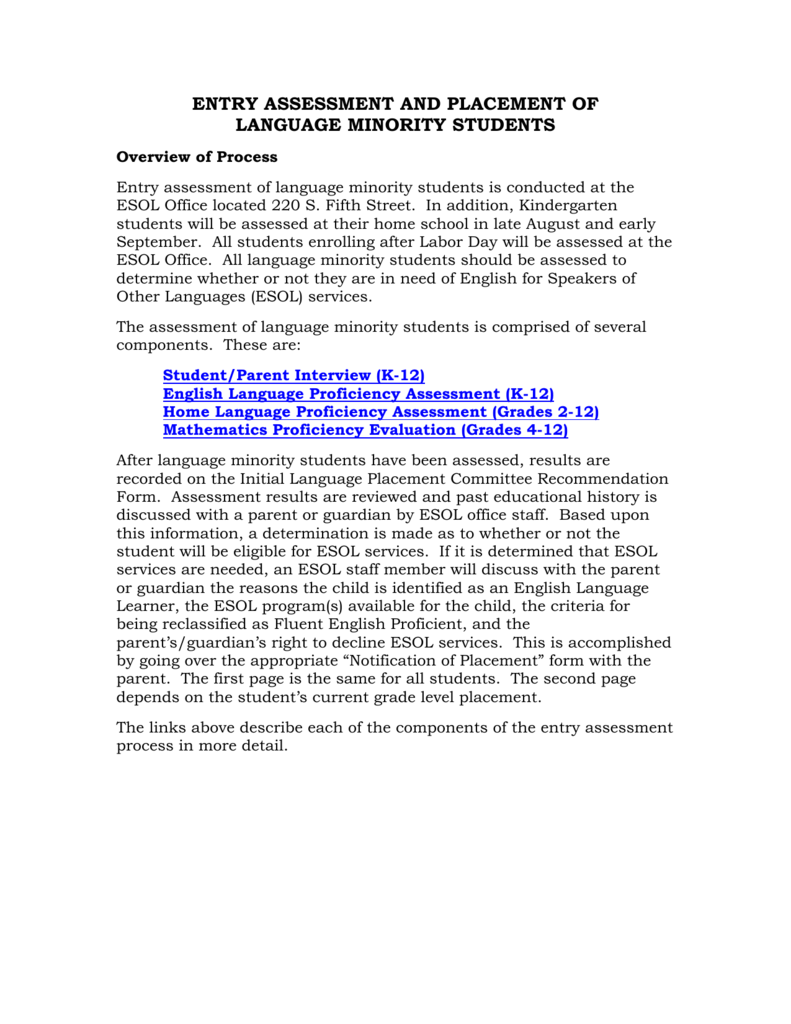 ENTRY ASSESSMENT AND PLACEMENT OF
LANGUAGE MINORITY STUDENTS
Overview of Process
Entry assessment of language minority students is conducted at the
ESOL Office located 220 S. Fifth Street. In addition, Kindergarten
students will be assessed at their home school in late August and early
September. All students enrolling after Labor Day will be assessed at the
ESOL Office. All language minority students should be assessed to
determine whether or not they are in need of English for Speakers of
Other Languages (ESOL) services.
The assessment of language minority students is comprised of several
components. These are:
Student/Parent Interview (K-12)
English Language Proficiency Assessment (K-12)
Home Language Proficiency Assessment (Grades 2-12)
Mathematics Proficiency Evaluation (Grades 4-12)
After language minority students have been assessed, results are
recorded on the Initial Language Placement Committee Recommendation
Form. Assessment results are reviewed and past educational history is
discussed with a parent or guardian by ESOL office staff. Based upon
this information, a determination is made as to whether or not the
student will be eligible for ESOL services. If it is determined that ESOL
services are needed, an ESOL staff member will discuss with the parent
or guardian the reasons the child is identified as an English Language
Learner, the ESOL program(s) available for the child, the criteria for
being reclassified as Fluent English Proficient, and the
parent's/guardian's right to decline ESOL services. This is accomplished
by going over the appropriate "Notification of Placement" form with the
parent. The first page is the same for all students. The second page
depends on the student's current grade level placement.
The links above describe each of the components of the entry assessment
process in more detail.