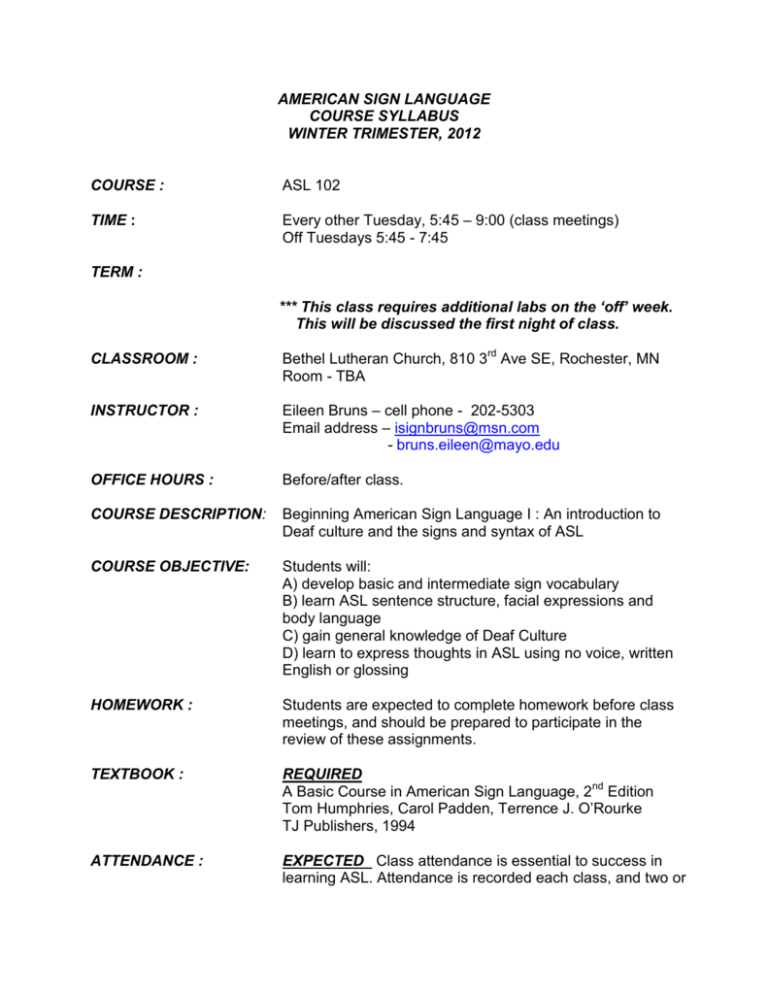 AMERICAN SIGN LANGUAGE
COURSE SYLLABUS
WINTER TRIMESTER, 2012
COURSE :
ASL 102
TIME :
Every other Tuesday, 5:45 – 9:00 (class meetings)
Off Tuesdays 5:45 - 7:45
TERM :
*** This class requires additional labs on the 'off' week.
This will be discussed the first night of class.
CLASSROOM :
Bethel Lutheran Church, 810 3rd Ave SE, Rochester, MN
Room - TBA
INSTRUCTOR :
Eileen Bruns – cell phone - 202-5303
Email address – isignbruns@msn.com
- bruns.eileen@mayo.edu
OFFICE HOURS :
Before/after class.
COURSE DESCRIPTION:
Beginning American Sign Language I : An introduction to
Deaf culture and the signs and syntax of ASL
COURSE OBJECTIVE:
Students will:
A) develop basic and intermediate sign vocabulary
B) learn ASL sentence structure, facial expressions and
body language
C) gain general knowledge of Deaf Culture
D) learn to express thoughts in ASL using no voice, written
English or glossing
HOMEWORK :
Students are expected to complete homework before class
meetings, and should be prepared to participate in the
review of these assignments.
TEXTBOOK :
REQUIRED
A Basic Course in American Sign Language, 2nd Edition
Tom Humphries, Carol Padden, Terrence J. O'Rourke
TJ Publishers, 1994
ATTENDANCE :
EXPECTED Class attendance is essential to success in
learning ASL. Attendance is recorded each class, and two or
more absences will result in a lower final grade.If an
absence cannot be avoided, please let the instructor know in
advance in order to obtain an excused absence. An extra
credit assignment may be given.
EVALUATION METHOD :
Standard methods of evaluation will be used such as
quizzes, assignments and a final exam. Students will also be
graded on sign production and participation in discussions.
Students may earn up to 10 points of extra credit when approved!
GRADING SCALE
A = 100 to 90
B= 89 to 80
C= 79 to 70
D= 69 to 60
F= 59 and below
ASSIGNMENT FOR FIRST CLASS ON
Students should review all learned vocabulary and concepts and be prepared work in
groups practicing what they have learned.