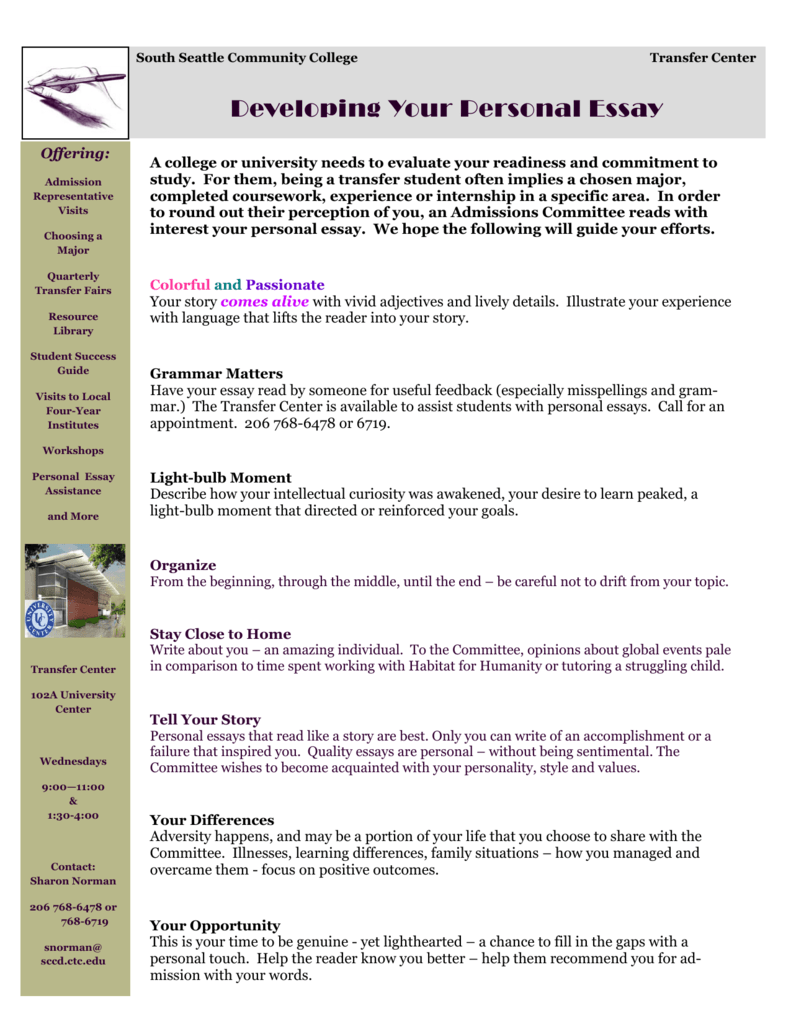 South Seattle Community College
Transfer Center
Developing Your Personal Essay
Offering:
Admission
Representative
Visits
Choosing a
Major
Quarterly
Transfer Fairs
Resource
Library
Student Success
Guide
Visits to Local
Four-Year
Institutes
A college or university needs to evaluate your readiness and commitment to
study. For them, being a transfer student often implies a chosen major,
completed coursework, experience or internship in a specific area. In order
to round out their perception of you, an Admissions Committee reads with
interest your personal essay. We hope the following will guide your efforts.
Colorful and Passionate
Your story comes alive with vivid adjectives and lively details. Illustrate your experience
with language that lifts the reader into your story.
Grammar Matters
Have your essay read by someone for useful feedback (especially misspellings and grammar.) The Transfer Center is available to assist students with personal essays. Call for an
appointment. 206 768-6478 or 6719.
Workshops
Personal Essay
Assistance
and More
Light-bulb Moment
Describe how your intellectual curiosity was awakened, your desire to learn peaked, a
light-bulb moment that directed or reinforced your goals.
Organize
From the beginning, through the middle, until the end – be careful not to drift from your topic.
Transfer Center
102A University
Center
Wednesdays
9:00—11:00
&
1:30-4:00
Contact:
Sharon Norman
206 768-6478 or
768-6719
[email protected]
sccd.ctc.edu
Stay Close to Home
Write about you – an amazing individual. To the Committee, opinions about global events pale
in comparison to time spent working with Habitat for Humanity or tutoring a struggling child.
Tell Your Story
Personal essays that read like a story are best. Only you can write of an accomplishment or a
failure that inspired you. Quality essays are personal – without being sentimental. The
Committee wishes to become acquainted with your personality, style and values.
Your Differences
Adversity happens, and may be a portion of your life that you choose to share with the
Committee. Illnesses, learning differences, family situations – how you managed and
overcame them - focus on positive outcomes.
Your Opportunity
This is your time to be genuine - yet lighthearted – a chance to fill in the gaps with a
personal touch. Help the reader know you better – help them recommend you for admission with your words.