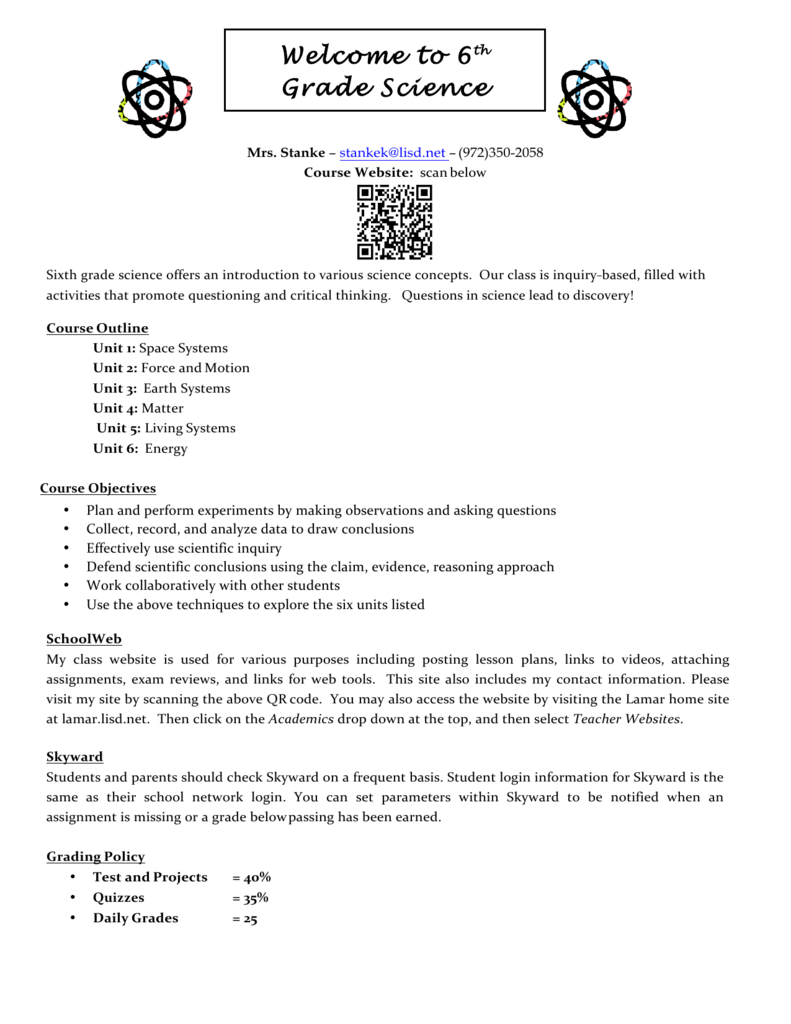 Welcome to 6 th
Grade Science
Mrs. Stanke – [email protected] – (972)350-2058
Course Website: scan below Sixth grade science offers an introduction to various science concepts. Our class is inquiry-­‐-­‐-­‐based, filled with activities that promote questioning and critical thinking. Questions in science lead to discovery! Course Outline Unit 1: Space Systems Unit 2: Force and Motion Unit 3: Earth Systems Unit 4: Matter Unit 5: Living Systems Unit 6: Energy Course Objectives Plan and perform experiments by making observations and asking questions Collect, record, and analyze data to draw conclusions Effectively use scientific inquiry Defend scientific conclusions using the claim, evidence, reasoning approach Work collaboratively with other students Use the above techniques to explore the six units listed SchoolWeb My class website is used for various purposes including posting lesson plans, links to videos, attaching assignments, exam reviews, and links for web tools. This site also includes my contact information. Please visit my site by scanning the above QR code. You may also access the website by visiting the Lamar home site at lamar.lisd.net. Then click on the Academics drop down at the top, and then select Teacher Websites. •
•
•
•
•
•
Skyward Students and parents should check Skyward on a frequent basis. Student login information for Skyward is the same as their school network login. You can set parameters within Skyward to be notified when an assignment is missing or a grade below passing has been earned. Grading Policy •
Test and Projects = 40% •
Quizzes = 35% •
Daily Grades = 25
Late Work An assignment is considered late if it's not turned in when asked for in class. You may turn the assignment in the following day for a maximum grade of 70% or two days later for a maximum grade of 50%. Assignments turned in three or more days late will be given a zero. Test Remediation If a student scores below a 70% on a test, he or she will have the opportunity to raise the grade to passing. Students must either retake the test or participate in a specified remediation process. Students will have approximately one week to improve this score. Timelines will be defined for students at the time they are assigned. Absent Work If a student misses school for any reason, it's his or her responsibility to collect absent work before school the morning he or she returns. See the absent basket for absent work. For each day absent, a student has one additional day to complete missed work. Tutoring Tutoring is a time for students to receive extra help, make corrections on tests and quizzes, or catch up on absent work. I will be available for tutoring every Tuesday and Thursday morning from 8:15-­‐8:40. Afternoon tutorials are available by appointment. Communication •
Email: Please feel free to contact me at any time with questions or concerns. My email address is [email protected] I can also be reached by voicemail (972-­‐350-­‐2058). I will return your call within 24 hours. •
Remind: This site/app allows me to text you important reminders for our class. My number and yours remain private. Reply texts are not allowed – it's just a tool for reminders. To subscribe to my updates, do the following: Regular science classes: Pre-­‐-­‐-­‐AP science classes: Text the code: @6sci2015 to 81010
Text the code: @6scipap to 81010
Behavior Management Plan Lamar Middle School teachers use a collaborative behavior management plan to foster a safe and successful learning environment. This plan includes a team approach, teaching expectations across all classes, tiered consequences for multiple behavior infractions, recognition and rewards for appropriate behavior and demonstrating good citizenship.