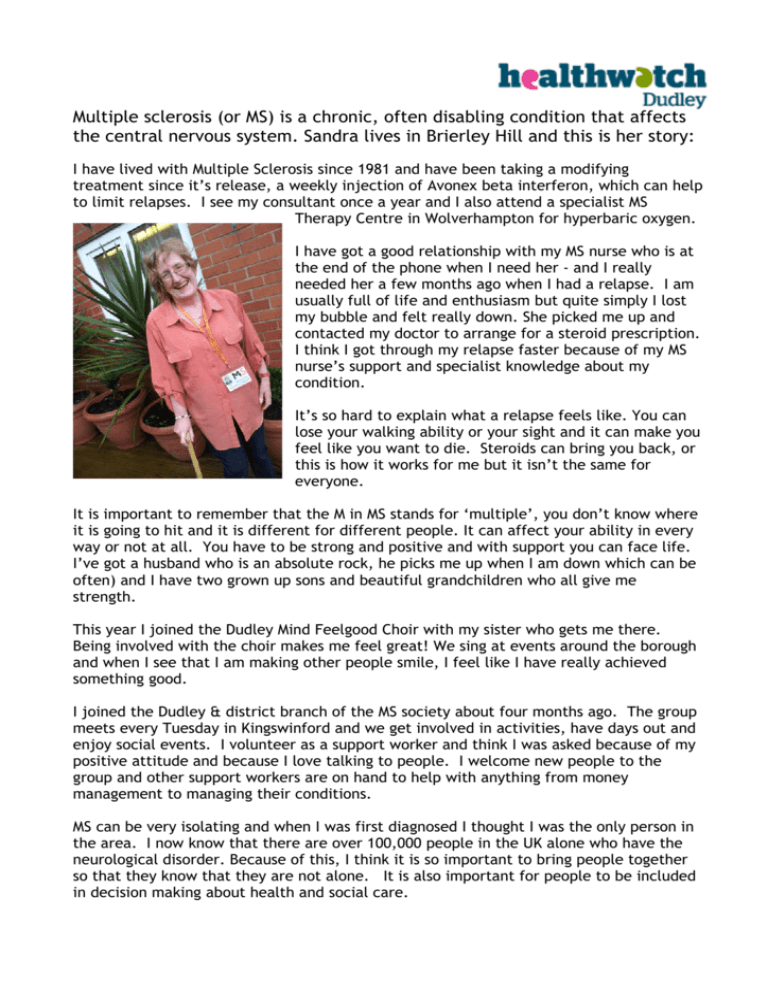 Multiple sclerosis (or MS) is a chronic, often disabling condition that affects
the central nervous system. Sandra lives in Brierley Hill and this is her story:
I have lived with Multiple Sclerosis since 1981 and have been taking a modifying
treatment since it's release, a weekly injection of Avonex beta interferon, which can help
to limit relapses. I see my consultant once a year and I also attend a specialist MS
Therapy Centre in Wolverhampton for hyperbaric oxygen.
I have got a good relationship with my MS nurse who is at
the end of the phone when I need her - and I really
needed her a few months ago when I had a relapse. I am
usually full of life and enthusiasm but quite simply I lost
my bubble and felt really down. She picked me up and
contacted my doctor to arrange for a steroid prescription.
I think I got through my relapse faster because of my MS
nurse's support and specialist knowledge about my
condition.
It's so hard to explain what a relapse feels like. You can
lose your walking ability or your sight and it can make you
feel like you want to die. Steroids can bring you back, or
this is how it works for me but it isn't the same for
everyone.
It is important to remember that the M in MS stands for 'multiple', you don't know where
it is going to hit and it is different for different people. It can affect your ability in every
way or not at all. You have to be strong and positive and with support you can face life.
I've got a husband who is an absolute rock, he picks me up when I am down which can be
often) and I have two grown up sons and beautiful grandchildren who all give me
strength.
This year I joined the Dudley Mind Feelgood Choir with my sister who gets me there.
Being involved with the choir makes me feel great! We sing at events around the borough
and when I see that I am making other people smile, I feel like I have really achieved
something good.
I joined the Dudley & district branch of the MS society about four months ago. The group
meets every Tuesday in Kingswinford and we get involved in activities, have days out and
enjoy social events. I volunteer as a support worker and think I was asked because of my
positive attitude and because I love talking to people. I welcome new people to the
group and other support workers are on hand to help with anything from money
management to managing their conditions.
MS can be very isolating and when I was first diagnosed I thought I was the only person in
the area. I now know that there are over 100,000 people in the UK alone who have the
neurological disorder. Because of this, I think it is so important to bring people together
so that they know that they are not alone. It is also important for people to be included
in decision making about health and social care.
Personally I'm not happy to just sit at home watching the television. I might not be able
to walk very far but I can listen and share my experiences to hopefully improve services
for other people like me and make a real difference. Abled bodied people making
decisions about services for disabled people without consulting them is simply an accident
waiting to happen. We need to be involved in all levels of decision making about our
health and wellbeing.
I was delighted when Healthwatch Dudley recently asked me to be part of a group to
review the Dudley Council adult social care annual report, to make sure that it is fair and
balanced. It felt fantastic to have the opportunity for my voice to be heard. Being
involved in this way keeps my mind proactive and I feel stronger and more alive.