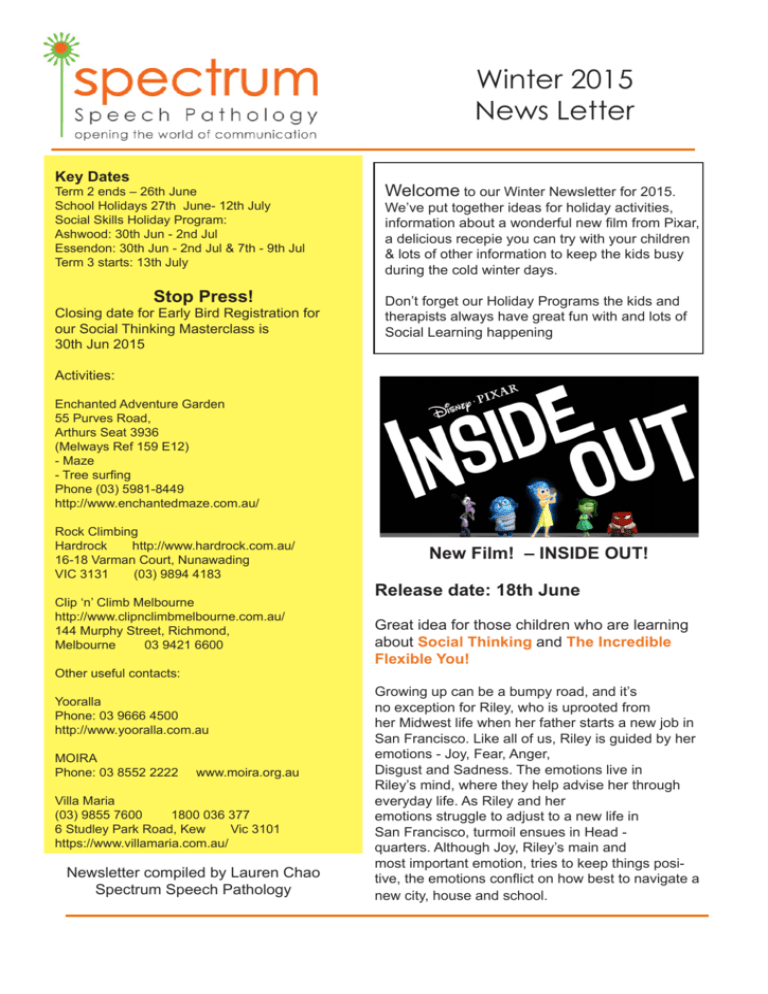 Winter 2015
News Letter
Key Dates
Term 2 ends – 26th June
School Holidays 27th June- 12th July
Social Skills Holiday Program:
Ashwood: 30th Jun - 2nd Jul
Essendon: 30th Jun - 2nd Jul & 7th - 9th Jul
Term 3 starts: 13th July
Stop Press!
Closing date for Early Bird Registration for
our Social Thinking Masterclass is
30th Jun 2015
Welcome to our Winter Newsletter for 2015.
We've put together ideas for holiday activities,
information about a wonderful new film from Pixar,
a delicious recepie you can try with your children
& lots of other information to keep the kids busy
during the cold winter days.
Don't forget our Holiday Programs the kids and
therapists always have great fun with and lots of
Social Learning happening
Activities:
Enchanted Adventure Garden
55 Purves Road,
Arthurs Seat 3936
(Melways Ref 159 E12)
- Maze
- Tree surfing
Phone (03) 5981-8449
http://www.enchantedmaze.com.au/
Rock Climbing
Hardrock
http://www.hardrock.com.au/
16-18 Varman Court, Nunawading
VIC 3131
(03) 9894 4183
Clip 'n' Climb Melbourne
http://www.clipnclimbmelbourne.com.au/
144 Murphy Street, Richmond,
Melbourne
03 9421 6600
Other useful contacts:
Yooralla
Phone: 03 9666 4500
http://www.yooralla.com.au
MOIRA
Phone: 03 8552 2222
www.moira.org.au
Villa Maria
(03) 9855 7600
1800 036 377
6 Studley Park Road, Kew
Vic 3101
https://www.villamaria.com.au/
Newsletter compiled by Lauren Chao
Spectrum Speech Pathology
New Film! – INSIDE OUT!
Release date: 18th June
Great idea for those children who are learning
about Social Thinking and The Incredible
Flexible You!
Growing up can be a bumpy road, and it's
no exception for Riley, who is uprooted from
her Midwest life when her father starts a new job in
San Francisco. Like all of us, Riley is guided by her
emotions - Joy, Fear, Anger,
Disgust and Sadness. The emotions live in
Riley's mind, where they help advise her through
everyday life. As Riley and her
emotions struggle to adjust to a new life in
San Francisco, turmoil ensues in Head quarters. Although Joy, Riley's main and
most important emotion, tries to keep things positive, the emotions conflict on how best to navigate a
new city, house and school.
Spectrum Speech Pathology
Winter 2015 News Letter
ASD friendly performances/activities:
Lion King Autism-Friendly Performance
Regent Theatre, Melbourne Saturday 8th August at 1:30pm
1300 889 278 www.lionkingautismfriendly.com.au
Family-friendly Winter holiday destination:
Paradise Resort Gold Coast
Paradise Resort Gold Coast is located just minutes walk from the heart of Surfers Paradise
- a family friendly resort that will ensure the kids holiday in Queensland will be one to remember. Where magical family holiday moments create lifelong family memories, Zagame's
Paradise Resort Gold Coast is Australia's only resort with a Waterpark, Ice-rink and Kids Club
all under one roof.
With 4 star facilities including an ice-skating rink, giant Z4K Waterpark, Zone 4 Kids club,
lagoon pool and spa, bistro, cafe and bar, and an unrivalled daily activity and entertainment
program - it's school holidays everyday! The whole family will find their perfect Queensland
holiday haven. For Gold Coast family accommodation close to beaches and theme parks,
where the kids will feel welcome,
Paradise Resort is the perfect family getaway.
http://www.paradiseresort.com.au/
Spectrum Speech Pathology
Winter 2015 News Letter
Michelle Garcia Winner is coming to Australiua
Spectrum's 10 Top Tips for making School Holidays successful:
- Call ahead – let them know your child has additional needs
- Plan the visit – travel time + time at the activity
- Choose a less busy time to go
- Make the session short. Let your child know how long you will be there.
- Read your social story before you go (if you have one)
- Use your visual schedule (if you have one) or just draw it out.
- Have a buddy system so your child doesn't get lost
- Pack snacks! (Food that your child will eat)
- Bring headphones, calm toolbox items (fiddle toys, squishy balls, oil timers), books
and other calming items that your child can access if they feel overwhelmed.
- Have an activity for your child to do whilst you are waiting in line.
- There can often be long queues during school holidays and waiting is hard for
all children!
Spectrum Speech Pathology
Winter 2015 News Letter
Social Thinking at Home – Change your thinking
The school holidays are a great time to practise "being flexible" and "changing your thinking," as the routine of school is taken away and school holiday activities don't always go to
plan!
Change your thinking- in play
Start with small achievable steps and provide specific praise to let your child know that
they are on the right track. Make sure that the beginning of the process is rooted in fun and
games e.g.:
•
•
Play games with lots of changes: Play quick games such as Simon Says, or Eye spy. Each time that you have finished a turn say, "Change your thinking, now we are
going to change actions/spy a different object"
Change the way a board game is played. Set up a game and play it normally at first.
Make sure your child understands the rules before changing it. Then say something like: "
Should we change our thinking and play it a different way?" It is important to intro
duce this phase so that children learn to check to see if it ok with peers to change
the rules, otherwise it can get them in trouble if they become too rigid about needing
to change everything! When it is agreed to change you can try:
o
o
o
o
o
Move backwards instead of forwards.
Change the rules so that the person at the end/in the middle wins.
Swap chairs and play the other persons piece.
Play the game with your feet instead of with your hands.
Make up your own ideas, see what your child can think of.
Spectrum Speech Pathology
Winter 2015 News Letter
• Change the use of a common object. Look around the house for a range of objects that can be
transformed. Begin to use them as they were intended then see if your child can "change their
thinking" and use it for a different purpose. You may need to help them at first, but try to give any
safe ideas a go to allow mistakes and creativity of thought. Some ideas could be:
o
o
o
o
Boxes can be used as; robots, ovens, shopping trolleys, beds, cars, trains, planes, space
ships, houses….
Underneath a trampoline can be used as a tent, a house, a quiet corner, a cave, the bat
cave…
Paper can be used to; draw/paint/glue on, collect stickers on, make into a basket and use
for a treasure hunt, make into paper chains, make into a pirate eye patch…
Bath time can be; an underwater adventure to find octopus/fish, a voyage to a shipwrecked
island, put glow in the dark stickers on the walls and make it an outer space adventure, use
the bath as a place for painting to contain the mess before washing it off….
Change your thinking –everyday
Once your child is understanding the concept of changing their thinking, and are getting used to
using the concept in play and fun situations, bring the concept into real life situations as well. Don't
stop with the fun version, this gives your child the confidence to tackle the more difficult requests.
Start with situations that your child is quite flexible in anyway, then gradually move towards more
challenging situations. Make sure you also describe when you, or others in their family are changing their thinking to demonstrate that this is a concept for everyone. Some everyday changing your
thinking examples are:
•
•
•
•
•
Changing routes. On the way home, to a destination, let your children know that the
expectations have changed. "Hey guys, we were going home, but we have to change our
thinking. We are going to the shops, and then home."
Changing routines. "Guess what, there is no swimming today, we will have to change our
thinking, let's cook some muffins instead."
No more of the favourite choice. "I can see that there is no more chocolate ice cream,
hmm we might need to change our thinking we could have yoghurt or strawberries?"
Your turn is finished. "I can see your turn is nearly finished on the iPad. We need to
change our thinking, should we play lego next or have a bath?"
Sharing. "Tommy has asked to use the toy next, let's get ready to change our thinking,
what are we going to play with next the train or the dinosaurs?"
NB. By offering two choices in more challenging situations you let your child retain a sense of
control around what happens next. It also gives them a clear understanding of what is next in the
schedule.
Spectrum Speech Pathology
Winter 2015 News Letter
Change your thinking at home - The Group Plan
•
Get your child to build an obstacle course/craft/scavenger hunt etc. with a peer or sibling.
Talk about how they need to first make a plan so that they know what to do e.g. first we go
up the ladder there, next we go down the slide, then we fill up a bucket with sand and the
finish line is the trampoline. Another option is to try making the obstacle course more
difficult by doing it with a bean bag on your head to add to the fun.
•
Have a picnic. Get your child to help organise what to bring. Ask: "what do we need for the
picnic, what is our plan?" Talk about the friendly words we can use with peers e.g.
"Can you get this, and I'll get this." Once you have made a plan see if your child sticks to
it. If they suddenly go into their room midway and start playing with their action figures
remind them gently with "Our plan was to bring the cups outside. Were action figures a
part of our plan?"
•
Have a dance/gymnastics performance. Work out the plan together before you begin
the routine. You may need to draw down the steps first so that everyone remembers them.
•
Relay race: Gather together easy to carry items from around the house e.g. a small bean
bag, small ball, broom etc. The plan is to carry all the objects from one side of the yard to
the other without using your hands. You can play this game where one person is doing the
carrying and then passing to the next person, or you can make it more difficult so that two
people are required to work together to hold the object up for the trip to the other side e.g.
between their hips, on their heads, or balanced on upper arms.
•
Make the 5 minute Chocolate Mug Cake! (see recipe attached). Work together to plan what
needs to be done first. Assign roles in the preparation process.
Most importantly, have fun!