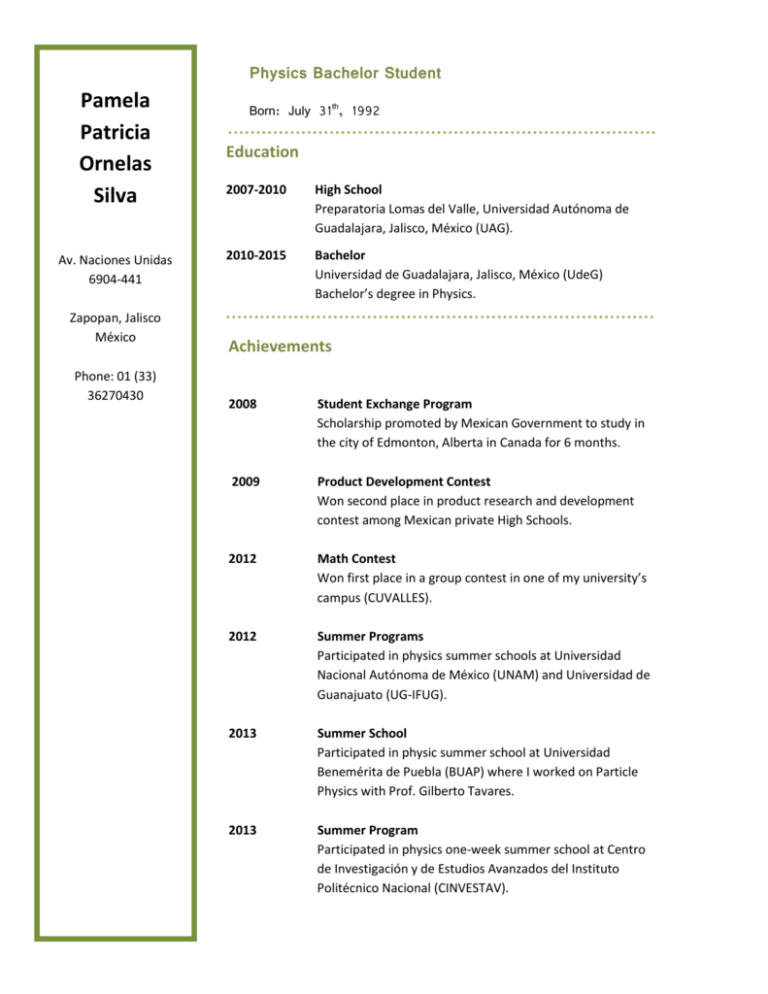 Physics Bachelor Student
Pamela
Patricia
Ornelas
Silva
Av. Naciones Unidas
6904-441
Zapopan, Jalisco
México
Phone: 01 (33)
36270430
Born: July 31th, 1992
Education
2007-2010
High School
Preparatoria Lomas del Valle, Universidad Autónoma de
Guadalajara, Jalisco, México (UAG).
2010-2015
Bachelor
Universidad de Guadalajara, Jalisco, México (UdeG)
Bachelor's degree in Physics.
Achievements
2008
Student Exchange Program
Scholarship promoted by Mexican Government to study in
the city of Edmonton, Alberta in Canada for 6 months.
2009
Product Development Contest
Won second place in product research and development
contest among Mexican private High Schools.
2012
Math Contest
Won first place in a group contest in one of my university's
campus (CUVALLES).
2012
Summer Programs
Participated in physics summer schools at Universidad
Nacional Autónoma de México (UNAM) and Universidad de
Guanajuato (UG-IFUG).
2013
Summer School
Participated in physic summer school at Universidad
Benemérita de Puebla (BUAP) where I worked on Particle
Physics with Prof. Gilberto Tavares.
2013
Summer Program
Participated in physics one-week summer school at Centro
de Investigación y de Estudios Avanzados del Instituto
Politécnico Nacional (CINVESTAV).
Achievements
2013
Student Exchange Program
Accepted by Kyoto University to study for one year under a scholarship
promoted by Japanese Government to learn about Japanese Culture and
perfect the language, as well as to take Physics courses.
Research Involvement
2011
Analysis of bacteria found in food
Unofficially helped in the analysis of bacteria found in food stands.
2012
Bioimpedance research
Summer physics program in Universidad de Guanajuato. Research on
improvement of signals and application of Fourier transform to data
obtained.
2012-2013
Participation in university's research
Student participation helping Dr. Gustavo Lopez Velázquez.
Work Experience
2009
Worked in food industry innovation center laboratory by helping in various
areas (from cleaning material to product development). CITSIA.
2012
Assistant in ceramic course in kids summer program (CIV-UAG).
2013-2014
During stay in Japan, worked as a Spanish and English teacher.
2010-2014
Private teacher on basic mathematics and physics.
Volunteer Experience
2012
Started participating in science divulgation project called "Physics Circus".
2012
Participation in the creation of Social Asociation "Estudiantes Mexicanos de
Ciencia" which seeks founds for science students with low economical
recourses.
Extracurricular Activities
Colomos Painting Course
Development of oil painting abilities and participation in two art galleries in
years 2010 and 2011.
Swimming
Non professional swimming as hobby sport.
Dancing
During my stay in Japan I was part of an award-winning Japanese style dancing
group called "Kyoen Sodefure Saikyou Senzen" .
Other Information
Languages
Spanish: High level.
French: Intermediate level.
Japanese: High-Intermediate level.
English: Advanced level.
 (2005) Cambridge English Test: Key (KET): Passed with merit.
 (2012) TOEFL IBT English Test: Scored 104/120 points.
Programming C++: Basic level.
Matlab: Intermediate level.
LaTex: Advanced level.