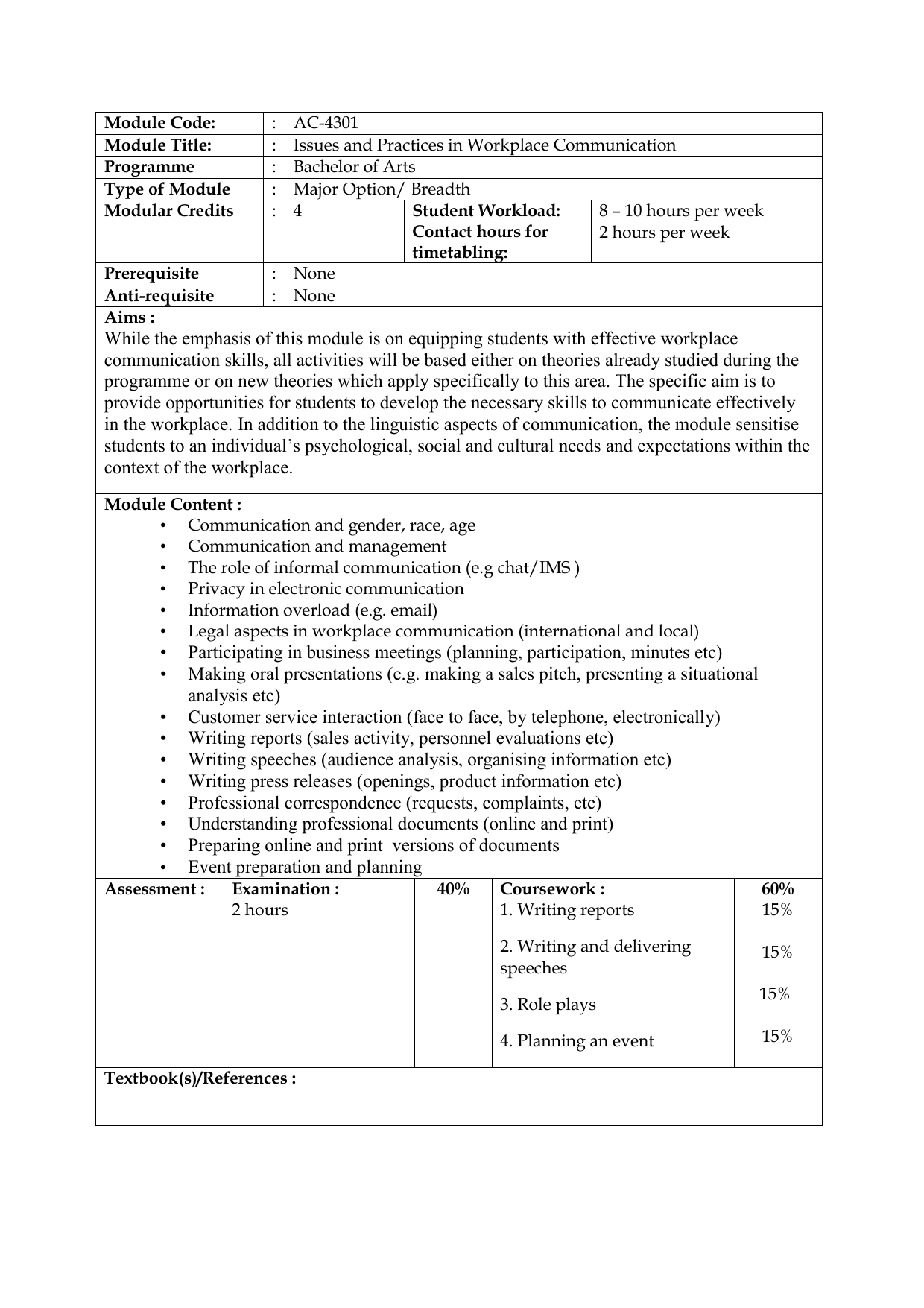 Module Code: Module Title: Programme Type of Module Modular Credits Prerequisite Anti-requisite Aims :
: AC-4301 : Issues and Practices in Workplace Communication : Bachelor of Arts : Major Option/ Breadth : 4
Student Workload: Contact hours for timetabling:
: None : None 8 – 10 hours per week 2 hours per week While the emphasis of this module is on equipping students with effective workplace communication skills, all activities will be based either on theories already studied during the programme or on new theories which apply specifically to this area. The specific aim is to provide opportunities for students to develop the necessary skills to communicate effectively in the workplace. In addition to the linguistic aspects of communication, the module sensitise students to an individual's psychological, social and cultural needs and expectations within the context of the workplace.
Module Content :
• Communication and gender, race, age • Communication and management • • • • The role of informal communication (e.g chat/IMS ) Privacy in electronic communication Information overload (e.g. email) Legal aspects in workplace communication (international and local) • Participating in business meetings (planning, participation, minutes etc) • Making oral presentations (e.g. making a sales pitch, presenting a situational • • • • • • • analysis etc) Customer service interaction (face to face, by telephone, electronically) Writing reports (sales activity, personnel evaluations etc) Writing speeches (audience analysis, organising information etc) Writing press releases (openings, product information etc) Professional correspondence (requests, complaints, etc) Understanding professional documents (online and print) Preparing online and print versions of documents • Event preparation and planning
Assessment : Examination :
2 hours
40% Coursework :
1. Writing reports 2. Writing and delivering speeches 3. Role plays 4. Planning an event
60%
15% 15% 15% 15%
Textbook(s)/References :