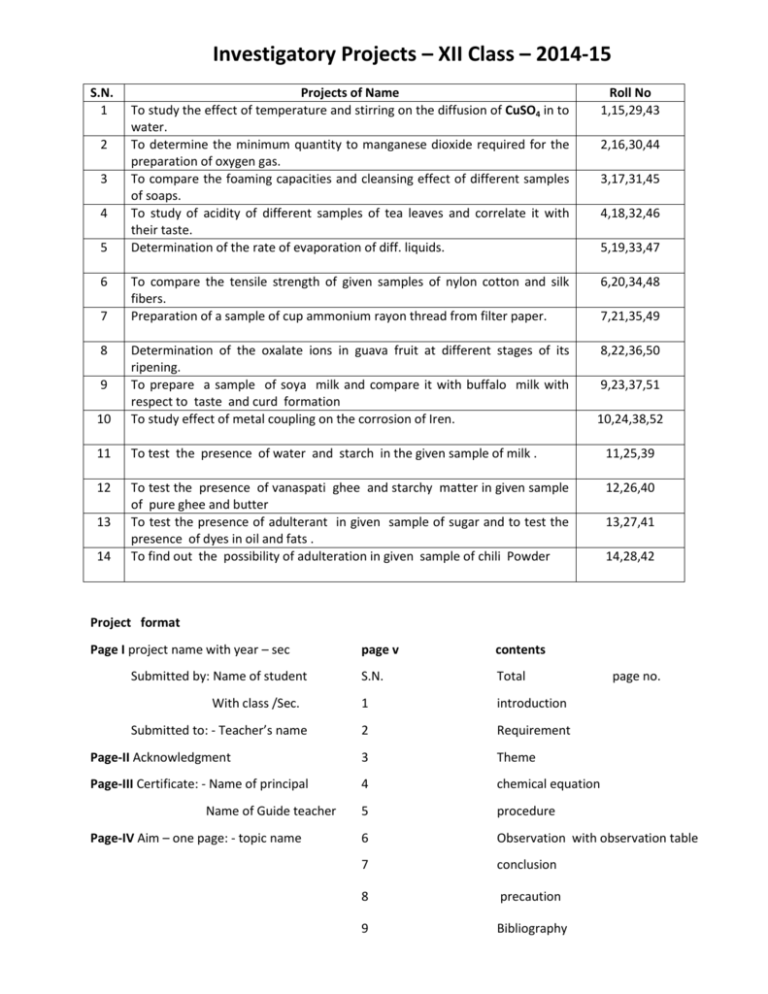 Investigatory Projects – XII Class – 2014-15
S.N.
1
Projects of Name
To study the effect of temperature and stirring on the diffusion of CuSO4 in to
water.
To determine the minimum quantity to manganese dioxide required for the
preparation of oxygen gas.
To compare the foaming capacities and cleansing effect of different samples
of soaps.
To study of acidity of different samples of tea leaves and correlate it with
their taste.
Determination of the rate of evaporation of diff. liquids.
Roll No
1,15,29,43
To compare the tensile strength of given samples of nylon cotton and silk
fibers.
Preparation of a sample of cup ammonium rayon thread from filter paper.
6,20,34,48
8,22,36,50
10
Determination of the oxalate ions in guava fruit at different stages of its
ripening.
To prepare a sample of soya milk and compare it with buffalo milk with
respect to taste and curd formation
To study effect of metal coupling on the corrosion of Iren.
11
To test the presence of water and starch in the given sample of milk .
11,25,39
12
To test the presence of vanaspati ghee and starchy matter in given sample
of pure ghee and butter
To test the presence of adulterant in given sample of sugar and to test the
presence of dyes in oil and fats .
To find out the possibility of adulteration in given sample of chili Powder
12,26,40
2
3
4
5
6
7
8
9
13
14
2,16,30,44
3,17,31,45
4,18,32,46
5,19,33,47
7,21,35,49
9,23,37,51
10,24,38,52
13,27,41
14,28,42
Project format
Page I project name with year – sec
page v
contents
S.N.
Total
1
introduction
2
Requirement
Page-II Acknowledgment
3
Theme
Page-III Certificate: - Name of principal
4
chemical equation
5
procedure
6
Observation with observation table
7
conclusion
8
precaution
9
Bibliography
Submitted by: Name of student
With class /Sec.
Submitted to: - Teacher's name
Name of Guide teacher
Page-IV Aim – one page: - topic name
page no.