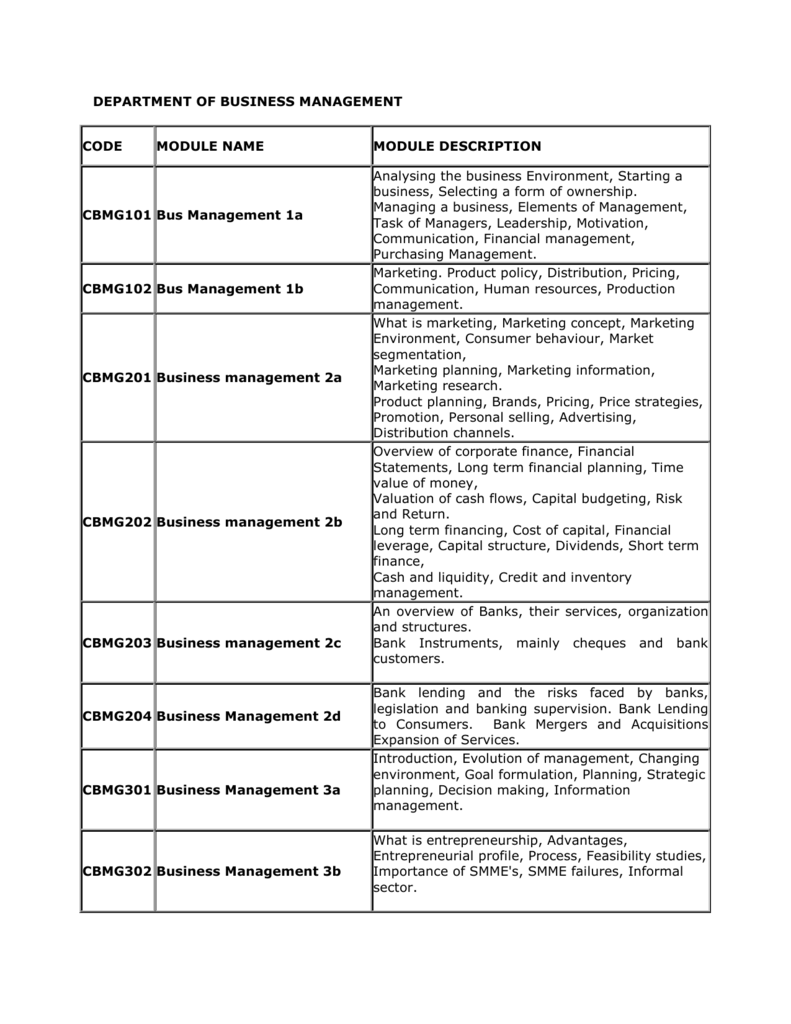 DEPARTMENT OF BUSINESS MANAGEMENT
CODE
MODULE NAME
CBMG101 Bus Management 1a
CBMG102 Bus Management 1b
CBMG201 Business management 2a
CBMG202 Business management 2b
CBMG203 Business management 2c
CBMG204 Business Management 2d
CBMG301 Business Management 3a
CBMG302 Business Management 3b
MODULE DESCRIPTION
Analysing the business Environment, Starting a
business, Selecting a form of ownership.
Managing a business, Elements of Management,
Task of Managers, Leadership, Motivation,
Communication, Financial management,
Purchasing Management.
Marketing. Product policy, Distribution, Pricing,
Communication, Human resources, Production
management.
What is marketing, Marketing concept, Marketing
Environment, Consumer behaviour, Market
segmentation,
Marketing planning, Marketing information,
Marketing research.
Product planning, Brands, Pricing, Price strategies,
Promotion, Personal selling, Advertising,
Distribution channels.
Overview of corporate finance, Financial
Statements, Long term financial planning, Time
value of money,
Valuation of cash flows, Capital budgeting, Risk
and Return.
Long term financing, Cost of capital, Financial
leverage, Capital structure, Dividends, Short term
finance,
Cash and liquidity, Credit and inventory
management.
An overview of Banks, their services, organization
and structures.
Bank Instruments, mainly cheques and bank
customers.
Bank lending and the risks faced by banks,
legislation and banking supervision. Bank Lending
to Consumers.
Bank Mergers and Acquisitions
Expansion of Services.
Introduction, Evolution of management, Changing
environment, Goal formulation, Planning, Strategic
planning, Decision making, Information
management.
What is entrepreneurship, Advantages,
Entrepreneurial profile, Process, Feasibility studies,
Importance of SMME's, SMME failures, Informal
sector.
CBMG303 Business Management 3c
CBMG304 Business Management 3d
CBMG305 Business Management 3e
CBMG306 Business Management 3f
CBMG307 Business Management 3g
CBMG308 Business Management 3h
CINS201 Insurance 2a
CINS202 Insurance 2b
Organisational design, Authority and power,
Organisational culture, Leadership, Motivation,
Communication, Groups and teams, Control.
Location, a New Venture, Layout, Business plan,
Financial plan, Purchasing plan, Administrative
plan, Marketing plan, Production plan, Legal forms,
Contracts.
Off-balance Sheet Financing in Banking and Credit
Derivatives.
Managing the Bank's Investment
Portfolio and
Management of a Bank's Equity Capital Position.
Rose Chapter 15 and Bank Lending to Business
Firms Rose Chapters 16 – 18.
Bank Lending to Consumers Rose Chapters 19 and
20. Bank Mergers and Acquisitions Rose Chapter
22. Expansion of Services Rose Chapter 21.
Liquidity Position. Rose Chapters 9 – 11.
Managing Bank Sources of Funds. Rose Chapters
12 – 14.
Exchange Control and Foreign Trade.
Asset-Liability
Management
Techniques
and
Hedging against Interest Rate and Credit Risk.
Introduction, How it works, and basic principles,
Role Principles, Contracts, Elements of,
Characteristics
Documentation, Proposal forms, and practice,
Claim forms, Claims procedures, Cover notes,
Cancellation and renewals, Policy documents.
Concept of risk, Forms of risk, Risk handling,
Nature of risk management, Organisational risk,
Personal risk, Buying life insurance.
Motor, Pecuniary, Business interruption, Marine &
aviation, Fire & property, Theft, Goods in transit,
Liability.
CINS301 Insurance 3a
Importance of, life insurance Life insurance
features, Types of contracts
CINS302 Insurance 3b
Participating policies, Tax implications. Lloyds
reinsurance – a model of success and the creation
of the " name " concept.