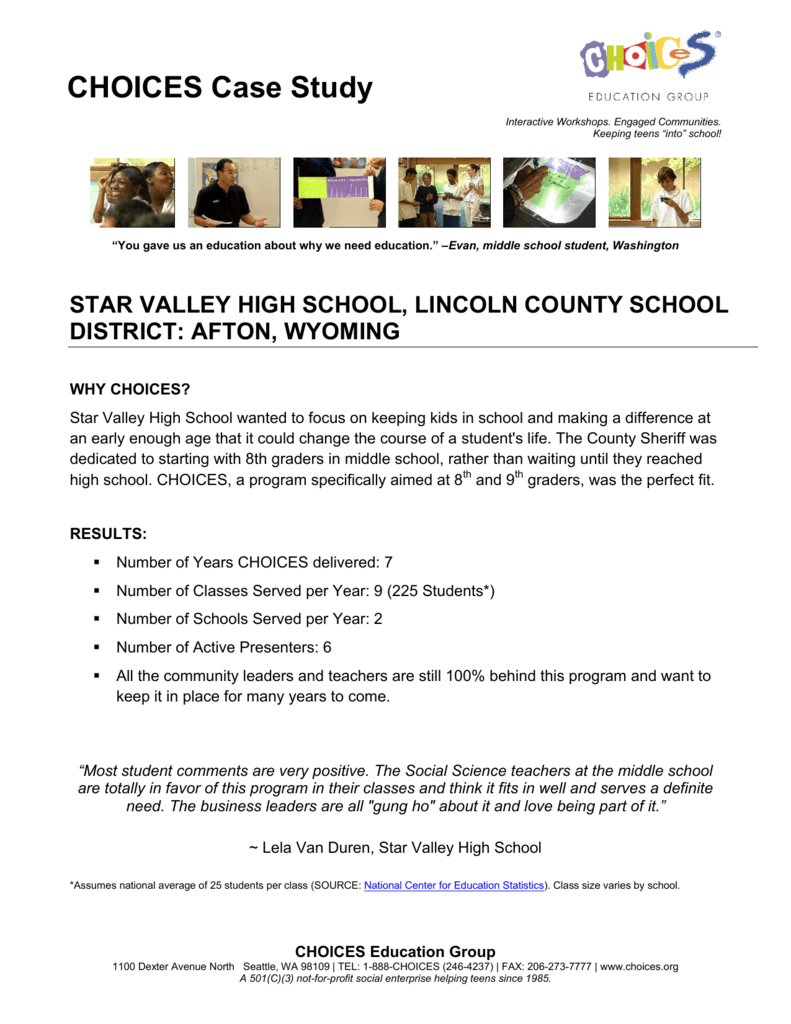 CHOICES Case Study
Interactive Workshops. Engaged Communities.
Keeping teens "into" school!
"You gave us an education about why we need education." –Evan, middle school student, Washington
STAR VALLEY HIGH SCHOOL, LINCOLN COUNTY SCHOOL
DISTRICT: AFTON, WYOMING
WHY CHOICES?
Star Valley High School wanted to focus on keeping kids in school and making a difference at
an early enough age that it could change the course of a student's life. The County Sheriff was
dedicated to starting with 8th graders in middle school, rather than waiting until they reached
high school. CHOICES, a program specifically aimed at 8th and 9th graders, was the perfect fit.
RESULTS:
Number of Years CHOICES delivered: 7
Number of Classes Served per Year: 9 (225 Students*)
Number of Schools Served per Year: 2
Number of Active Presenters: 6
All the community leaders and teachers are still 100% behind this program and want to
keep it in place for many years to come.
"Most student comments are very positive. The Social Science teachers at the middle school
are totally in favor of this program in their classes and think it fits in well and serves a definite
need. The business leaders are all "gung ho" about it and love being part of it."
~ Lela Van Duren, Star Valley High School
*Assumes national average of 25 students per class (SOURCE: National Center for Education Statistics). Class size varies by school.
CHOICES Education Group
1100 Dexter Avenue North Seattle, WA 98109 | TEL: 1-888-CHOICES (246-4237) | FAX: 206-273-7777 | www.choices.org
A 501(C)(3) not-for-profit social enterprise helping teens since 1985.