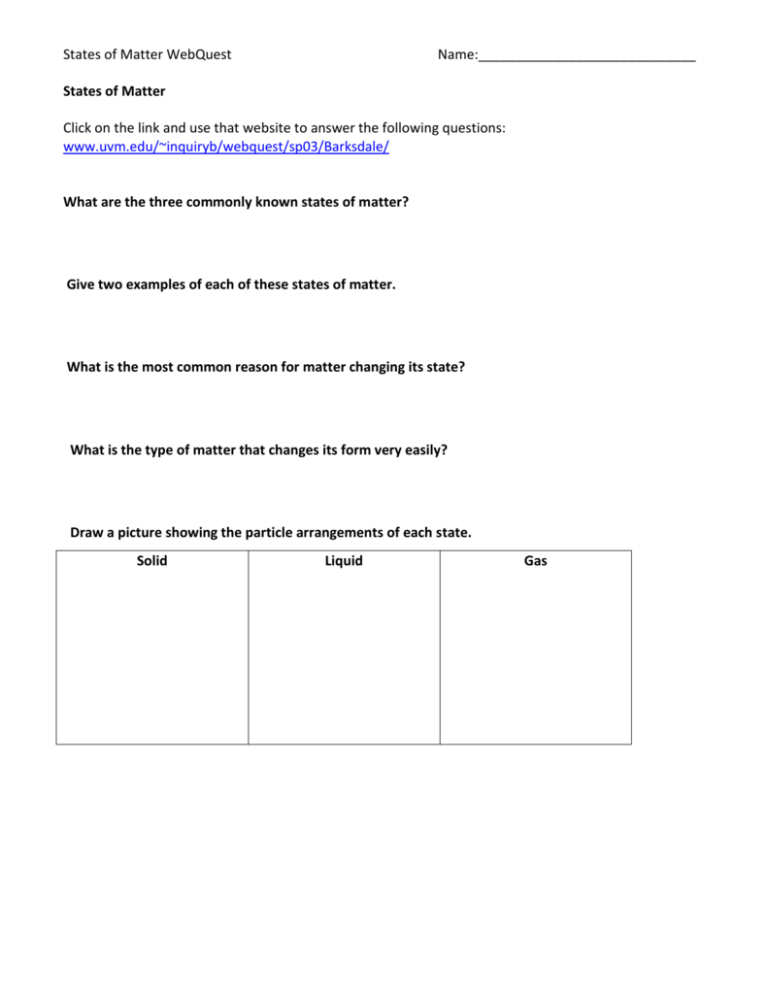 States of Matter WebQuest
Name:_____________________________
States of Matter
Click on the link and use that website to answer the following questions:
www.uvm.edu/~inquiryb/webquest/sp03/Barksdale/
What are the three commonly known states of matter?
Give two examples of each of these states of matter.
What is the most common reason for matter changing its state?
What is the type of matter that changes its form very easily?
Draw a picture showing the particle arrangements of each state.
Solid
Liquid
Gas
Click on the following link and use it to fill in the table below and answer questions
www.iknowthat.com/ScienceIllustrations/matter/science_desk.swf
Definite
Definite
shape
volume
(yes or no)
(yes or no)
Describe molecule movement
Solid
Liquid
Gas
What is the melting point of water? _______________
What is the boiling point of water? ________________
Go to www.kentchemistry.com/links/Matter/PhysicalChemicalChanges.htm and answer the following
questions:
What is the difference between a physical change and a chemical change?
What happens to a substance's chemical structure after a physical change?
What are three examples of physical changes used on this web page?
What happens to a substance's chemical structure after a chemical change?
What are three signs/examples of a chemical change?
Classifying Matter
Matter can also be classified in a few other categories. Use this link:
www.dummies.com/how-to/content/how-to-distinguish-pure-substances-and-mixtures.html and copy the
chart that is giving and define the words in the chart below.
Pure Substance
Element-

Compound-
Mixture
Homogenous-

Heterogenous-
Use the following link to fill in the chart that helps us figure out the differences between elements and
compounds www.diffen.com/difference/Compound_vs_Element
Compound
Element
Meaning
Distinguishing Features
Ability to Breakdown
(separate)
Types
Representation
Examples
Use the following link : http://education.jlab.org/itselemental/index.html
Below the periodic table in the third paragraph, click on 'how to calculate the
number of protons, neutrons, and electrons in an atom of an element.'
What four things are shown on a periodic table square for an individual
element? Draw and label a sample element. (Do not do Krypton! )
Define:
a) Atomic Number:
b) Atomic Weight/Atomic Mass Number:
How are electrons arranged around an atom?
From a periodic table square,
a) How do we determine the number of Protons an element has?
b) How do we determine the number of Electrons an element has?
c) How do we determine the number of Neutrons an element has?