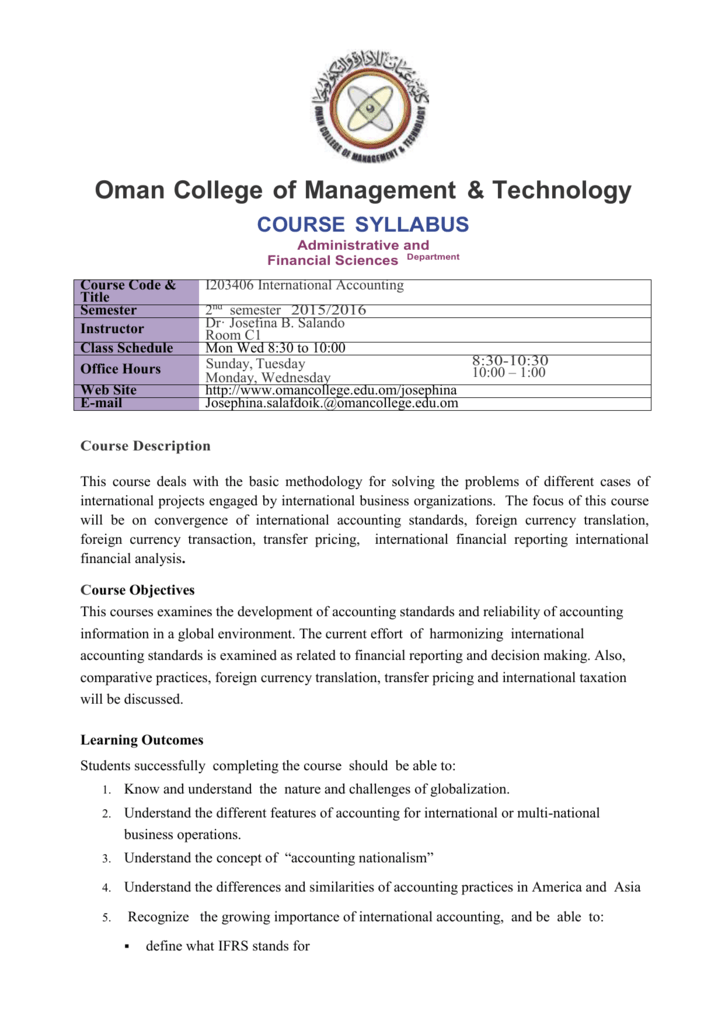 Oman College of Management & Technology
COURSE SYLLABUS
Administrative and
Financial Sciences Department
Course Code &
Title
Semester
Instructor
Class Schedule
Office Hours
Web Site
E-mail
I203406 International Accounting
2nd semester 2015/2016
Dr· Josefina B. Salando
Room C1
Mon Wed 8:30 to 10:00
8:30-10:30
Sunday, Tuesday
10:00 – 1:00
Monday, Wednesday
http://www.omancollege.edu.om/josephina
[email protected]
Course Description
This course deals with the basic methodology for solving the problems of different cases of
international projects engaged by international business organizations. The focus of this course
will be on convergence of international accounting standards, foreign currency translation,
foreign currency transaction, transfer pricing, international financial reporting international
financial analysis.
Course Objectives
This courses examines the development of accounting standards and reliability of accounting
information in a global environment. The current effort of harmonizing international
accounting standards is examined as related to financial reporting and decision making. Also,
comparative practices, foreign currency translation, transfer pricing and international taxation
will be discussed.
Learning Outcomes
Students successfully completing the course should be able to:
1.
Know and understand the nature and challenges of globalization.
2.
Understand the different features of accounting for international or multi-national
business operations.
3.
Understand the concept of "accounting nationalism"
4.
Understand the differences and similarities of accounting practices in America and Asia
5.
Recognize the growing importance of international accounting, and be able to:

define what IFRS stands for

explain the general uses of US GAAP and IFRS

recognize that IFRS will be important in the future
6.
Understand foreign currency transactions
7.
Translate foreign currency financial statements
8.
Interpret foreign currency financial statements
9.
Understand fundamental issues for international transfer pricing
10.
Appreciate the need for international financial statement analysis
11.
Be aware of the different accounting organizations/committees in charge of developing
and harmonizing the rules and guidelines for the practice of accounting
Course timetable
Week
1
2
Topics
Chapter 1- Introduction to international accounting, nature and scope
Accounting issues associated with Foreign Direct Investment ( FDI)
12
13
14
Chapter 2 – Accounting for Multi-national Operations (MNEs)
Challenges of Global Business
Foreign Exchange Risk
Translation and Re-measurement of foreign operations
First –Term Examination
Chapter 3 – International Accounting Standards
Progress towards harmonization of Accounting Standards
Chapter 4 – Comparative Accounting : America and Asia
National Accounting Differences
Chapter 5 – Issues in International Financial Reporting
Second-term Examination
Chapter 6- Transfer Pricing
Chapter 7- International Financial Statement Analysis
Why the need for international FS analysis
15
16
Chapter 8- International Financial Reporting Standards (IFRS)
Comprehensive Review
3
4
5
6
7
8
9
10
11
Final Examination
Student Activities:
1. Students are required to submit a research about the Ethical violation and
Accounting Scandals that happened in international businesses.
2. Work on case studies about international reporting and updates about
international accounting standards.
:
Textbook/References:
International Accounting
By: A.K. Das Mohapatra
International Accounting (5th Edition)
Frederick D.S. Choi, Gary K. Meek
Performance Evaluation:
The grade will be based upon the following:
First Exam
Second Project (Exam)
Class Participation & Activity
Final Project (Exam)
20%
20%
10%
50%
Student Responsibility:
• Mobile phones must be turned off during class time.
• Students are expected to participate in class discussion and critiques. Failure to do so will
result
in grade reduction.
• Students are expected to follow OCMT's standardized attendance policy. Lecture
attendance is mandatory. Students are allowed maximum of 15% absence of the total
classroom hours.
• Students are required to work on projects in and outside of class, and must Complete all
assignments.
• Meet all deadlines and complete all assignments, (Late papers will not be accepted).
• Come on time and stay until class is over.