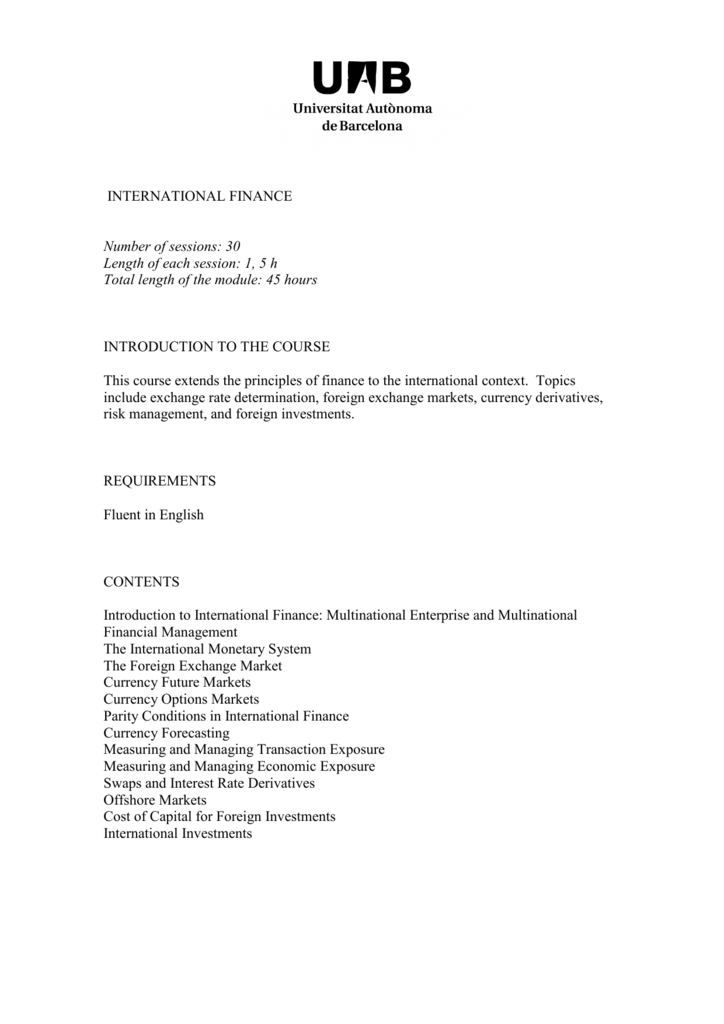 INTERNATIONAL FINANCE
Number of sessions: 30
Length of each session: 1, 5 h
Total length of the module: 45 hours
INTRODUCTION TO THE COURSE
This course extends the principles of finance to the international context. Topics
include exchange rate determination, foreign exchange markets, currency derivatives,
risk management, and foreign investments.
REQUIREMENTS
Fluent in English
CONTENTS
Introduction to International Finance: Multinational Enterprise and Multinational
Financial Management
The International Monetary System
The Foreign Exchange Market
Currency Future Markets
Currency Options Markets
Parity Conditions in International Finance
Currency Forecasting
Measuring and Managing Transaction Exposure
Measuring and Managing Economic Exposure
Swaps and Interest Rate Derivatives
Offshore Markets
Cost of Capital for Foreign Investments
International Investments
GRADING
Mid-term exam (30%): The midterm exam will cover theory and exercises.
Assignments (40%): Case studies and exercises done during the classes and at home.
Final Exam (30%): The final exam will cover theory, exercises and case studies.
BIBLIOGRAPHY
Shapiro, A. (2003). "Multinacional Financial Management". John and Wiley Sons, Inc
(7ed).