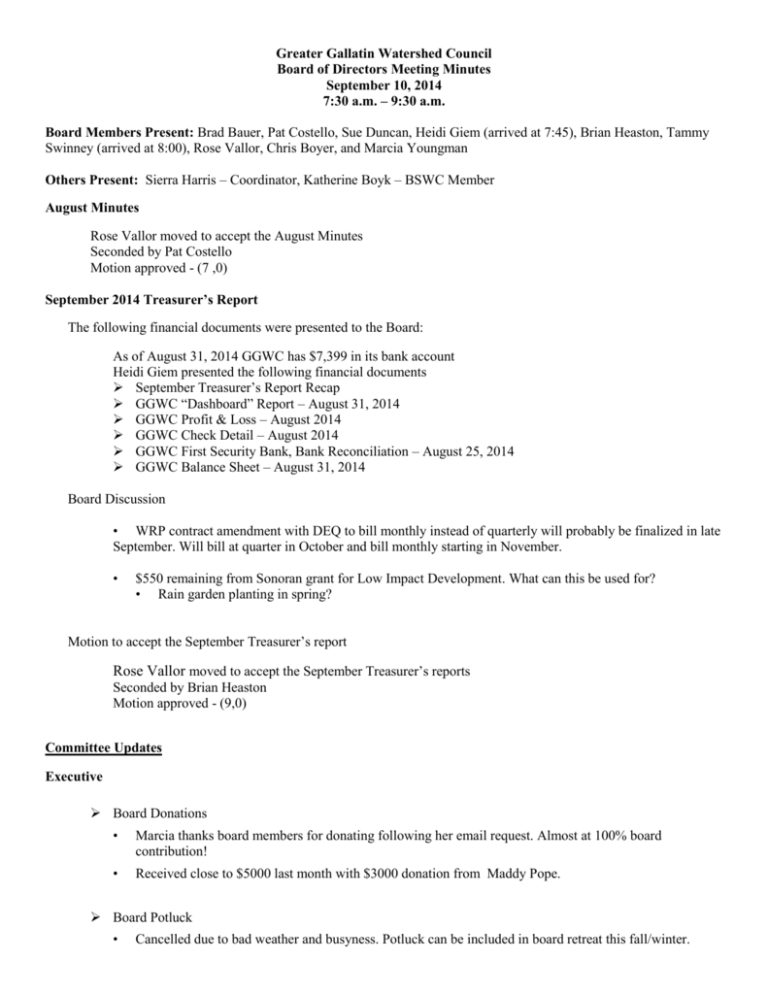 Greater Gallatin Watershed Council
Board of Directors Meeting Minutes
September 10, 2014
7:30 a.m. – 9:30 a.m.
Board Members Present: Brad Bauer, Pat Costello, Sue Duncan, Heidi Giem (arrived at 7:45), Brian Heaston, Tammy
Swinney (arrived at 8:00), Rose Vallor, Chris Boyer, and Marcia Youngman
Others Present: Sierra Harris – Coordinator, Katherine Boyk – BSWC Member
August Minutes
Rose Vallor moved to accept the August Minutes
Seconded by Pat Costello
Motion approved - (7 ,0)
September 2014 Treasurer's Report
The following financial documents were presented to the Board:
As of August 31, 2014 GGWC has $7,399 in its bank account
Heidi Giem presented the following financial documents
 September Treasurer's Report Recap
 GGWC "Dashboard" Report – August 31, 2014
 GGWC Profit & Loss – August 2014
 GGWC Check Detail – August 2014
 GGWC First Security Bank, Bank Reconciliation – August 25, 2014
 GGWC Balance Sheet – August 31, 2014
Board Discussion
• WRP contract amendment with DEQ to bill monthly instead of quarterly will probably be finalized in late
September. Will bill at quarter in October and bill monthly starting in November.
•
$550 remaining from Sonoran grant for Low Impact Development. What can this be used for?
• Rain garden planting in spring?
Motion to accept the September Treasurer's report
Rose Vallor moved to accept the September Treasurer's reports
Seconded by Brian Heaston
Motion approved - (9,0)
Committee Updates
Executive

 Board Donations
•
Marcia thanks board members for donating following her email request. Almost at 100% board
contribution!
•
Received close to $5000 last month with $3000 donation from Maddy Pope.

 Board Potluck
•
Cancelled due to bad weather and busyness. Potluck can be included in board retreat this fall/winter.
Pat Costello moved to not do potluck this week
Seconded by Chris Boyer
Motion approved - (9,0)

 Potential Board Members – updates
•
•
Heidi's term as Treasurer expires at the end of the year and she won't be renewing.
•
Need to find a new Treasurer with skill set. Ask past Treasurers for suggestions. Contact Troy
Watland at Bozeman Chapter of CPAs or the MSU College of Business.
•
Heidi has been doing a lot of bookkeeping work. If next Treasurer doesn't do this, GGWC will need
to pay for more bookkeeper's time.
Contact Bozeman Professional Women's Group for board members or fundraising assistance
•
Ask JP for contacts
 Heidi can contact a member

General
 Letters of Support
•
MACD 319 application for mini-grant funding: Katherine wrote 9/9
•
MWCC 319 application for small restoration project funding: Katherine will write
•
GLVT application to RCPP: Katherine will write, Brian and Brad will review
 BSWC Update
•
Katherine's term ends November 21
•
Katherine and Sierra will create guide for next year's BSWC Member
•
Application for MWCC's funding for BSWC Member ($5000) is out. Priority will go to organizations
with completed WRP.
•
Heidi and Chris Boyer interested in helping interview applicants in October depending on availability.
Education and Outreach
 September Newsletter
•
Will be sent out this afternoon
•
Are we ready to announce the date of the Fall Tour? YES!
 Fall Tour Update
•
Funding
•
Received $500 from Montana Land Reliance. Need an additional $1200-$1500.
•
Sue is requesting $250-$500 from Stockman Bank (Belgrade) and Manhattan Bank for material
printing and advertising.
•
Mini-grant funds won't be available until Oct 10. The only thing this could fund is the bus ($700) if
bill is post-dated (after Oct 10)
•
•
•
•
UPDATE: Only organizations with completed WRPs can receive mini-grant funds, so this is not an
option for GGWC until January.
Tour Logistics
•
Still need to find a meeting location - Murdoch's, Simms, or Zoot in Four Corners?
•
UPDATE: Confirmed meeting location at Zoot parking lot
•
Meet at 8:30 AM, leave by 9. Spend 2.5 hours at Kelly Ranch, then drive toward Manhattan to see
Lowline Canal service area. Return to Zoot by 12:30.
•
Kathryn Kelly and Sue are only confirmed speakers. Ag producers will be busy with harvest. Will
request speakers from CD (Mike Bertrand or board member) and AGAI.
•
Need PA system
•
Won't serve lunch to save money. Will get coffee donated from City Brew and cookies or other
snack.
•
Tour title: "A Living History of Ag Irrigation in the Gallatin Valley"
Printing
•
Tammy can print maps from green book in color for packets
•
GGWC can print AGAI Water Rights hand-out and watershed map
•
County GIS printing Lowline and Highline Canal maps and maybe compiled maps from green book
Advertising
•
Ad in Chronicle - Buy one, get one for ??
•
Ad in Belgrade News - $50
•
KGLT radio (free)
•
Farm and Ranch News - contact Pam Bryson
•
Newsletter, social media, listservs
 City Hall Rain Garden workday
•
Received $150 from Morrison-Maierle. Will use to purchase mulch and plants if available in nurseries.
•
Work with 5th grade class at Hawthorne Elementary
•
Contact Sid Bush at City beforehand
 Story Mill
 TPL Funding for E & O tasks
 Katherine will work 120 hours at $33.33/hr this fall
 Sierra will complete any tasks Katherine doesn't finish by 11/21
 Aerial Photos
 Chris will take photos of Story Mill and donate to GGWC as in-kind. TPL will buy photos from
GGWC.

Development Committee

 Donor Letter – status update
•
Sending to 15 businesses and 90 individuals
•
Marcia will sign businesses letters
 Heidi will get stamps

 MIG Update
• Sierra will talk to Columbine about advertising for Fall Tour, hats for Stream Team, and MOU

 Fundraising Opportunities
•
Business Donors – ideas
•
•
Sierra will contact Simms to ask for a donation of waders before September and October monitoring
Donation Jars
•
Total funds received: $55.56
•
Cold Smoke jar missing

 Grants

o Upcoming Grants and Reports
•
•
•
o
WRP 319 grant update
•
Met with TPL and NRCS to prepare for final application (due 9/29)
•
May need board help with Camp Creek portion
•
Need to cut ask and add funds for modeling
Mini-grant application
•
Can fund Annual Meeting if we select topic now - SNOTEL, snowpack, and climate change
•
Katherine will work on application
MWCC Funding for 2015 AmeriCorps Member
Current Grants
•
Norcross - purchased printer. very fancy, named Coco Butterbean :)
•
•
o
Sierra going to sell old printer on behalf of GGWC
WQAS DEQ Lab Funding – final report due in October
Letters of Inquiry
•
Sent to Kendeda Fund 8/26. Brad will follow-up
•
Brad working on Turner Foundation, Clif Bar, Martin Foundation, Steele-Reese, Gannet
•
Sara Biddle working on Patagonia
•
Rose suggests asking Bridger Brewing to join Pints with a Purpose
Water Resources Committee
 Sampling for City of Bozeman and GLWQD
•
Sierra worked 33 hours in August
•
Brian, Pat and Katherine volunteered
 Stream Team 2014
•
Final month of sampling
•
Some volunteers feel it is too much work
 Story Mill Update
•
Groundwater measuring almost complete for the year
WRP Update
 Draft will be ready for review Sept. 29th
 On track for completion by end of December
 All work must be completed by 12/31
Next Meeting
October Board Meeting
Wednesday, October 8, 2014
7:30 – 9:30 AM
Audi Dealership – 19th & Main St.