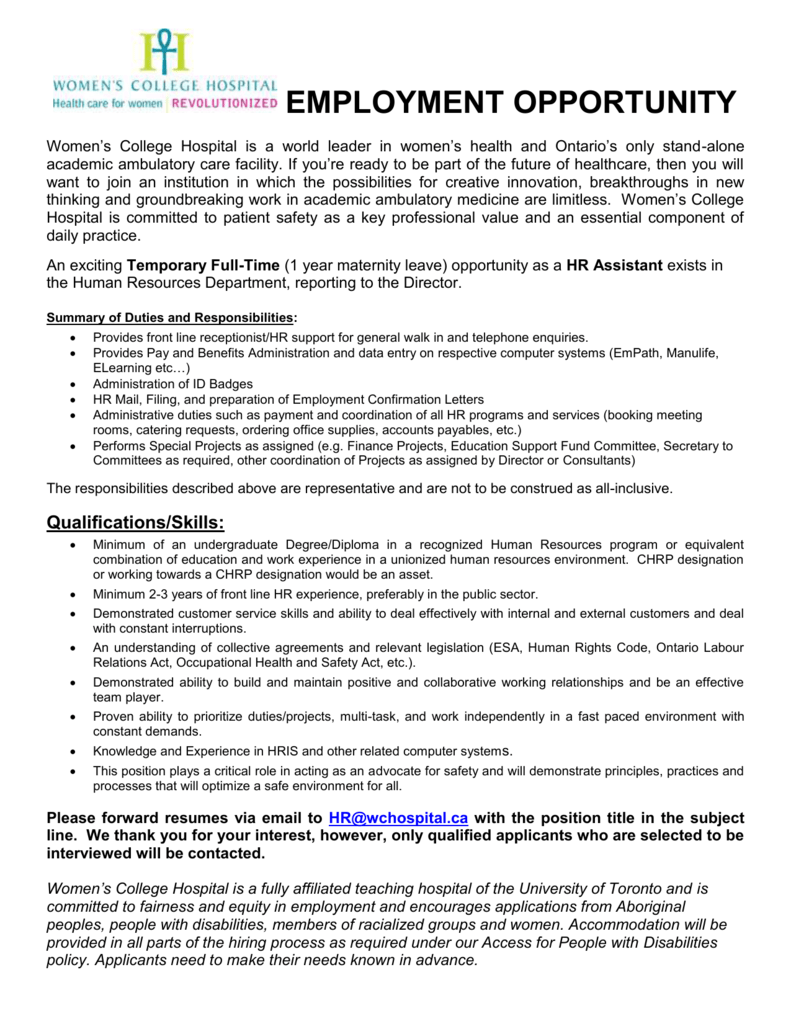 EMPLOYMENT OPPORTUNITY
Women's College Hospital is a world leader in women's health and Ontario's only stand-alone
academic ambulatory care facility. If you're ready to be part of the future of healthcare, then you will
want to join an institution in which the possibilities for creative innovation, breakthroughs in new
thinking and groundbreaking work in academic ambulatory medicine are limitless. Women's College
Hospital is committed to patient safety as a key professional value and an essential component of
daily practice.
An exciting Temporary Full-Time (1 year maternity leave) opportunity as a HR Assistant exists in
the Human Resources Department, reporting to the Director.
Summary of Duties and Responsibilities:






Provides front line receptionist/HR support for general walk in and telephone enquiries.
Provides Pay and Benefits Administration and data entry on respective computer systems (EmPath, Manulife,
ELearning etc…)
Administration of ID Badges
HR Mail, Filing, and preparation of Employment Confirmation Letters
Administrative duties such as payment and coordination of all HR programs and services (booking meeting
rooms, catering requests, ordering office supplies, accounts payables, etc.)
Performs Special Projects as assigned (e.g. Finance Projects, Education Support Fund Committee, Secretary to
Committees as required, other coordination of Projects as assigned by Director or Consultants)
The responsibilities described above are representative and are not to be construed as all-inclusive.
Qualifications/Skills:

Minimum of an undergraduate Degree/Diploma in a recognized Human Resources program or equivalent
combination of education and work experience in a unionized human resources environment. CHRP designation
or working towards a CHRP designation would be an asset.

Minimum 2-3 years of front line HR experience, preferably in the public sector.

Demonstrated customer service skills and ability to deal effectively with internal and external customers and deal
with constant interruptions.

An understanding of collective agreements and relevant legislation (ESA, Human Rights Code, Ontario Labour
Relations Act, Occupational Health and Safety Act, etc.).

Demonstrated ability to build and maintain positive and collaborative working relationships and be an effective
team player.

Proven ability to prioritize duties/projects, multi-task, and work independently in a fast paced environment with
constant demands.

Knowledge and Experience in HRIS and other related computer system s.

This position plays a critical role in acting as an advocate for safety and will demonstrate principles, practices and
processes that will optimize a safe environment for all.
Please forward resumes via email to [email protected] with the position title in the subject
line. We thank you for your interest, however, only qualified applicants who are selected to be
interviewed will be contacted.
Women's College Hospital is a fully affiliated teaching hospital of the University of Toronto and is
committed to fairness and equity in employment and encourages applications from Aboriginal
peoples, people with disabilities, members of racialized groups and women. Accommodation will be
provided in all parts of the hiring process as required under our Access for People with Disabilities
policy. Applicants need to make their needs known in advance.