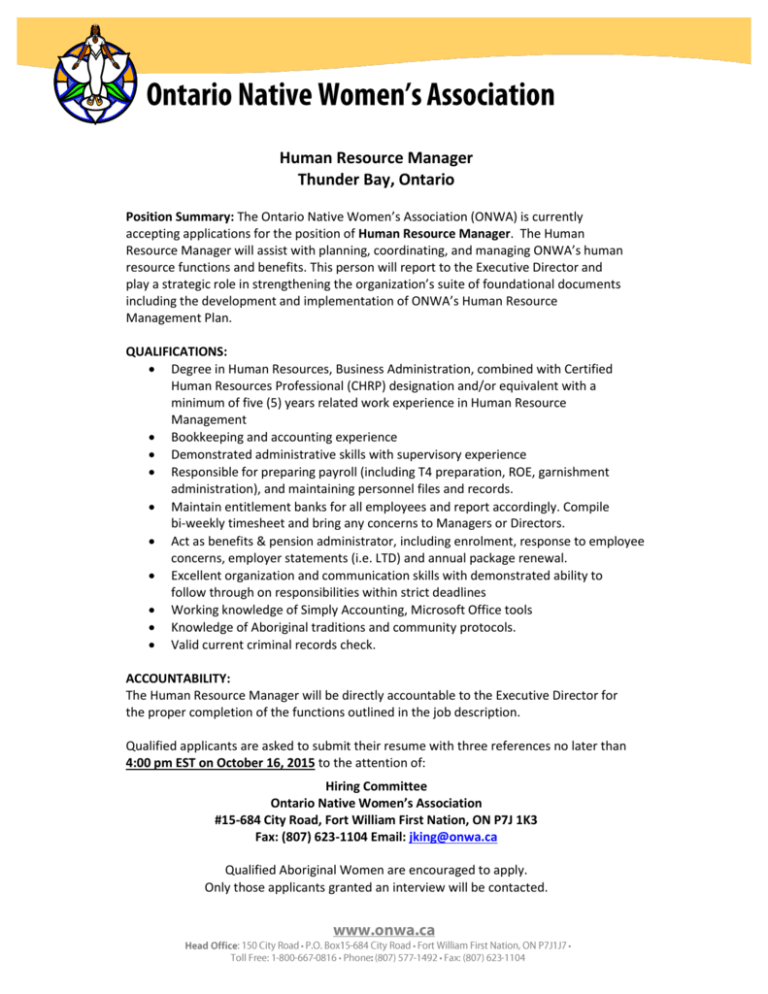 Human Resource Manager
Thunder Bay, Ontario
Position Summary: The Ontario Native Women's Association (ONWA) is currently
accepting applications for the position of Human Resource Manager. The Human
Resource Manager will assist with planning, coordinating, and managing ONWA's human
resource functions and benefits. This person will report to the Executive Director and
play a strategic role in strengthening the organization's suite of foundational documents
including the development and implementation of ONWA's Human Resource
Management Plan.
QUALIFICATIONS:
 Degree in Human Resources, Business Administration, combined with Certified
Human Resources Professional (CHRP) designation and/or equivalent with a
minimum of five (5) years related work experience in Human Resource
Management
 Bookkeeping and accounting experience
 Demonstrated administrative skills with supervisory experience
 Responsible for preparing payroll (including T4 preparation, ROE, garnishment
administration), and maintaining personnel files and records.
 Maintain entitlement banks for all employees and report accordingly. Compile
bi-weekly timesheet and bring any concerns to Managers or Directors.
 Act as benefits & pension administrator, including enrolment, response to employee
concerns, employer statements (i.e. LTD) and annual package renewal.
 Excellent organization and communication skills with demonstrated ability to
follow through on responsibilities within strict deadlines
 Working knowledge of Simply Accounting, Microsoft Office tools
 Knowledge of Aboriginal traditions and community protocols.
 Valid current criminal records check.
ACCOUNTABILITY:
The Human Resource Manager will be directly accountable to the Executive Director for
the proper completion of the functions outlined in the job description.
Qualified applicants are asked to submit their resume with three references no later than
4:00 pm EST on October 16, 2015 to the attention of:
Hiring Committee
Ontario Native Women's Association
#15-684 City Road, Fort William First Nation, ON P7J 1K3
Fax: (807) 623-1104 Email: jking@onwa.ca
Qualified Aboriginal Women are encouraged to apply.
Only those applicants granted an interview will be contacted.