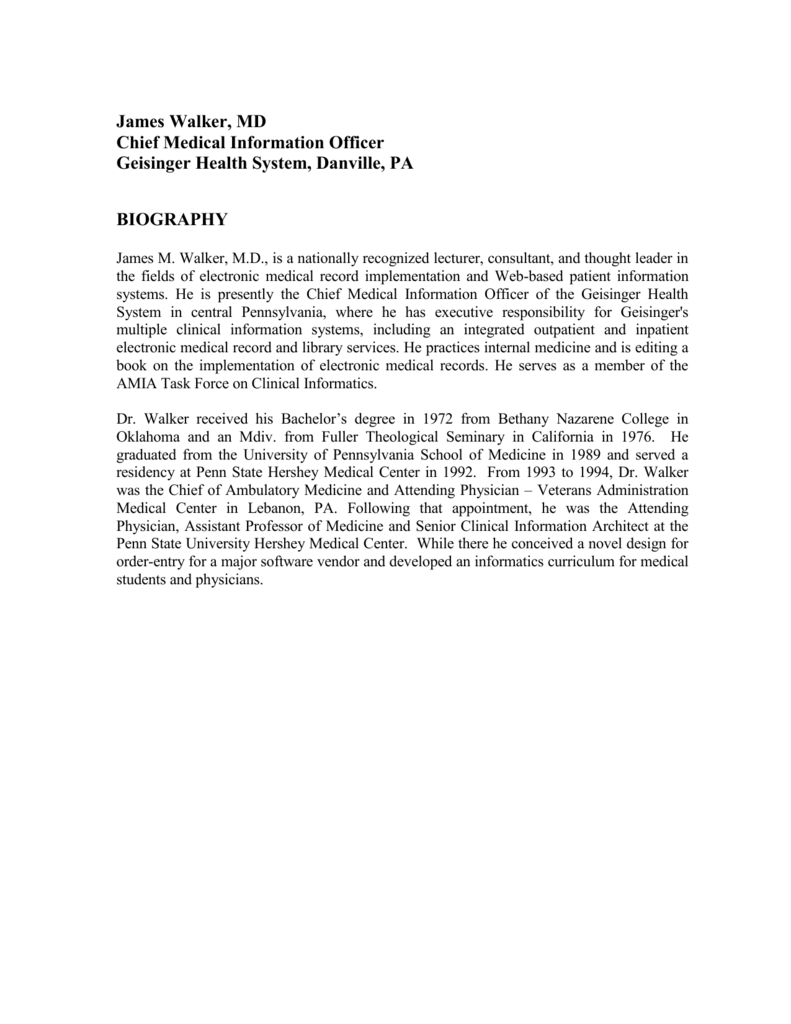 James Walker, MD
Chief Medical Information Officer
Geisinger Health System, Danville, PA
BIOGRAPHY
James M. Walker, M.D., is a nationally recognized lecturer, consultant, and thought leader in
the fields of electronic medical record implementation and Web-based patient information
systems. He is presently the Chief Medical Information Officer of the Geisinger Health
System in central Pennsylvania, where he has executive responsibility for Geisinger's
multiple clinical information systems, including an integrated outpatient and inpatient
electronic medical record and library services. He practices internal medicine and is editing a
book on the implementation of electronic medical records. He serves as a member of the
AMIA Task Force on Clinical Informatics.
Dr. Walker received his Bachelor's degree in 1972 from Bethany Nazarene College in
Oklahoma and an Mdiv. from Fuller Theological Seminary in California in 1976. He
graduated from the University of Pennsylvania School of Medicine in 1989 and served a
residency at Penn State Hershey Medical Center in 1992. From 1993 to 1994, Dr. Walker
was the Chief of Ambulatory Medicine and Attending Physician – Veterans Administration
Medical Center in Lebanon, PA. Following that appointment, he was the Attending
Physician, Assistant Professor of Medicine and Senior Clinical Information Architect at the
Penn State University Hershey Medical Center. While there he conceived a novel design for
order-entry for a major software vendor and developed an informatics curriculum for medical
students and physicians.