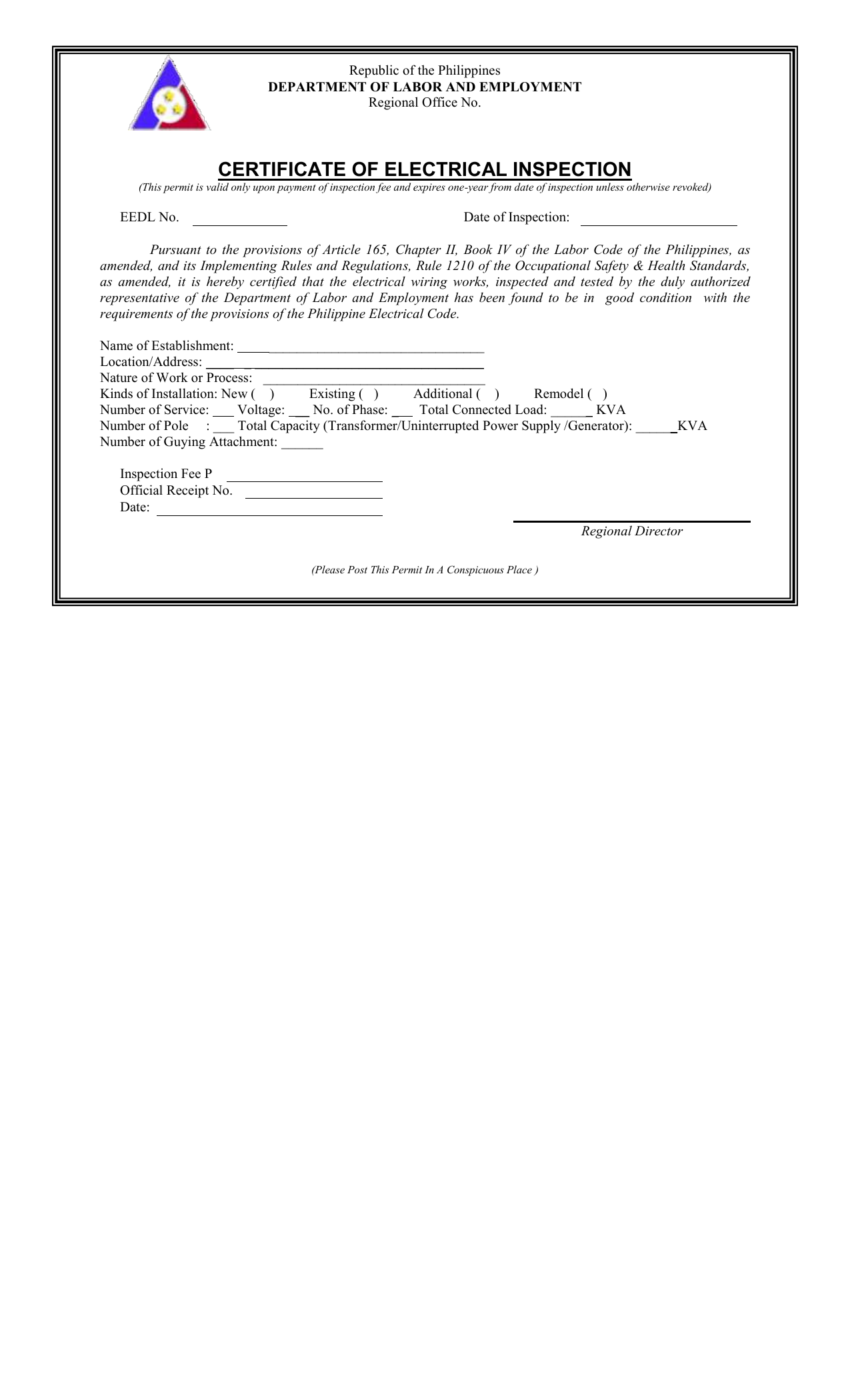 Republic of the Philippines
DEPARTMENT OF LABOR AND EMPLOYMENT
Regional Office No.
CERTIFICATE OF ELECTRICAL INSPECTION
(This permit is valid only upon payment of inspection fee and expires one-year from date of inspection unless otherwise revoked)
EEDL No. Date of Inspection:
Pursuant to the provisions of Article 165, Chapter II, Book IV of the Labor Code of the Philippines, as amended, and its Implementing Rules and Regulations, Rule 1210 of the Occupational Safety & Health Standards, as amended, it is hereby certified that the electrical wiring works, inspected and tested by the duly authorized representative of the Department of Labor and Employment has been found to be in good condition with the requirements of the provisions of the Philippine Electrical Code.
Name of Establishment: _______________________________ Location/Address: ____ _ _________________________________ Nature of Work or Process: ________________________________ Kinds of Installation: New ( ) Existing ( ) Additional ( ) Remodel ( ) Number of Service: Voltage:
__
No. of Phase: _ Total Connected Load: ______ KVA Number of Pole : ___ Total Capacity (Transformer/Uninterrupted Power Supply /Generator): _____
_
KVA Number of Guying Attachment: ______ Inspection Fee P Official Receipt No. Date:
(Please Post This Permit In A Conspicuous Place ) Regional Director