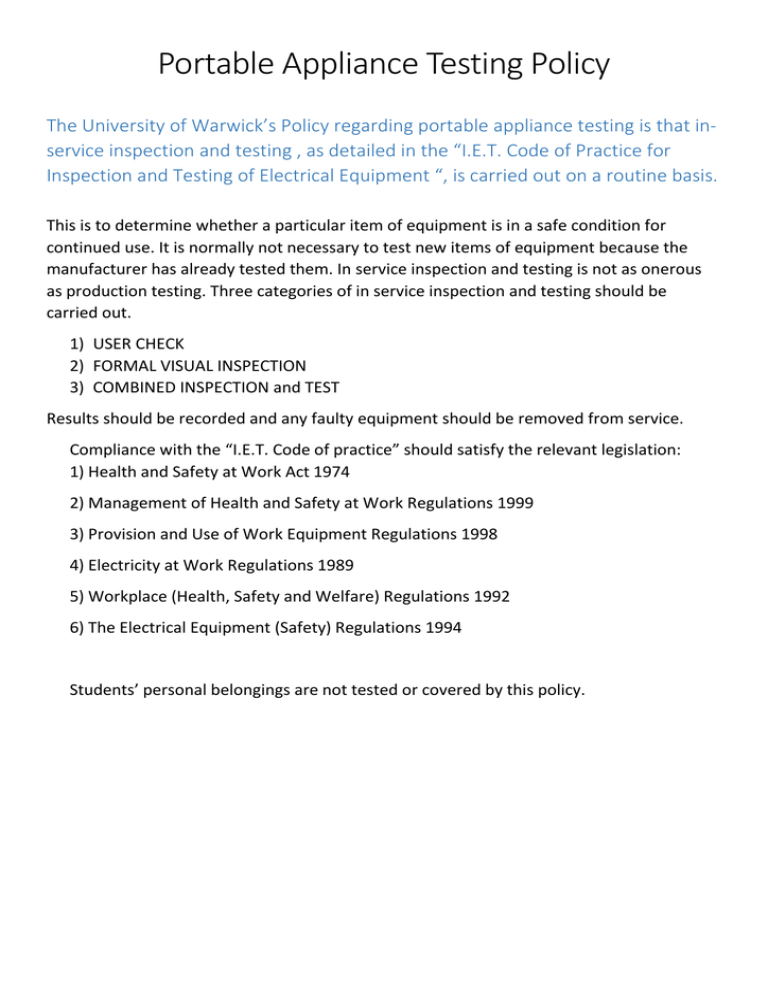 Portable Appliance Testing Policy
The University of Warwick's Policy regarding portable appliance testing is that inservice inspection and testing , as detailed in the "I.E.T. Code of Practice for
Inspection and Testing of Electrical Equipment ", is carried out on a routine basis.
This is to determine whether a particular item of equipment is in a safe condition for
continued use. It is normally not necessary to test new items of equipment because the
manufacturer has already tested them. In service inspection and testing is not as onerous
as production testing. Three categories of in service inspection and testing should be
carried out.
1) USER CHECK
2) FORMAL VISUAL INSPECTION
3) COMBINED INSPECTION and TEST
Results should be recorded and any faulty equipment should be removed from service.
Compliance with the "I.E.T. Code of practice" should satisfy the relevant legislation:
1) Health and Safety at Work Act 1974
2) Management of Health and Safety at Work Regulations 1999
3) Provision and Use of Work Equipment Regulations 1998
4) Electricity at Work Regulations 1989
5) Workplace (Health, Safety and Welfare) Regulations 1992
6) The Electrical Equipment (Safety) Regulations 1994
Students' personal belongings are not tested or covered by this policy.