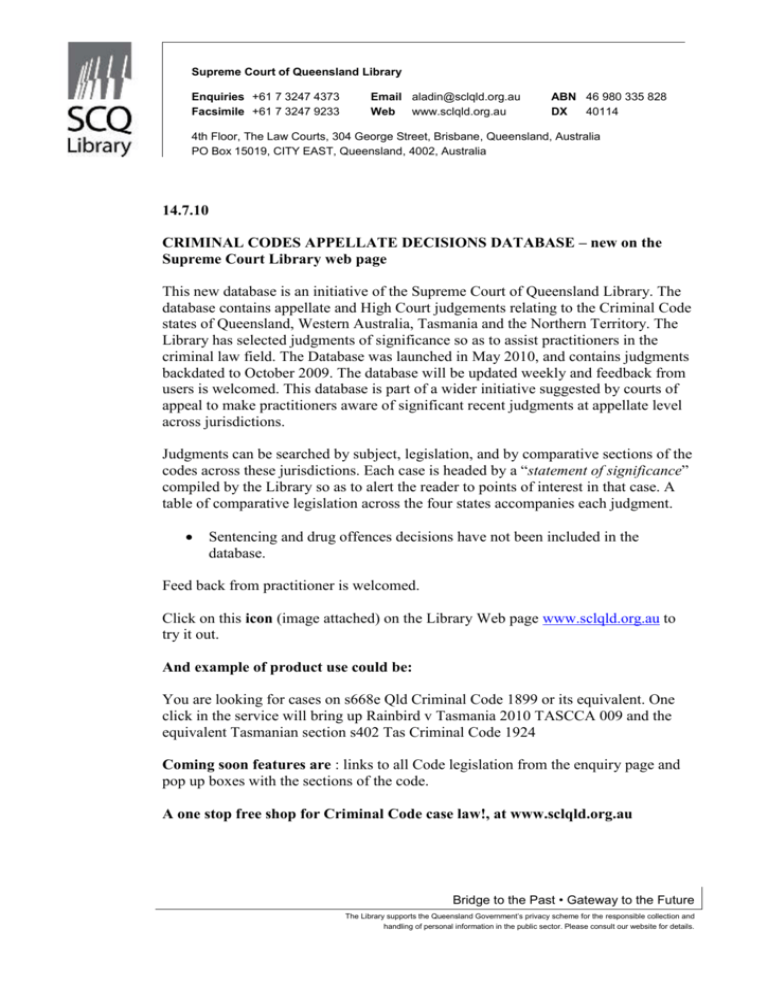 Supreme Court of Queensland Library
Enquiries +61 7 3247 4373
Facsimile +61 7 3247 9233
Email aladin@sclqld.org.au
Web www.sclqld.org.au
ABN 46 980 335 828
DX
40114
4th Floor, The Law Courts, 304 George Street, Brisbane, Queensland, Australia
PO Box 15019, CITY EAST, Queensland, 4002, Australia
14.7.10
CRIMINAL CODES APPELLATE DECISIONS DATABASE – new on the
Supreme Court Library web page
This new database is an initiative of the Supreme Court of Queensland Library. The
database contains appellate and High Court judgements relating to the Criminal Code
states of Queensland, Western Australia, Tasmania and the Northern Territory. The
Library has selected judgments of significance so as to assist practitioners in the
criminal law field. The Database was launched in May 2010, and contains judgments
backdated to October 2009. The database will be updated weekly and feedback from
users is welcomed. This database is part of a wider initiative suggested by courts of
appeal to make practitioners aware of significant recent judgments at appellate level
across jurisdictions.
Judgments can be searched by subject, legislation, and by comparative sections of the
codes across these jurisdictions. Each case is headed by a "statement of significance"
compiled by the Library so as to alert the reader to points of interest in that case. A
table of comparative legislation across the four states accompanies each judgment.

Sentencing and drug offences decisions have not been included in the
database.
Feed back from practitioner is welcomed.
Click on this icon (image attached) on the Library Web page www.sclqld.org.au to
try it out.
And example of product use could be:
You are looking for cases on s668e Qld Criminal Code 1899 or its equivalent. One
click in the service will bring up Rainbird v Tasmania 2010 TASCCA 009 and the
equivalent Tasmanian section s402 Tas Criminal Code 1924
Coming soon features are : links to all Code legislation from the enquiry page and
pop up boxes with the sections of the code.
A one stop free shop for Criminal Code case law!, at www.sclqld.org.au
Bridge to the Past • Gateway to the Future
The Library supports the Queensland Government's privacy scheme for the responsible collection and
handling of personal information in the public sector. Please consult our website for details.