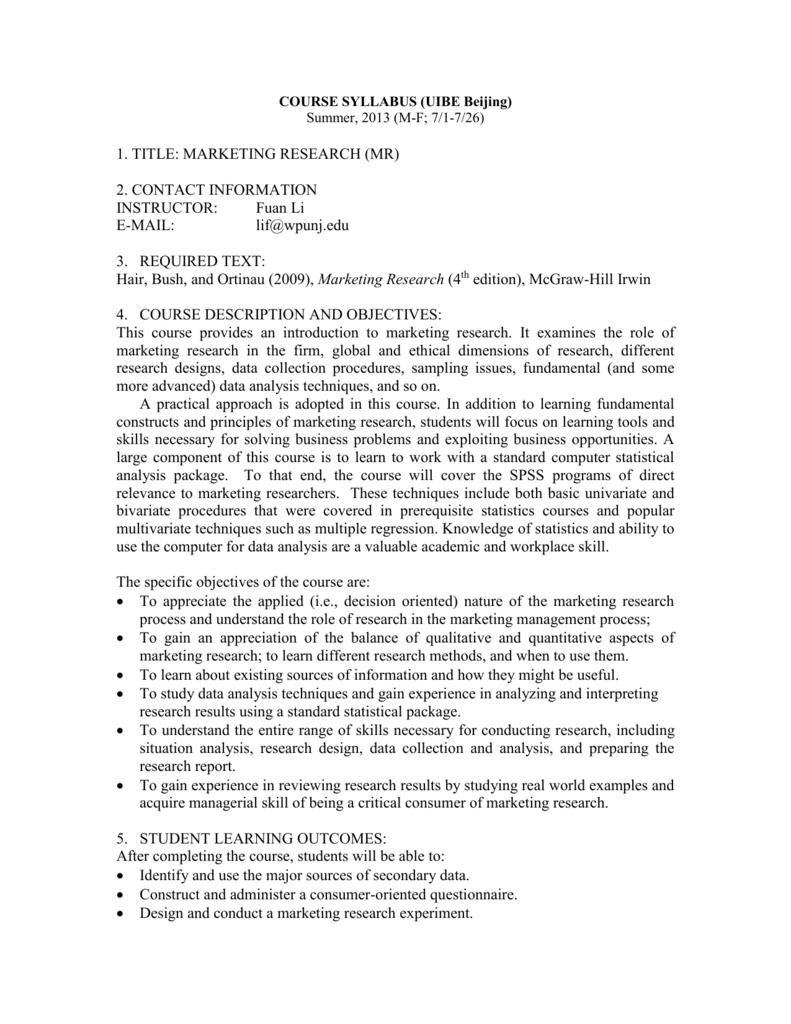 COURSE SYLLABUS (UIBE Beijing)
Summer, 2013 (M-F; 7/1-7/26)
1. TITLE: MARKETING RESEARCH (MR)
2. CONTACT INFORMATION
INSTRUCTOR:
Fuan Li
E-MAIL:
[email protected]
3. REQUIRED TEXT:
Hair, Bush, and Ortinau (2009), Marketing Research (4th edition), McGraw-Hill Irwin
4. COURSE DESCRIPTION AND OBJECTIVES:
This course provides an introduction to marketing research. It examines the role of
marketing research in the firm, global and ethical dimensions of research, different
research designs, data collection procedures, sampling issues, fundamental (and some
more advanced) data analysis techniques, and so on.
A practical approach is adopted in this course. In addition to learning fundamental
constructs and principles of marketing research, students will focus on learning tools and
skills necessary for solving business problems and exploiting business opportunities. A
large component of this course is to learn to work with a standard computer statistical
analysis package. To that end, the course will cover the SPSS programs of direct
relevance to marketing researchers. These techniques include both basic univariate and
bivariate procedures that were covered in prerequisite statistics courses and popular
multivariate techniques such as multiple regression. Knowledge of statistics and ability to
use the computer for data analysis are a valuable academic and workplace skill.
The specific objectives of the course are:
 To appreciate the applied (i.e., decision oriented) nature of the marketing research
process and understand the role of research in the marketing management process;
 To gain an appreciation of the balance of qualitative and quantitative aspects of
marketing research; to learn different research methods, and when to use them.
 To learn about existing sources of information and how they might be useful.
 To study data analysis techniques and gain experience in analyzing and interpreting
research results using a standard statistical package.
 To understand the entire range of skills necessary for conducting research, including
situation analysis, research design, data collection and analysis, and preparing the
research report.
 To gain experience in reviewing research results by studying real world examples and
acquire managerial skill of being a critical consumer of marketing research.
5. STUDENT LEARNING OUTCOMES:
After completing the course, students will be able to:
 Identify and use the major sources of secondary data.
 Construct and administer a consumer-oriented questionnaire.
 Design and conduct a marketing research experiment.



Develop a sampling plan and determine the sample size for a simple random sample.
Identify different research procedures, and conduct appropriate statistical analyses.
Interpret research reports for the purpose of evaluating the adequacy of the research
design, and making managerial decisions based on research reports.
6. TEACHING METHODS: The primary teaching method is lecture/discussion. The
emphasis throughout is placed on conceptual understanding of the material, along
with a consideration of how these ideas should be applied to marketing problems.
Students are expected to actively contribute to the classroom discussions on the basis
of their class preparation.
A considerable proportion of the class period is devoted to SPSS activities. Students
are required to master the use and interpretation of major univariate and multivariate
statistical techniques in the context of answering practical marketing research
questions.
7. GRADING AND OTHER METHODS OF ASSESSING STUDENT ACADEMIC
PERFORMANCE:
The assessment of your performance will be based on a final exam, term projects, a set of
quizzes and homework assignments, class participation, and in-class work.
Final Exam
Mini Projects (Group)
Quizzes and Homework (individual)
In-class work and Participation
Total
30 %
30 %
30%
10 %
-------------------------100 %
Your final grade will be determined in terms of your overall performance in this course.
The grades on each item above will be combined to arrive at your final grade based on
the scale below.
A
93% or more
A[90% - 93%)
B+
[87% - 90%)
B
[83% - 87%)
B[80% - 83%)
C+
[77% - 80%)
C
[73% - 77%)
C[70% - 73%)
D+
[67% - 70%)
D
[63% - 67%)
D[60% - 63%)
F
Below 60%
Term Projects
You need to form a group of 4-5 persons to work on three mini projects with each being
worth of 10% of the grade points. The projects will be evaluated based on (1) written
reports and (2) in class presentation (7%+3% each). Detailed instruction about each
project will be given later on.
Grading of term projects may be done on a LETTER basis.
Review quizzes, Homework and Class Participation
There is a set of review quizzes and homework assignments. These assignments will be
graded as satisfactory (check), unsatisfactory (check minus) and extremely well (check
plus). Tentative due dates can be found in the topic outline. Detailed instruction on each
assignment will be given as we proceed.
Class participation involves completing in-class work and contributing to class
discussion. In-class work could be exercises, discussions, or writing assignments. The inclass work will be graded in the same way as review quizzes. For class participation, you
are expected to ask questions, make comments, give feedback to your peers, bring up
new and current issues for class and facilitate participation by others during class
meetings. Needless to say, quality of participation will be judged far more favorably than
quantity.
8. COURSE EXPECTATION:
This is a very demanding course; you are expected to work hard throughout the summer
term. Most students find the material in this course very challenging. It is advisable to
put in a minimum of 10 hours per week, outside of class, in order for you to be
adequately prepared for the subsequent class meeting.








All homework/written assignments must be handed in at the beginning of class on
the due date. No later assignments will be accepted.
Complete in-class work assigned and actively participate in class discussion.
Attend class regularly. You are responsible for understanding what was covered
in class and any assignment changes/or announcements made in class.
Examinations: Attendance is required on announced exam dates.
MAKE-UP Policy: There will be NO make-up exams except for
previously excused absences. If for any reason you cannot take an exam, you
MUST contact your instructor BEFORE the exam to explain your absence.
Develop confidence in participating. Some people have good ideas or questions
but are hesitant to speak up. Good ideas are lost if they are not shared. And if you
have a question it is likely that others will as well.
Please keep up with the assignments. It will make the class more interesting and
more valuable to you in the time ahead. It is a good strategy to work aggressively
in the course from the very beginning.
Please come on time. Class will begin promptly at the scheduled time. Late
arrivals or early departures disturb everyone else.
Please conduct yourself in a courteous manner in the classroom. Cell phones and
other beeping devices are not to be used in class.
TOPICAL OUTLINE OF COURSE CONTENT
Topic
Session
Text Ch.
1.
7/1
Introduction; Scope of course; MR industry
1
2.
3.
7/1
7/2
Problem definition and research objectives; Group
Overview of MR process
2
2
4.
5.
7/2
7/3
Secondary data (review quiz)
Type of Research design
5
6
6.
7.
7/3
7/4
Project 1 (research proposal)
Focus group and qualitative research
6
8.
7/4
Survey Data Collection method
8
9.
7/8
Experimentation
9
10.
11.
7/8
7/9
Experimentation
Project 2 (research design)
12.
13.
7/9
7/10
Sampling issues: Planning
Measurement (review quiz)
10
11, 12
14.
15.
7/10
7/11
Questionnaire design
Data coding and preparation
13
14
16.
7/11
Descriptive analysis (HW); SPSS: Tutorial
17.
7/15
Project 3 (instrument critic)
18.
19.
7/15
7/16
Inference and Hypothesis testing; (HW)
SPSS: t test
15
20.
21.
7/16
7/17
Difference test (HW)
Associative analysis
15
16
22.
23.
7/17
7/18
SPSS: Cross-tabs, Chi-square
Correlation analysis
16
24.
7/18
Final Exam M.
HW 1, secondary data search – use text book assignment
HW 2, qualitative analysis – text
HW 3, questionnaire critique – text
HW4-5 statistical/SPSS review
1. Use ABI Inform or Lexis/Nexis to locate a marketing research report. Then summarize
and comment on the research study. Write a report of 1-2 pages. You report must include
answers to the following questions (1) Who conducted the research? (2) Why was the
research needed and what was (were) the research objective(s)? (3) What is your overall
opinion of the research design - Is it good research design and why?
2. Statistics review – assign in advance
3. Sample size calculation
4. Descriptive analysis – calculation (Burns & Bush Ch. 15-16)
5. HW from Chapter 17 (B&B)
6. SPSS exercise assignment for Chapter 12 (McDaniel and Gates)
7. SPSS exercise for Chapter 13
Group projects Choice
1. Working the net - p. 98 #5; Writing report and discuss in class
2. Secondary data (Case 3.1) or
3. Secondary: Use secondary data to determine population size, growth and
composition for Paterson or Wayne. Summarize your findings, evaluate the data,
and report any marketing implications of the findings.
4. Experimentation (Case 7.1)
5. Evaluation of a questionnaire (Case 9.1 )
6. Research report – real people, real data: Case C (Student Travel) and Case D (Visa Card)
Answering the question and writing the report.
In-Class work, not counting toward the hw grades
Research objective exercise–Richmond research, (one-page report –get to ready for hw 1)
Evaluation secondary data (handout in class)
Research design (one page report- from Pasu/Grewal, Case 3.2, Page 79.)
DVD: Focus group study
Experiment design (give hand out in class)
Develop questions (exercise, give objective and ask them to form questions)
Select a company in which you are interested. Look up information in the library or the Internet
on this firm. List two or three different types of decisions that you believe the firm may have
made in the last two years. For each decision, list the information the company's executives
would have needed to make these decisions.
1. Use ABI Inform or Lexis/Nexis to locate a market research report. Then analyze the research
study and write a short report. You report must include answers to the following questions (1)
Who conducted the research? (2) What was (were) the research objective(s)? (3) What type
of research design was used? and (4) Why and why not is this a good research design?