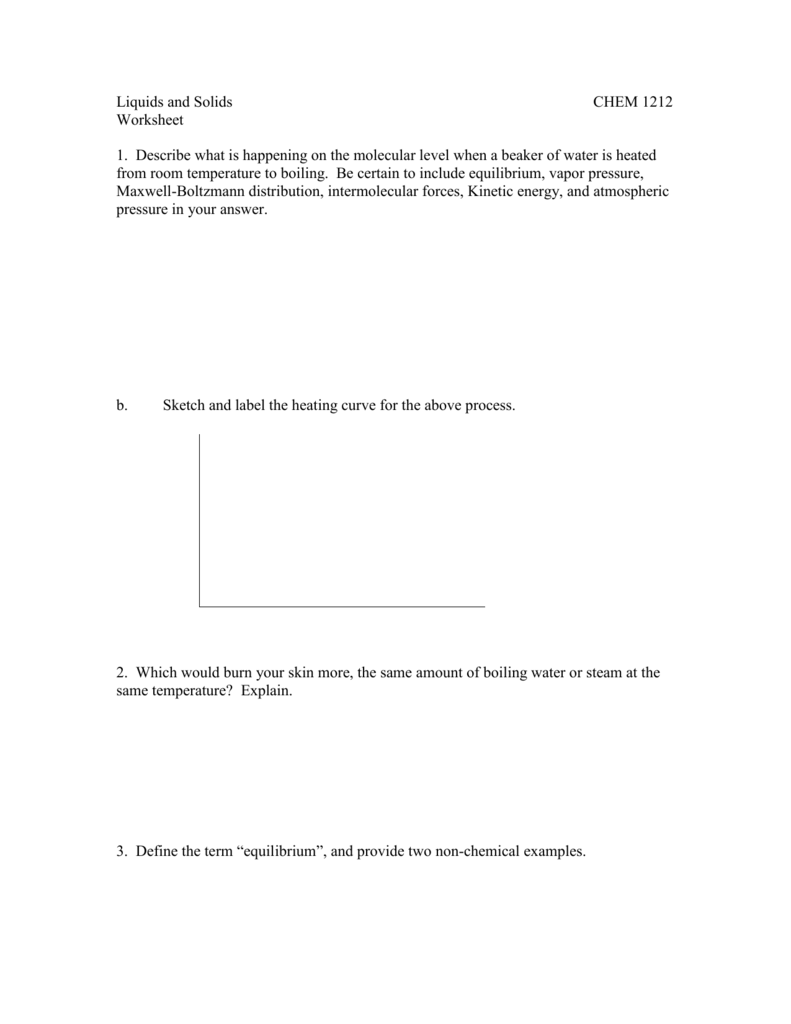 Liquids and Solids
Worksheet
CHEM 1212
1. Describe what is happening on the molecular level when a beaker of water is heated
from room temperature to boiling. Be certain to include equilibrium, vapor pressure,
Maxwell-Boltzmann distribution, intermolecular forces, Kinetic energy, and atmospheric
pressure in your answer.
b.
Sketch and label the heating curve for the above process.
2. Which would burn your skin more, the same amount of boiling water or steam at the
same temperature? Explain.
3. Define the term "equilibrium", and provide two non-chemical examples.
4. Use Hess's Law to calculate the Enthalpy of Vaporization for ethanol, C2H5OH.
b. Calculate the energy required to heat 100 g of liquid ethanol from 0ºC to a gas at
100ºC. Assume the heat capacity for ethanol is the same for both liquid and gas, Cs =
2.419 (J/g K). The boiling point of ethanol is 78ºC.
6. Label the phase diagram with as much information as possible.
b. From the phase diagram above, sketch the heating curve expected for this
material starting at point A and moving directly ( in a straight line) to point E.
c. Discuss the significance of the slope of the equilibrium line between the solid
and liquid sates.
9.
Compare and contrast the structure of solid water with that of a diamond.
List ALL of the intermolecular forces possible for the following molecules, and
arrange them in order of decreasing boiling points.
10.
a. Butane, CH3CH2CH2CH3
b. Water, H2O
c. Butanol, CH3CH2CH2CH2OH
d. Ethanol, CH3CH2OH
e. Ethylene glycol, HOCH2CH2OH
f. Isobutane, (CH3)3CH
g. Dimethyl ether, CH3OCH3
Relative Boiling Points:
>
>
>
>
>
>
How much heat is absorbed by a 25.0 g sample of ice in going from a solid at 25
K to steam at 125 ºC and a pressure of 1.00 atm? You may find the following data
useful.q1= 25g*(273-25K)*2.07 q4= (25g *(1mole/18g))*40,600 J/mol
q5=25g*(398-373K)*2.01 J/g K
Property
Value
Specific Heat (J/g C)
Solid
2.07
Liquid
4.18
Gas
2.01
Hfusion(kJ.mol)
6.01
Hvaporization(kJ/mol)
40.6
Hsublimation(kJ/mol)
50.9
Melting point (ºC)
0
Boiling point (ºC)
100
11.