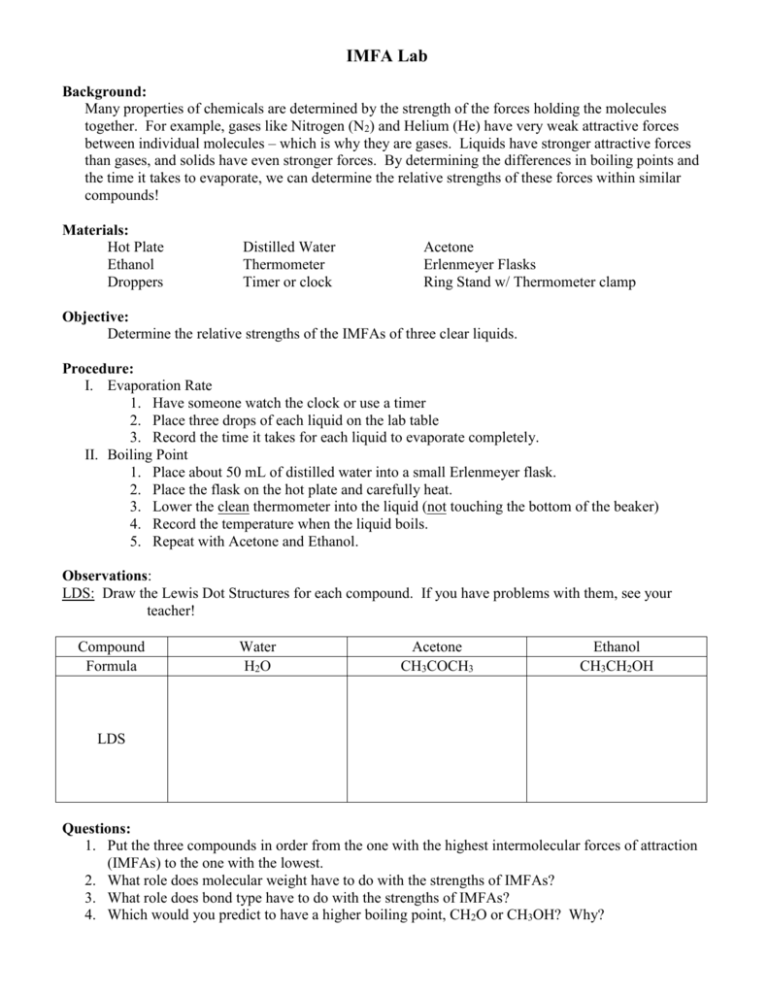 IMFA Lab
Background:
Many properties of chemicals are determined by the strength of the forces holding the molecules
together. For example, gases like Nitrogen (N2) and Helium (He) have very weak attractive forces
between individual molecules – which is why they are gases. Liquids have stronger attractive forces
than gases, and solids have even stronger forces. By determining the differences in boiling points and
the time it takes to evaporate, we can determine the relative strengths of these forces within similar
compounds!
Materials:
Hot Plate
Ethanol
Droppers
Distilled Water
Thermometer
Timer or clock
Acetone
Erlenmeyer Flasks
Ring Stand w/ Thermometer clamp
Objective:
Determine the relative strengths of the IMFAs of three clear liquids.
Procedure:
I. Evaporation Rate
1. Have someone watch the clock or use a timer
2. Place three drops of each liquid on the lab table
3. Record the time it takes for each liquid to evaporate completely.
II. Boiling Point
1. Place about 50 mL of distilled water into a small Erlenmeyer flask.
2. Place the flask on the hot plate and carefully heat.
3. Lower the clean thermometer into the liquid (not touching the bottom of the beaker)
4. Record the temperature when the liquid boils.
5. Repeat with Acetone and Ethanol.
Observations:
LDS: Draw the Lewis Dot Structures for each compound. If you have problems with them, see your
teacher!
Compound
Formula
Water
H2O
Acetone
CH3COCH3
Ethanol
CH3CH2OH
LDS
Questions:
1. Put the three compounds in order from the one with the highest intermolecular forces of attraction
(IMFAs) to the one with the lowest.
2. What role does molecular weight have to do with the strengths of IMFAs?
3. What role does bond type have to do with the strengths of IMFAs?
4. Which would you predict to have a higher boiling point, CH2O or CH3OH? Why?