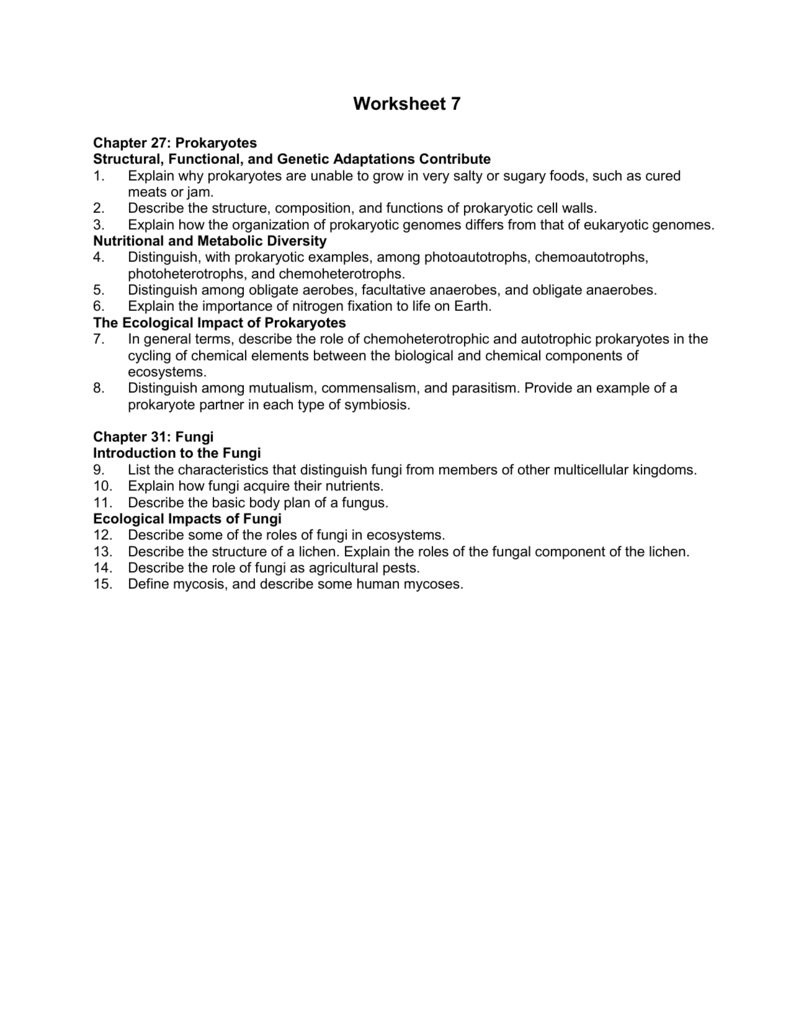 Worksheet 7
Chapter 27: Prokaryotes
Structural, Functional, and Genetic Adaptations Contribute
1.
Explain why prokaryotes are unable to grow in very salty or sugary foods, such as cured
meats or jam.
2.
Describe the structure, composition, and functions of prokaryotic cell walls.
3.
Explain how the organization of prokaryotic genomes differs from that of eukaryotic genomes.
Nutritional and Metabolic Diversity
4.
Distinguish, with prokaryotic examples, among photoautotrophs, chemoautotrophs,
photoheterotrophs, and chemoheterotrophs.
5.
Distinguish among obligate aerobes, facultative anaerobes, and obligate anaerobes.
6.
Explain the importance of nitrogen fixation to life on Earth.
The Ecological Impact of Prokaryotes
7.
In general terms, describe the role of chemoheterotrophic and autotrophic prokaryotes in the
cycling of chemical elements between the biological and chemical components of
ecosystems.
8.
Distinguish among mutualism, commensalism, and parasitism. Provide an example of a
prokaryote partner in each type of symbiosis.
Chapter 31: Fungi
Introduction to the Fungi
9.
List the characteristics that distinguish fungi from members of other multicellular kingdoms.
10. Explain how fungi acquire their nutrients.
11. Describe the basic body plan of a fungus.
Ecological Impacts of Fungi
12. Describe some of the roles of fungi in ecosystems.
13. Describe the structure of a lichen. Explain the roles of the fungal component of the lichen.
14. Describe the role of fungi as agricultural pests.
15. Define mycosis, and describe some human mycoses.