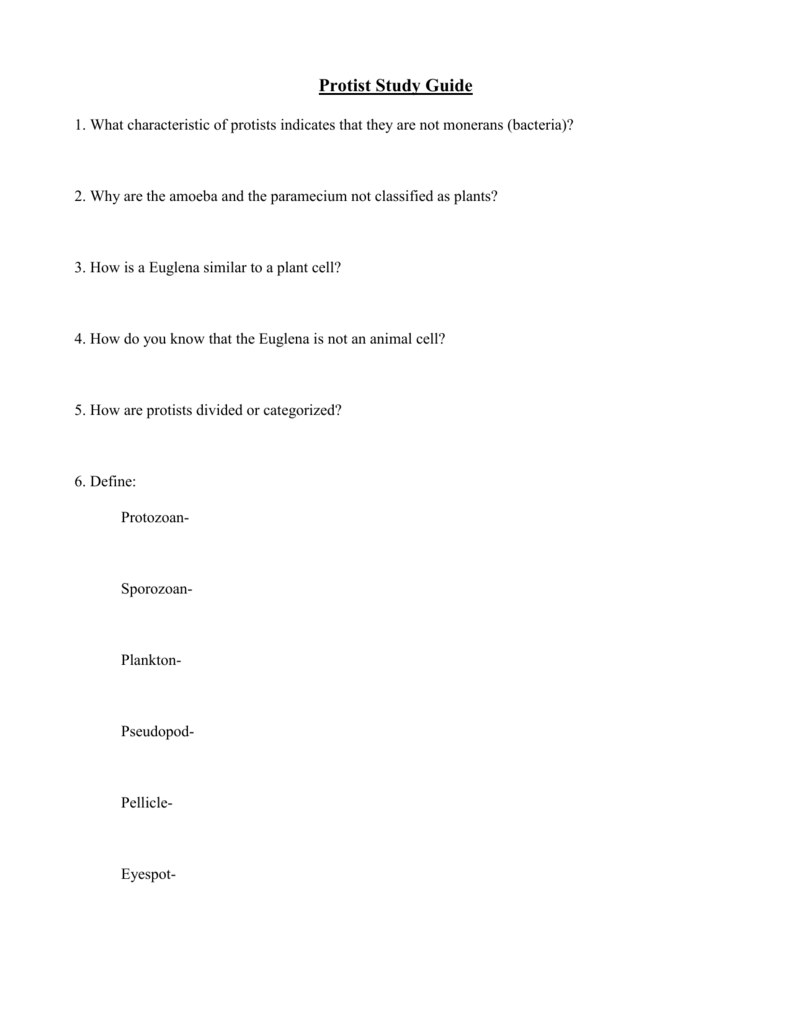 Protist Study Guide
1. What characteristic of protists indicates that they are not monerans (bacteria)?
2. Why are the amoeba and the paramecium not classified as plants?
3. How is a Euglena similar to a plant cell?
4. How do you know that the Euglena is not an animal cell?
5. How are protists divided or categorized?
6. Define:
Protozoan-
Sporozoan-
Plankton-
Pseudopod-
Pellicle-
Eyespot-
Contractile Vacuole-
7. Describe each of the following:
Trichonympha
Trypanosoma
Plasmodium
Red tides
Phytophthora infestans
Ameobic Dysentery
8. Describe how conjugation is important to the paramecium
9. Compare & contrast the way sarcodines, ciliates, and zooflagellates move.
10. What is the function of the micronucleus and the macronucleus.
11. What feature of fungus-like protists make them not a fungus
12. Name 4 places that you could find a protist
Fungi
1. Draw the basic structure of a fungus and label its hyphae, fruiting body, and mycelium
2. What are several roles that fungi have in the ecosystem?
3. What structures are created by the fruiting bodies for fungal reproduction?
4. What economic value to fungi have?
5. What is the name of fungi found in Phylum Basidiomycota? Ascomycota? Zygomycota? Give
an example of each.