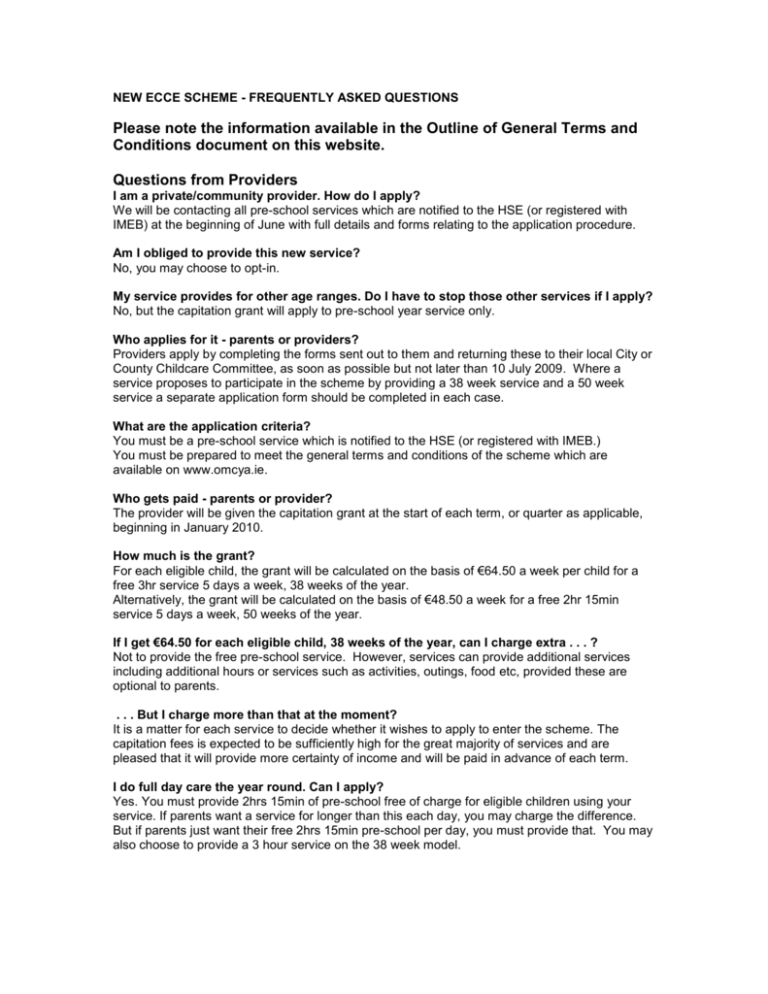 NEW ECCE SCHEME - FREQUENTLY ASKED QUESTIONS
Please note the information available in the Outline of General Terms and
Conditions document on this website.
Questions from Providers
I am a private/community provider. How do I apply?
We will be contacting all pre-school services which are notified to the HSE (or registered with
IMEB) at the beginning of June with full details and forms relating to the application procedure.
Am I obliged to provide this new service?
No, you may choose to opt-in.
My service provides for other age ranges. Do I have to stop those other services if I apply?
No, but the capitation grant will apply to pre-school year service only.
Who applies for it - parents or providers?
Providers apply by completing the forms sent out to them and returning these to their local City or
County Childcare Committee, as soon as possible but not later than 10 July 2009. Where a
service proposes to participate in the scheme by providing a 38 week service and a 50 week
service a separate application form should be completed in each case.
What are the application criteria?
You must be a pre-school service which is notified to the HSE (or registered with IMEB.)
You must be prepared to meet the general terms and conditions of the scheme which are
available on www.omcya.ie.
Who gets paid - parents or provider?
The provider will be given the capitation grant at the start of each term, or quarter as applicable,
beginning in January 2010.
How much is the grant?
For each eligible child, the grant will be calculated on the basis of €64.50 a week per child for a
free 3hr service 5 days a week, 38 weeks of the year.
Alternatively, the grant will be calculated on the basis of €48.50 a week for a free 2hr 15min
service 5 days a week, 50 weeks of the year.
If I get €64.50 for each eligible child, 38 weeks of the year, can I charge extra . . . ?
Not to provide the free pre-school service. However, services can provide additional services
including additional hours or services such as activities, outings, food etc, provided these are
optional to parents.
. . . But I charge more than that at the moment?
It is a matter for each service to decide whether it wishes to apply to enter the scheme. The
capitation fees is expected to be sufficiently high for the great majority of services and are
pleased that it will provide more certainty of income and will be paid in advance of each term.
I do full day care the year round. Can I apply?
Yes. You must provide 2hrs 15min of pre-school free of charge for eligible children using your
service. If parents want a service for longer than this each day, you may charge the difference.
But if parents just want their free 2hrs 15min pre-school per day, you must provide that. You may
also choose to provide a 3 hour service on the 38 week model.
If I get €48.50 a week for each eligible child, 50 weeks of the year, should I drop my prices
by €48.50?
Yes, as the grant will be paid for providing free 2hrs 15min pre-school, 50 weeks of the year for
eligible children. The balance of the full or part time childcare fee payable should be charged to
parents.
Is there a limit to the number of services which will be accepted into the scheme?
No. This scheme is open to all eligible applicants who can provide the service and meet the
conditions of the scheme (e.g. are notified to the HSE or registered with the IMEB / are Limited
Companies / Sole Traders / Partnerships / School Boards of Management / have staff with the
required qualifications in childcare etc.).
What qualifications in childcare must staff have?
The pre-school leader must hold a certification for a major award in childcare/early education at a
minimum of level 5 on The National Framework of Qualifications of Ireland (NFQ) or an
equivalent nationally recognised qualification or a higher award in the childcare/early education
field. During the first 2 full years of the scheme, the qualifications requirement will be considered
to be met where a person can demonstrate that he or she has achieved a certification for an
award in ECCE that includes significant content relating to early childhood education/early
learning and child development and has at least 2 years experience of working in a position of
responsibility with children in the 0-6 age range.
What are the age limits?
Children will be eligible if they are aged between 3 years 3 months and 4 years 6 months on the
1st of September each year.
Q: Are we supposed to be open exactly 38 full 5-day weeks? Primary schools only open
183 days, which is 36.5 weeks.
A: Generally, the 183 days that a primary school is open will fall in 38 different weeks during the
year, with bank holidays and some short mid-term breaks resulting in many of those weeks being
'part-weeks', and the same pattern is envisaged with the 38 week ECCE year. Pre-school
services generally align themselves with their local primary schools, and would therefore be
expected to be open 38 weeks, on this basis. However, if in a particular year the 183 days a local
primary school is open fall in the course of 37 weeks, an ECCE funded service may also open 37
weeks to match that pattern, provided that they are open the same number of days (i.e. 183). In
all cases, ECCE funded services will be expected to open for at least 183 days, regardless of the
number of weeks and part-weeks they are open.
Q: I have been told that I will be able to raise fees by means of an annual registration fee,
instead of a weekly or monthly fee, in addition to the capitation - is this true?
A: No. Services will be permitted to secure a booking deposit (of no more than 2 weeks
capitation per child); however this will be refundable from the date of the parental return (in
January 2010 and every September thereafter). They will not, however, be permitted to levy a
compulsory fee for participation in the scheme.
Q: Does the scheme allow for voluntary donations from parents?
A: This depends on the nature of the donation. Of course, if a parent wishes to make a donation
to a service, this is acceptable, for example a service could inform parents who wish to make a
donation that direct debit forms are available. However, enrolment must not be dependent on
making a donation, and any donation must be clearly optional to parents. The collection of such
contributions from parents in a manner similar to fees (e.g. with an envelope being passed to
parents each month), would breach the conditions of the scheme.
The general rule is that, while a pre-school may make their details available to allow for voluntary
donations, these should not be sought from parents on more than one occasion, and at all times it
should be made clear to parents that this is done on a voluntary basis only.
Given the uncertainty that a service would have with such an income stream, and the danger that
it would make its budget unsustainable, it is not recommended that services actively seek such
donations as an income stream.
Q: I run a 38 week service, which opens 2 hours 30 minutes per day. Is it possible under
the scheme for my facility to be open for the 3 hours (e.g. 8:45-11:45), but to only have a
programme for activities from 9:00-11:30? I am considering having 15 minutes dropin/departure time either side of my session, but the children will be with their parents for
much of this (I will not need to have all the staff present either for these periods).
A: No, children attending such a service would not be getting the benefit of 3 hours of programme
based pre-school, and would lose out (it would also mean that other services operating for the full
3 hours - in addition to the time taken to start/finish services - would be at a disadvantage to your
service, as they will have higher staffing costs).
Questions from parents
I am a parent. How do I apply?
Details of pre-school services which have entered the scheme will be available from your local
Childcare Committee by early October 2009. You can then contact a local service to enrol your
child. If you are using a service already you can ask your provider if they plan to enter the
scheme.
Is it only for community providers?
No, all pre-school services which are notified to the HSE (or registered with the IMEB) can apply
to participate.
I am a parent. Can I get the money sent to me instead?
No. The capitation fee will be paid to the provider.
What ages are eligible?
Children who on 1 January 2010, are aged between 3 yrs 7months and 4 yrs 10 months, will be
eligible. This may be appealed where a child has been assessed as having special needs which
will delay his or her entry to school or where the enrolment policy of a local national school(s)
requires children to be more than 5 years and Six months on entry.
What if my childcare provider is not taking part in the scheme?
The scheme is not obligatory so it is up to childcare providers to apply if they so wish. Details of
participating services in your area will be available by October 2009.
My child will be 3yrs 7mths in December 2009. Is she eligible?
Yes. On 1 January 2009, she will be between 3yrs 7mths and 4 yrs 10mths, so she will be
eligible.
My child will be 5 years old on 1 January 2010. He will not start school until September. Is
he eligible?
The scheme does not cover a child over 4 years 10mths on 1 January 2010.
How much will providers get?
Services in the scheme - providing three hours a day, 5 days a week for 38 weeks of the year will get a grant based on €64.50 per child a week for providing a free pre-school service.
Full-time or part-time services operating on a 50 week a year basis will be able to provide 2hrs
15min a day free pre-school for eligible children, and they will receive a grant based on €48.50
per child per week for this. Parents will benefit by a reduction in their childcare costs of this
amount. Full or part-time services may choose to provide a sessional (3 hour) service over 38
weeks of a year (or 2 sessional services each day) while a sessional service may choose to
provide 2 hours 15 minutes per day over 50 weeks.
Do I have a right to free pre-school for my child? My local centre says it is booked out. Do
they have to take my child?
The scheme is subject to availability and a free pre-school place cannot be guaranteed in every
case. However, it is expected that almost all parents will be accommodated. If you have difficulty
finding a place for your child, you should contact your local City/County Childcare Committee for
advice.
Will the scheme be means-tested?
No, it will not be means-tested, and will be available to all parents based on local availability.