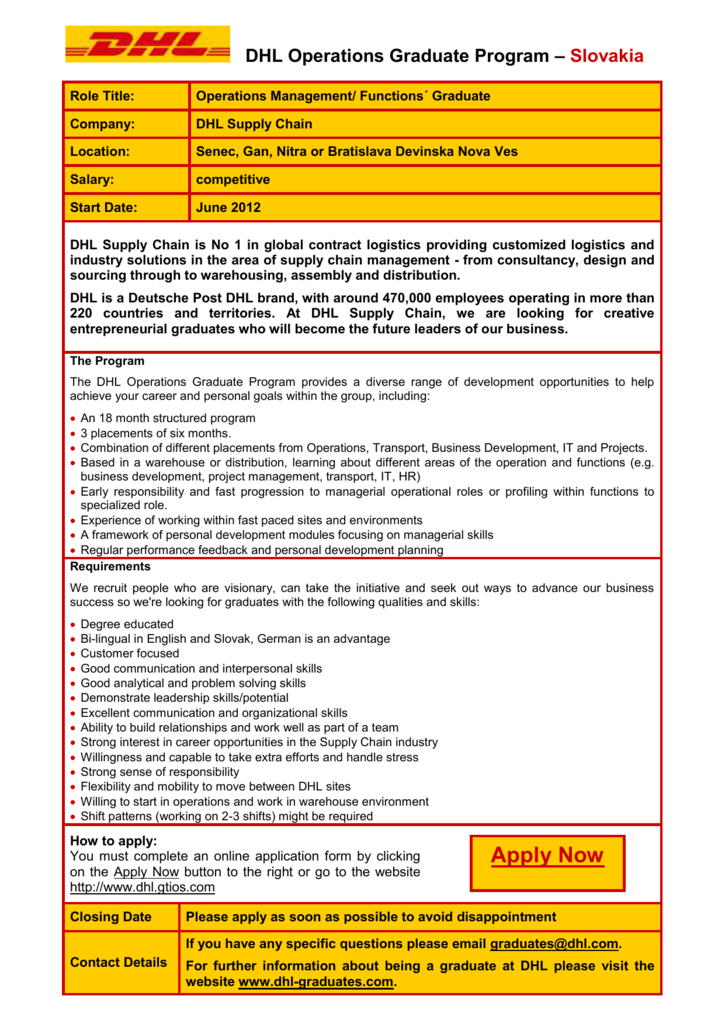 DHL Operations Graduate Program – Slovakia
Role Title:
Operations Management/ Functions´ Graduate
Company:
DHL Supply Chain
Location:
Senec, Gan, Nitra or Bratislava Devinska Nova Ves
Salary:
competitive
Start Date:
June 2012
DHL Supply Chain is No 1 in global contract logistics providing customized logistics and
industry solutions in the area of supply chain management - from consultancy, design and
sourcing through to warehousing, assembly and distribution.
DHL is a Deutsche Post DHL brand, with around 470,000 employees operating in more than
220 countries and territories. At DHL Supply Chain, we are looking for creative
entrepreneurial graduates who will become the future leaders of our business.
The Program
The DHL Operations Graduate Program provides a diverse range of development opportunities to help
achieve your career and personal goals within the group, including:




An 18 month structured program
3 placements of six months.
Combination of different placements from Operations, Transport, Business Development, IT and Projects.
Based in a warehouse or distribution, learning about different areas of the operation and functions (e.g.
business development, project management, transport, IT, HR)
 Early responsibility and fast progression to managerial operational roles or profiling within functions to
specialized role.
 Experience of working within fast paced sites and environments
 A framework of personal development modules focusing on managerial skills
 Regular performance feedback and personal development planning
Requirements
We recruit people who are visionary, can take the initiative and seek out ways to advance our business
success so we're looking for graduates with the following qualities and skills:














Degree educated
Bi-lingual in English and Slovak, German is an advantage
Customer focused
Good communication and interpersonal skills
Good analytical and problem solving skills
Demonstrate leadership skills/potential
Excellent communication and organizational skills
Ability to build relationships and work well as part of a team
Strong interest in career opportunities in the Supply Chain industry
Willingness and capable to take extra efforts and handle stress
Strong sense of responsibility
Flexibility and mobility to move between DHL sites
Willing to start in operations and work in warehouse environment
Shift patterns (working on 2-3 shifts) might be required
How to apply:
You must complete an online application form by clicking
on the Apply Now button to the right or go to the website
http://www.dhl.gtios.com
Closing Date
Apply Now
Please apply as soon as possible to avoid disappointment
If you have any specific questions please email [email protected]
Contact Details
For further information about being a graduate at DHL please visit the
website www.dhl-graduates.com.