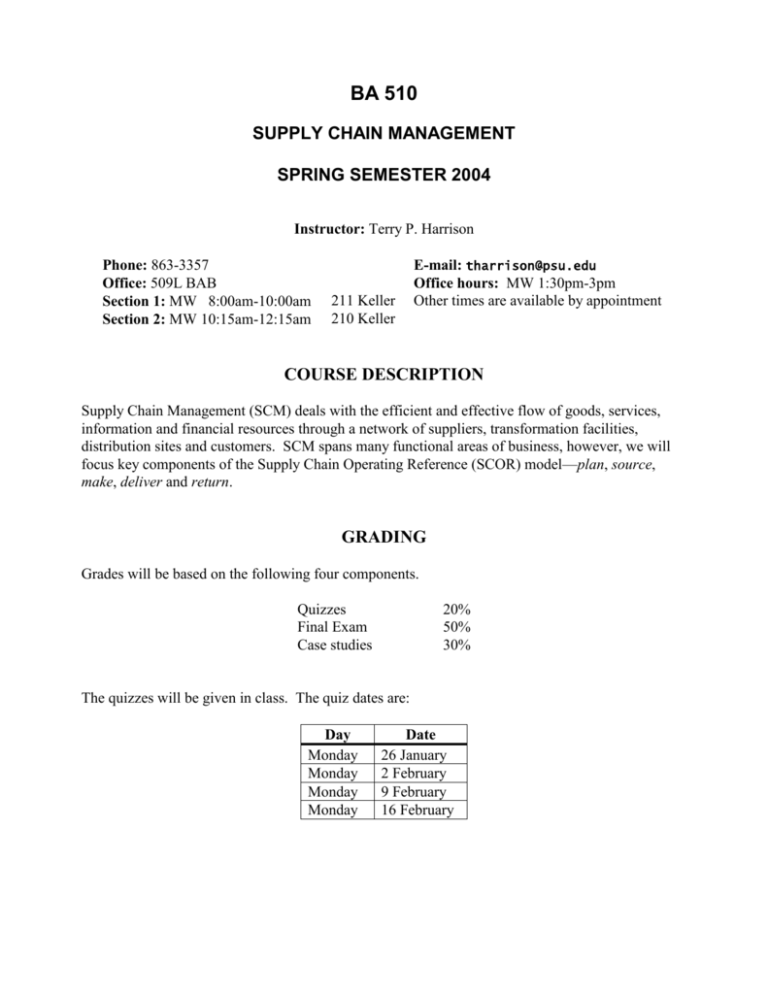 BA 510
SUPPLY CHAIN MANAGEMENT
SPRING SEMESTER 2004
Instructor: Terry P. Harrison
Phone: 863-3357
Office: 509L BAB
Section 1: MW 8:00am-10:00am
Section 2: MW 10:15am-12:15am
211 Keller
210 Keller
E-mail: [email protected]
Office hours: MW 1:30pm-3pm
Other times are available by appointment
COURSE DESCRIPTION
Supply Chain Management (SCM) deals with the efficient and effective flow of goods, services,
information and financial resources through a network of suppliers, transformation facilities,
distribution sites and customers. SCM spans many functional areas of business, however, we will
focus key components of the Supply Chain Operating Reference (SCOR) model—plan, source,
make, deliver and return.
GRADING
Grades will be based on the following four components.
Quizzes
Final Exam
Case studies
20%
50%
30%
The quizzes will be given in class. The quiz dates are:
Day
Monday
Monday
Monday
Monday
Date
26 January
2 February
9 February
16 February
BA 510
Spring Semester 2004
Page 2 of 4
The case studies will be prepared in groups. Every group is required to submit a written case report
for three out of the final four cases. (The first case, Benihanna, will not count for a grade, but you
may optionally submit a written report for practice and feedback.) I will use your best three case
scores to determine your average for the case portion of your final grade. Case reports are due in
class the day the case is scheduled for discussion.
A case report should be no more than three double-spaced typewritten pages plus appendices, charts,
and graphs. Do not exceed this page limit. Your report should contain: 1) an executive summary
outlining the key problems and recommendations, and 2) a brief discussion of the analysis upon
which the recommendations are based. The case facts should not be restated. Key grading criteria
are the clarity of exposition, rigor of the analysis, and creativity of approach. Please see the "Case
Grading Guidelines" document at the BA 510 website for further details.
In addition to the cases and readings, I will occasionally make homework assignments. You will
find the assignments to be a useful aid in evaluating your understanding of the material. The
homework assignments are not directly factored into the final course grade; however they provide
excellent preparation for the examination and quizzes. If you wish, homework assignments may be
turned in for review. Some of the problems will be covered in class and in weekly review sessions.
ACADEMIC INTEGRITY
Penn State's position on academic integrity is stated in the University Handbook as:
Academic integrity is the pursuit of scholarly activity free from fraud and deception and is an
educational objective of this institution. Academic dishonesty includes, but is not limited to cheating,
plagiarism, fabrication of information or citations, facilitating acts of academic dishonesty by others,
unauthorized prior possession of examinations, submitting work of another person or work previously
used without informing the instructor, or tampering with the academic work of other students.
I view violations of academic integrity as very serious offenses and will prosecute them vigorously.
If you have questions about a particular situation, please discuss it with me. It is your responsibility
to obtain my opinion regarding ambiguous situations. In particular, it is a violation of academic
integrity to seek out and/or use quizzes or case reports from prior classes.
TEXT MATERIALS


Operations Management: Strategy and Analysis. Lee Krajewski and Larry Ritzman, AddisonWesley (Sixth Edition) 2002.
Case Packet (available at the Student Book Store, 330 E. College Ave.)
BA 510
Spring Semester 2004
Page 3 of 4
LECTURE NOTES
I will make materials available on the course web page for BA 510. To reach the page directly, use
the URL http://xyzzy. My lectures (along with other materials such as this syllabus) will be
placed there. Most documents will be in portable document format (PDF), which requires the use
of Adobe Acrobat.
GRADUATE ASSISTANT
The graduate assistant for BA510 is Sanjay R Sisodiya ([email protected]). He is located in 330
Beam and his office phone is 865-0603. Sanjay's office hours are MW 12:30PM-2PM, and other
times by appointment.
REVIEW SESSIONS
There will be optional weekly review sessions held every Sunday evening from 6:30pm-8:00pm at
210 Keller. These will start on 25 January and continue throughout the semester. Sanjay Sisodiya,
the BA510 graduate assistant, will conduct the sessions. He will begin each session by reviewing
the material from the prior week. There will also be time dedicated to working problems. If you
have specific problems or questions you wish to have covered, send e-mail in advance to Mr.
Sisodiya, but please also send a copy to me.
AMERICAN DISABILITIES ACT
The Smeal College of Business Administration welcomes persons with disabilities to all of its classes, programs, and events. If you need
accommodations, or have questions about access to buildings where Smeal College activities are held, please contact us in advance of your
participation or visit. If you need assistance during a class, program, or event, please contact the member of our staff or faculty in charge. Access
to MBA Supply Chain and Information Systems courses should be arranged by contacting the MBA office.
BA 510
Spring Semester 2004
Page 4 of 4
CLASS SCHEDULE
Here is a list of lecture topics. The specific assignments will be updated each class in the lecture
notes.
Session
Day
Date
1
M
12-Jan
2
W
14-Jan
3
M
19-Jan
4
W
21-Jan
Topic
Introduction to supply chain
management, Au Bon Pain video
Online beer game exercise
Total Quality Management,
Benihana case, ParkRoyal video
Statistical Process Control
Reading
Chapter 1
Handout
Chapter 6, Benihana case
Chapter 7
5
M
26-Jan
Statistical Process Control, Quiz1
"Six Sigma: What It Is and How
to Use It" paper
6
W
28-Jan
Inventory management, inventory
video
Chapter 13, "Control your
inventory in a world of lean
retailing" paper
7
M
2-Feb
Inventory management,
computerized newsboy exercise,
Quiz 2
"Critical fractile method" paper
8
W
4-Feb
Materials Requirements Planning,
Sport Obermeyer case
Chapter 15, "Making supply meet
demand in an uncertain world"
paper, Sport Obermeyer case
9
M
9-Feb
Just-in-Time production, "Cups"
video, Quiz 3
Chapter 16
10
W
11-Feb
Supply chain strategy, supply chain
simulation
11
M
16-Feb
Supply chain optimization, Quiz 4
Chapter 2, "What is the right
supply chain for your product?",
Benetton case
Chapter 11
12
W
18-Feb
Logistics management
Polaroid case
13
M
23-Feb
Reverse logistics, course review
HP Product Returns case
T
24-Feb
Final Exam
AFFIRMATIVE ACTION and SEXUAL HARASSMENT
The Pennsylvania State University is committed to a policy where all persons shall have equal access to programs, facilities, admission, and
employment without regard to personal characteristics not related to ability, performance, or qualifications as determined by University policy or by
Commonwealth or Federal authorities. Penn State does not discriminate against any person because of age, ancestry, color, disability or handicap,
national origin, race, religious creed, gender, sexual orientation, or veteran status. Direct all inquiries to the Affirmative Action Office, 328 Boucke
Building.
AN INVITATION TO STUDENTS WITH LEARNING DISABILITIES
It is Penn State's policy to not discriminate against qualified students with documented disabilities in its educational programs. If you have a
disability-related need for modifications in your testing or learning situation, your instructor should be notified during the first week of classes so
that your needs can be accommodated. You will be asked to present documentation from the Office of Disability Services (located in 116 Boucke
Building; 863-1807) that describes the nature of your disability and the recommended remedy. You may refer to the Nondiscrimination Policy in the
Student Guide to University Policies and Rules.
This publication is available in alternative media on request.