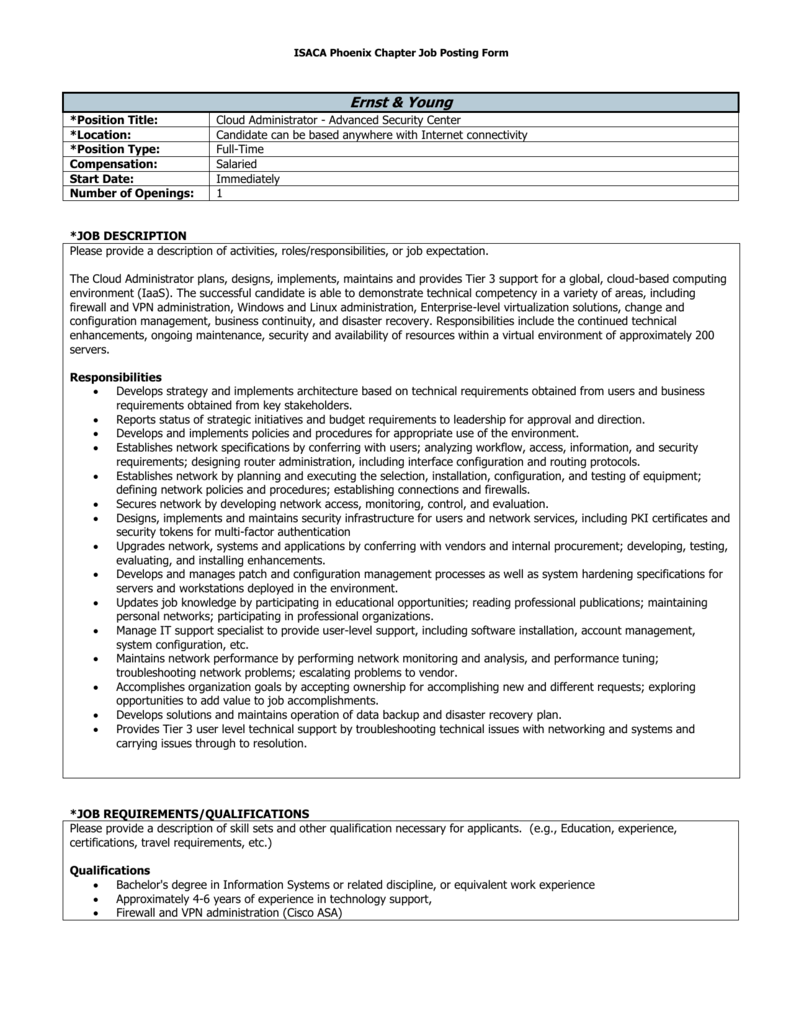 ISACA Phoenix Chapter Job Posting Form
Ernst & Young
*Position Title:
*Location:
*Position Type:
Compensation:
Start Date:
Number of Openings:
Cloud Administrator - Advanced Security Center
Candidate can be based anywhere with Internet connectivity
Full-Time
Salaried
Immediately
1
*JOB DESCRIPTION
Please provide a description of activities, roles/responsibilities, or job expectation.
The Cloud Administrator plans, designs, implements, maintains and provides Tier 3 support for a global, cloud-based computing
environment (IaaS). The successful candidate is able to demonstrate technical competency in a variety of areas, including
firewall and VPN administration, Windows and Linux administration, Enterprise-level virtualization solutions, change and
configuration management, business continuity, and disaster recovery. Responsibilities include the continued technical
enhancements, ongoing maintenance, security and availability of resources within a virtual environment of approximately 200
servers.
Responsibilities

Develops strategy and implements architecture based on technical requirements obtained from users and business
requirements obtained from key stakeholders.

Reports status of strategic initiatives and budget requirements to leadership for approval and direction.

Develops and implements policies and procedures for appropriate use of the environment.

Establishes network specifications by conferring with users; analyzing workflow, access, information, and security
requirements; designing router administration, including interface configuration and routing protocols.

Establishes network by planning and executing the selection, installation, configuration, and testing of equipment;
defining network policies and procedures; establishing connections and firewalls.

Secures network by developing network access, monitoring, control, and evaluation.

Designs, implements and maintains security infrastructure for users and network services, including PKI certificates and
security tokens for multi-factor authentication

Upgrades network, systems and applications by conferring with vendors and internal procurement; developing, testing,
evaluating, and installing enhancements.

Develops and manages patch and configuration management processes as well as system hardening specifications for
servers and workstations deployed in the environment.

Updates job knowledge by participating in educational opportunities; reading professional publications; maintaining
personal networks; participating in professional organizations.

Manage IT support specialist to provide user-level support, including software installation, account management,
system configuration, etc.

Maintains network performance by performing network monitoring and analysis, and performance tuning;
troubleshooting network problems; escalating problems to vendor.

Accomplishes organization goals by accepting ownership for accomplishing new and different requests; exploring
opportunities to add value to job accomplishments.

Develops solutions and maintains operation of data backup and disaster recovery plan.

Provides Tier 3 user level technical support by troubleshooting technical issues with networking and systems and
carrying issues through to resolution.
*JOB REQUIREMENTS/QUALIFICATIONS
Please provide a description of skill sets and other qualification necessary for applicants. (e.g., Education, experience,
certifications, travel requirements, etc.)
Qualifications

Bachelor's degree in Information Systems or related discipline, or equivalent work experience

Approximately 4-6 years of experience in technology support,

Firewall and VPN administration (Cisco ASA)
ISACA Phoenix Chapter Job Posting Form











Data Center Virtualization (vSphere)
Windows Server 2012 administration
Microsoft Active Directory Services configuration and administration
Linux administration (Red hat and Ubuntu preferred)
Working knowledge of common network services: FTP, SSH, SMTP, SNMP, HTTP, LDAP, SMB, Kerberos, RADIUS, IPSec
Application Server Administration (Tomcat/JBoss/Glassfish)
Scripting experience◦Windows PowerShell
Linux/Unix shell (Bourne, Korn, etc)
Ruby/Python/Perl is a plus
Sharepoint administration is a plus
Microsoft SQL Server administration is a plus
Certifications

VMware Certified Professional 5 – Data Center Virtualization (VCP5-DCV)

Microsoft Certified System Engineer (MSCE): Server Infrastructure

Linux Professional Institute Certification 2 (LPIC-2)

Certified Cloud Technology Professional

Cisco Certified Network Professional (CCNP)

Cisco Certified Network Administrator (CCNA)

Red Hat Certified Engineer (RHCE)

CompTIA Network+ (secondary)

CompTIA Security+ (secondary)

CompTIA Linux+ (secondary)
COMPANY INFORMATION
Please provide a description, background information, or website address for the company.
Being part of a dynamic, growing organization offers an exciting career path full of opportunity. Ernst & Young Advisory Services
in the United States is part of a global organization of member firms that collectively comprise a $5 billion and growing, global
advisory practice with 22,000 professionals. With an overall global Advisory market of $150 billion, there's tremendous potential
for growth – and we're prepared to tap into that potential. Our Advisory team takes a strategic approach to helping clients
improve and sustain their business performance. In today's complex business environment, that means understanding the
relationship between risk and performance improvement, and applying our knowledge to help clients achieve their business
objectives.
At EY, our 158,000 professionals work together to deliver assurance, tax, transaction and advisory services. We are united by
our shared values and an unwavering commitment to quality. And, we make a difference through leading practices that develop
our people, help our clients and strengthen our communities.
Our collaborative culture supports the personal and professional success of each individual. Learn more about who we are, what
we do and how to achieve your potential by visiting ey.com/us/eyinsight. And, visit us at ey.com/us/careers and see why EY has
been on FORTUNE's "100 Best Companies to Work For" list for 15 consecutive years, longer than any of the other Big Four.
CONTACT INFORMATION
Job Reference #:
*Contact Name:
Adam Wright
*Method:
[email protected]
Website:
ISACA Phoenix Chapter Job Posting Form
SPECIAL INTRUCTIONS:
Please provide additional/special instructions for the potential applicant to follow-up (e.g., provide a cover letter, résumé, and
salary history…).
Interested parties should contact Adam Wright with their updated resumes and any questions they have concerning the
position.
The ISACA Phoenix Chapter is not responsible for the content or accuracy of this job posting.