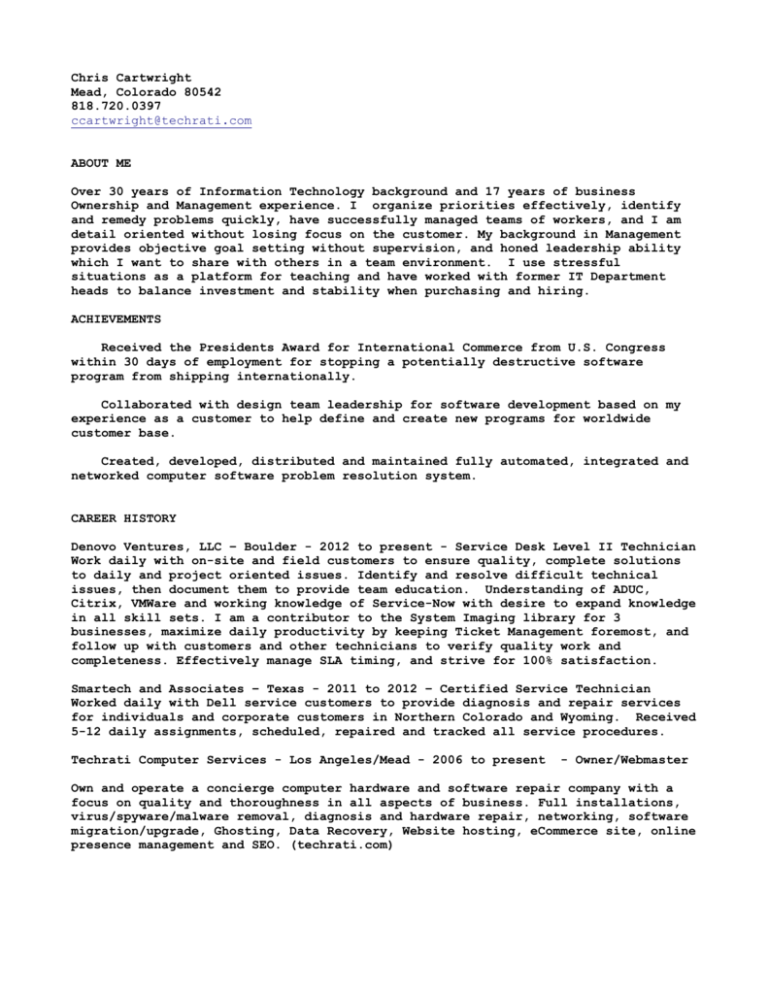 Chris Cartwright
Mead, Colorado 80542
818.720.0397
ccartwright@techrati.com
ABOUT ME
Over 30 years of Information Technology background and 17 years of business
Ownership and Management experience. I organize priorities effectively, identify
and remedy problems quickly, have successfully managed teams of workers, and I am
detail oriented without losing focus on the customer. My background in Management
provides objective goal setting without supervision, and honed leadership ability
which I want to share with others in a team environment. I use stressful
situations as a platform for teaching and have worked with former IT Department
heads to balance investment and stability when purchasing and hiring.
ACHIEVEMENTS
Received the Presidents Award for International Commerce from U.S. Congress
within 30 days of employment for stopping a potentially destructive software
program from shipping internationally.
Collaborated with design team leadership for software development based on my
experience as a customer to help define and create new programs for worldwide
customer base.
Created, developed, distributed and maintained fully automated, integrated and
networked computer software problem resolution system.
CAREER HISTORY
Denovo Ventures, LLC – Boulder - 2012 to present - Service Desk Level II Technician
Work daily with on-site and field customers to ensure quality, complete solutions
to daily and project oriented issues. Identify and resolve difficult technical
issues, then document them to provide team education. Understanding of ADUC,
Citrix, VMWare and working knowledge of Service-Now with desire to expand knowledge
in all skill sets. I am a contributor to the System Imaging library for 3
businesses, maximize daily productivity by keeping Ticket Management foremost, and
follow up with customers and other technicians to verify quality work and
completeness. Effectively manage SLA timing, and strive for 100% satisfaction.
Smartech and Associates – Texas - 2011 to 2012 – Certified Service Technician
Worked daily with Dell service customers to provide diagnosis and repair services
for individuals and corporate customers in Northern Colorado and Wyoming. Received
5-12 daily assignments, scheduled, repaired and tracked all service procedures.
Techrati Computer Services - Los Angeles/Mead - 2006 to present
- Owner/Webmaster
Own and operate a concierge computer hardware and software repair company with a
focus on quality and thoroughness in all aspects of business. Full installations,
virus/spyware/malware removal, diagnosis and hardware repair, networking, software
migration/upgrade, Ghosting, Data Recovery, Website hosting, eCommerce site, online
presence management and SEO. (techrati.com)
Chris Cartwright - 818-720-0397
Panera Bread - Loveland, Colorado - 2010 to 2011 - Assistant Manager
Co-Managed a team oriented store through coaching and experience based training
including labor management, P&L, COGS, inventory/purchasing, hiring/termination,
front-line support, extensive customer service, cash management (all aspects),
payroll, in house human resource challenges, and day-to-day operations. Quickly
adapted to new and changed situations including rapidly increasing sales, personnel
changes, and upper management decisions.
Boston Market - Westchester, California - 2008 to 2010 - General Manager
Jamba Juice - San Fernando Valley, California - 2005 to 2008 - General Manager
Private Elegance/Java Craze - Longmont, Colorado - 1994 to 2005 - Owner/Manager
Spherion - Boulder, Colorado - Database Administrator
Responsible for management of +1 Million part US Customs SQL database at IBM,
Boulder. Created automated scripts for data manipulation without error. Increased
throughput of input, modification and deletion of database items by over 50%
through elimination of manual information transfer pertaining to the individual
parts.
IBM - Boulder, Colorado - Advisory I/T Specialist
Lead Systems Programmer supporting multiple guest operating systems in a disaster
recovery environment. Provided front-line customer support to incoming teams from
corporate data centers across the country. Managed data recovery activities with
multiple teams of individuals simultaneously while providing confidentiality and
security for each group. Received praise from multiple team members for achieving
the desired results in a timely manner when creating a new system for automated
data management and recovery system generation.
StorageTek - Louisville, Colorado - Senior Software Engineer
Systems Center, Inc. - Reston, Virginia - Network Consultant, Technical Analyst
Hughes Aircraft Company - Marina Del Rey, California - Sr. Systems Programmer
Glendale Federal Savings - Glendale, California - Systems Programmer
EDUCATION
California State University - Northridge, California - Comp. Science, Business
Control Data Institute - Los Angeles, California, - Comp. Ops and Programming
VOLUNTEER
Outreach United Resource Center (OUR Center) - Longmont, Colorado - 1994 to 2004 Kitchen Coordinator/Event Organizer
Organized, collected food items, prepared, cooked and served over 850 individual
meals for the Spirit of Thanksgiving Gathering each year for 11 years. This
volunteer position included the management of over 100 kitchen and dining room
volunteers, coordination of delivery between drivers and serving staff, and the
incorporation of International Delegates into the process.