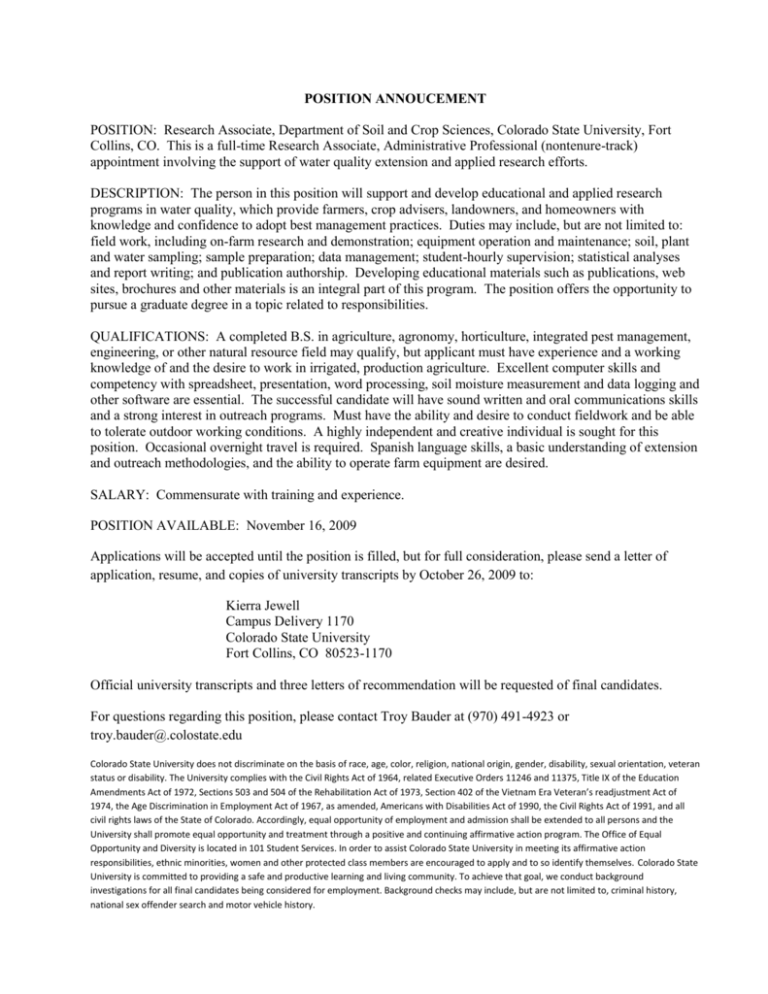 POSITION ANNOUCEMENT
POSITION: Research Associate, Department of Soil and Crop Sciences, Colorado State University, Fort
Collins, CO. This is a full-time Research Associate, Administrative Professional (nontenure-track)
appointment involving the support of water quality extension and applied research efforts.
DESCRIPTION: The person in this position will support and develop educational and applied research
programs in water quality, which provide farmers, crop advisers, landowners, and homeowners with
knowledge and confidence to adopt best management practices. Duties may include, but are not limited to:
field work, including on-farm research and demonstration; equipment operation and maintenance; soil, plant
and water sampling; sample preparation; data management; student-hourly supervision; statistical analyses
and report writing; and publication authorship. Developing educational materials such as publications, web
sites, brochures and other materials is an integral part of this program. The position offers the opportunity to
pursue a graduate degree in a topic related to responsibilities.
QUALIFICATIONS: A completed B.S. in agriculture, agronomy, horticulture, integrated pest management,
engineering, or other natural resource field may qualify, but applicant must have experience and a working
knowledge of and the desire to work in irrigated, production agriculture. Excellent computer skills and
competency with spreadsheet, presentation, word processing, soil moisture measurement and data logging and
other software are essential. The successful candidate will have sound written and oral communications skills
and a strong interest in outreach programs. Must have the ability and desire to conduct fieldwork and be able
to tolerate outdoor working conditions. A highly independent and creative individual is sought for this
position. Occasional overnight travel is required. Spanish language skills, a basic understanding of extension
and outreach methodologies, and the ability to operate farm equipment are desired.
SALARY: Commensurate with training and experience.
POSITION AVAILABLE: November 16, 2009
Applications will be accepted until the position is filled, but for full consideration, please send a letter of
application, resume, and copies of university transcripts by October 26, 2009 to:
Kierra Jewell
Campus Delivery 1170
Colorado State University
Fort Collins, CO 80523-1170
Official university transcripts and three letters of recommendation will be requested of final candidates.
For questions regarding this position, please contact Troy Bauder at (970) 491-4923 or
troy.bauder@.colostate.edu
Colorado State University does not discriminate on the basis of race, age, color, religion, national origin, gender, disability, sexual orientation, veteran
status or disability. The University complies with the Civil Rights Act of 1964, related Executive Orders 11246 and 11375, Title IX of the Education
Amendments Act of 1972, Sections 503 and 504 of the Rehabilitation Act of 1973, Section 402 of the Vietnam Era Veteran's readjustment Act of
1974, the Age Discrimination in Employment Act of 1967, as amended, Americans with Disabilities Act of 1990, the Civil Rights Act of 1991, and all
civil rights laws of the State of Colorado. Accordingly, equal opportunity of employment and admission shall be extended to all persons and the
University shall promote equal opportunity and treatment through a positive and continuing affirmative action program. The Office of Equal
Opportunity and Diversity is located in 101 Student Services. In order to assist Colorado State University in meeting its affirmative action
responsibilities, ethnic minorities, women and other protected class members are encouraged to apply and to so identify themselves. Colorado State
University is committed to providing a safe and productive learning and living community. To achieve that goal, we conduct background
investigations for all final candidates being considered for employment. Background checks may include, but are not limited to, criminal history,
national sex offender search and motor vehicle history.