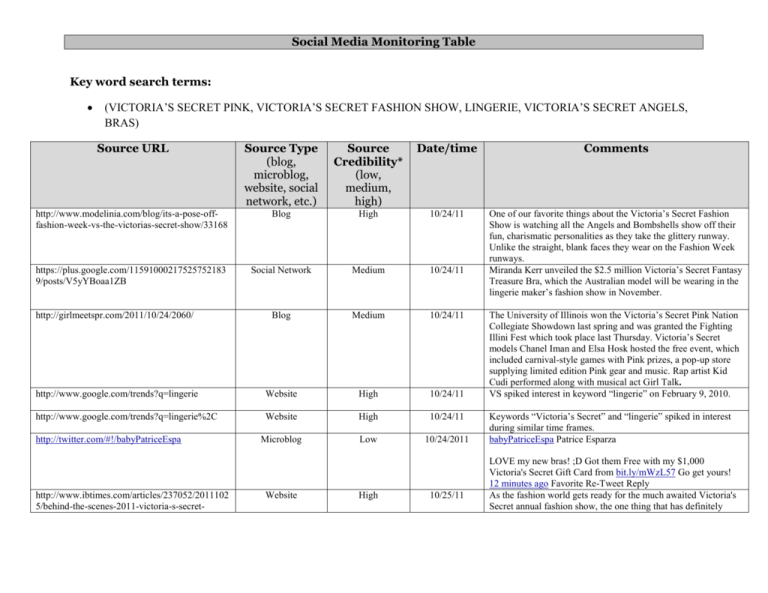 Social Media Monitoring Table
Key word search terms:

(VICTORIA'S SECRET PINK, VICTORIA'S SECRET FASHION SHOW, LINGERIE, VICTORIA'S SECRET ANGELS,
BRAS)
Source URL
Source Type
(blog,
microblog,
website, social
network, etc.)
Source
Credibility*
(low,
medium,
high)
Date/time
Comments
http://www.modelinia.com/blog/its-a-pose-offfashion-week-vs-the-victorias-secret-show/33168
Blog
High
10/24/11
https://plus.google.com/11591000217525752183
9/posts/V5yYBoaa1ZB
Social Network
Medium
10/24/11
One of our favorite things about the Victoria's Secret Fashion
Show is watching all the Angels and Bombshells show off their
fun, charismatic personalities as they take the glittery runway.
Unlike the straight, blank faces they wear on the Fashion Week
runways.
Miranda Kerr unveiled the $2.5 million Victoria's Secret Fantasy
Treasure Bra, which the Australian model will be wearing in the
lingerie maker's fashion show in November.
http://girlmeetspr.com/2011/10/24/2060/
Blog
Medium
10/24/11
http://www.google.com/trends?q=lingerie
Website
High
10/24/11
http://www.google.com/trends?q=lingerie%2C
Website
High
10/24/11
Microblog
Low
10/24/2011
http://twitter.com/#!/babyPatriceEspa
http://www.ibtimes.com/articles/237052/2011102
5/behind-the-scenes-2011-victoria-s-secret-
Website
High
10/25/11
The University of Illinois won the Victoria's Secret Pink Nation
Collegiate Showdown last spring and was granted the Fighting
Illini Fest which took place last Thursday. Victoria's Secret
models Chanel Iman and Elsa Hosk hosted the free event, which
included carnival-style games with Pink prizes, a pop-up store
supplying limited edition Pink gear and music. Rap artist Kid
Cudi performed along with musical act Girl Talk.
VS spiked interest in keyword "lingerie" on February 9, 2010.
Keywords "Victoria's Secret" and "lingerie" spiked in interest
during similar time frames.
babyPatriceEspa Patrice Esparza
LOVE my new bras! ;D Got them Free with my $1,000
Victoria's Secret Gift Card from bit.ly/mWzL57 Go get yours!
12 minutes ago Favorite Re-Tweet Reply
As the fashion world gets ready for the much awaited Victoria's
Secret annual fashion show, the one thing that has definitely
Social Media Monitoring Table
fantasy-bra-miranda-kerr-photoshoot-londonjewellers-gisele.htm
grabbed the attention of the masses is the 2011 version of the
iconic Fantasy Bra.
This one-of-a-kind customized Gorgeous Push-Up Bra; designed
by the world renowned London Jewelers was inspired by an
underwater dreamland. Embellished with nearly 3,400 precious
gems, the Fantasy Bra has a total carat weight of 279 carat and
cost a staggering $2,500,000.
Selected for wearing this year's creation is supermodel and VS
Angel Miranda Kerr.
"It's such an honor to wear the bra," People magazine quoted
Kerr as saying, "And it's such a piece of artwork! It's absolutely
stunning -- it kind of feels a little mermaid-like -- but I can't
believe I'm wearing $2.5 million on my chest."
http://www.suntimes.com/business/8415698420/standalone-victorias-secret-pink-to-open-inwater-tower-place.html
http://twitter.com/#!/StyleIntimate
Website
Microblog
High
Medium
10/25/11
10/26/2011
The Fantasy bra is regarded as one of the more important aspects
of the Victoria's Secret annual fashion event. Typically,
Victoria's Secret selects a single supermodel to display this
unique, bejeweled bra during the show each year.
Although the bra was initially showcased only in VS catalogs,
the luxe lingerie brand decided in 2001 to begin showcasing it
during the annual fashion shows as well.
Victoria's Secret Angels who have donned these designer
creations include Gisele Bundchen, Tyra Banks, Karolina
Kurkova and Adriana Lima. However, the highlight of the list
must surely be Heidi Klum, who has worn the Fantasy Bra in
three different years.
The first free-standing Victoria's Secret PINK store, geared
towards young women in their late teens and early 20s, will open
at 10 a.m. Nov. 3 at Water Tower Place, 845 N. Michigan Ave.
A "Bling Your PINK" weekend from Nov. 11-13 will let
customers who buy more than $50 in merchandise customize
their T-shirts and sweatshirts with crystals for free.
StyleIntimate StyleIntimate
Playtex lingerie offers sumptuous Bras and Briefs: Playtex
lingerie offers something for everyone. An eclectic b...
Social Media Monitoring Table
bit.ly/ucTjzu
57 minutes ago Favorite Re-Tweet Reply
http://www.ibtimes.com/articles/238948/2011102
7/miranda-kerr-victoria-s-secret-fashion-showaustralia.htm
http://www.musingsofamuse.com/2011/10/victori
as-secret-pink-holiday-collection-for-holiday2011.html
Website
Blog
High
Low
10/27/11
10/27/11
At the 2011 Victoria's Secret Annual Fashion Show, airing Nov.
29 at 10:00 p.m. on CBS, Kerr has the honor of wearing the
Fantasy Treasure Bra - a $2.5 million masterpiece made of 142
carats of diamonds.
This is one of the greatest opportunities in the Victoria's Secret
line-up. Kerr joins the ranks of VS alums Heidi Klum, Gisele
Bundchen, and Tyra Banks.
Victoria's Secret is getting all festive with their Pink Collection
and introducing three new scents for a limited time. Excited
much?
Not me.
I'm so not a Pink fan but my sister would probably suck it back
like a cocktail if I poured it into a fancy glass with olives so I
guess I better go explore as I'll probably end up hauling a lot of
it for her Christmas stocking.
http://twitter.com/#!/search/realtime/lingerie%20
%23victoriassecret
Microblog (Twitter
Search)
High
10/27/11
http://www.style.com/stylefile/2011/10/exclusive
-victorias-secret-angels-are-ready-for-theholidays/
http://dweam.com/tag/victorias-secret-fashionshow/
Blog
High
10/28/11
Blog
Medium
10/29/11
Jump!
Victoria's Secret Give a Little Pink
A mix of snowy violet and apple blossom.
Victoria's Secret Merry Merry Pink
A mix of winter berry and magnolia.
Victoria's Secret Oh What Fun Is
A frosted peony and amber.
Tweets included both of the hashtags #VictoriasSecret and
#lingerie
The annual Victoria's Secret runway spectacular (complete with
a performance by Kanye West this year) is just around the corner
on November 29.
Who doesn't love the Victoria's Secret Fashion Show? After
Miss Universe 2011, it's another showcase of the world's most
beautiful women, taut bodies and sexy lingerie.
Social Media Monitoring Table
http://www.huffingtonpost.com/2011/10/30/victo
rias-secret-angels-prague_n_1066075.html
http://twitter.com/#!/heavenbarger
http://cocoperez.com/2011-11-01-victoria-secretangeles-promote-their-new-bra-and-fragrance
Blog
High
10/30/11
Microblog
Low (198
Followers)
10/31/11
Blog
High
11/1/11
The girls are obviously beautiful and I wouldn't have any
problem with those commercials on after 10:00 PM but
seriously, the girls are in underwear, this shouldn't be shown on
TV in between shows that are appropriat-e for kids to then show
a commercial that is not appropriat-e for kids, if indeed, this
would happen. There's a time and place for everything-.
"heavenbargerHeaven Barger:
Okay girls, we get it, YOU LOVE PINK AND VICTORIA'S
SECRET"
Obviously enough people were tweeting about PINK to make
this person mention it.
The Angels came out to play earlier this Tuesday.
Victoria's Secret supermodels Candice Swanepoel and Erin
Heatherton posed for photos at the Victoria's Secret launch of the
Angel fragrance and the Dream Angels bra at the SoHo store in
New York City.
And while they both looked great, we're liking Candice's look a
bit more.
http://bit.ly/uCNQ0V
Website
High
11/2/11
http://www.catwalkqueen.tv/2011/11/whos_in_an
d_who.html
Website
Medium
11/4/11
http://www.fashiontofood.com/2011/11/supermo
del-diets-revealed.html
Blog
Medium
11/5/2011
The fitted dress is a win over Erin loosed and relaxed, long white
dress.
After the casting director for the show expressed glee that she is
old enough to walk this year (18 is the minimum age
requirement) Glamour writer Tracy Lomrantz tweeted that Kloss
has been confirmed for the gig. So everyone with their panties in
a twist about her being sexy (heavens! models do that!) can get
riled up, and the rest of her fans can just be excited to see what
she looks like wearing so much body glitter.
As we get closer to this year's Victoria's Secret Fashion Show,
the web is buzzing with reports of who is in and who is out of the
model line-up.
Last night, while watching TV, I noticed a twinkle in hungry
husband's eye... followed by a giant smirk on his face. No, it
wasn't a commercial for a quarter pounder. It was the firm superbodies jumping around in the Victoria's Secret Commercial.
Cheesy two-pieces in candy colors! Fur trimmed bras! Angel
wings and fairy dust! Le Nerf! Inviting themselves right into our
living room, parading around in their delicates and in the
Social Media Monitoring Table
process, testing my fairly healthy self-esteem. Now I'll say it in
English: the nerve!
Like most women, I have a coping mechanism with
"supermodels." They are aliens from another planet. They are
robots built by some secret society that serves the Devil. They
have a baffling medical condition that keeps them skinny. Their
parents are models/half breeds/Dutch so they won the genetic
lottery. I mean, I can keep going but you get the gist. And like
most women, I despise the thought that these supermodels do
absolutely nothing while I work hard to maintain my shape.
Well, it turns out some supermodels are equally as challenged as
us, ordinary women.
http://www.popsugar.com/Pictures-VictoriasSecret-Fashion-Show-Over-Years-20246186
http://bit.ly/uHPvGg
http://steadysplits.wordpress.com/2011/11/06/wh
at-are-you-wearing-under-there/
Website
Medium
11/6/11
The Victoria's Secret Fashion Show is happening November 9,
and in anticipation for the big event, we're taking a look at all the
backstage chaos, hot performances, and runway glamour from
year's past.
Microblog
High (9,888
Followers)
11/6/11
Blog
Medium
11/6/2011
Miranda Kerr and her baby boy, Flynn are spotted hanging out
together in New York. What a very cute baby she has!
pic.twitter.com/wTftIbnH
My wedding day is one time that I don't want to worry about
adjusting or fixing or smooshing things back into place. So
option one it was!
When I went shopping for a strapless bra, I also had to keep
another aspect of my dress in mind: the back. The very
looooooow back. I tried on some bustiers and long-line bras at
Macy's and Nordstrom; however, I wasn't having much luck
searching on my own. So I turned to my sister for some help. She
works for Victoria's Secret, and she was able to point me in the
right direction. I ended up buying the Back Off Baby Low-back
Bustier, which she also wore for her own wedding in September!
It fits perfectly under my own dress. More importantly, it passed
a test run under another strapless dress last month at a friend's
wedding. It kept me lifted and supported. I put it on and did not
have to think about it again until it was time to take it off.
My sister also gifted me a royal blue Lacie thong as my
something blue. It adds a little bit of sexiness to my otherwise
(very) beige underthings.
Social Media Monitoring Table
https://twitter.com/#!/StyleIntimate
http://pulsemgmt.blogspot.com/2011/11/hannahholman-poses-for-victorias.html
Microblog
Medium (842
Followers)
11/7/11
Blog
Medium
11/7/11
Victoria's Secret Angel Diet Revealed: Egg Powder, No Solids &
Gallons Of Water!: Just talk to a Victoria's Secr...
http://bit.ly/vCovmX
Around this time every year, our minds turn to one thing: the
annual Victoria's Secret Fashion Show! And the excitement for
this year's glittery event has already begun, since Adriana Lima
decorated New York City with the $2 million Fantasy Bra just
last week.
Since our brain is filled with wings, over the top lingerie outfits,
and angels, it makes perfect sense to give into the VS addiction
and flip through the latest catalogue, right?
While perusing the latest offerings and model poses, we spied
none other than adorable Hannah Holman, dressed up in VS Pink
gear! Interestingly, hers is not the only surprising model
appearance in collegiate sweats and precious bright colors as of
late. Remember back in June when we spotted Coco Rocha
jumping alongside Behati Prinsloo and Chanel Iman?
http://idolator.com/6069332/nicki-minaj-performvictorias-secret-fashion-show
Website
Medium
11/7/11
http://toknowbetter.wordpress.com/2011/11/07/al
sops-law-three-learn-to-play-to-many-audiences/
Blog
Medium
11/7/2011
Now the real question is: Does this mean Hannah could very
possibly make an appearance on the 2010 Victoria's Secret
runway? She is 19, so her age wouldn't be an issue…
Though Cee Lo Green has pulled out of performing at the
Victoria's Secret Fashion Show, his replacement ain't too
shabby: Nicki Minaj will join Kanye West and Maroon 5 during
the fashion event, which will air November 29 at 10 p.m. on
CBS.
For a long time, it was okay to push the envelope, with ads that
were more and more risqué, but that only has so much staying
power. People pay attention, and they don't put up having their
intelligence be insulted.
The same type of phenomenon happened to Victoria's Secret.
When the company began, their brand promise went something
like this: We make lingerie for real women, who are somewhat
modest and have zero interest in tacky feather-laden teddies from
Frederick's of Hollywood. We will properly fit you for a
brassiere that is uniquely for you, and will last for five years. But
a couple of years ago, VS was selling Fredericks-esque teddies
and trying to convince me that I needed to throw away perfectly
Social Media Monitoring Table
good a year-old class of bras to buy Tyra Banks' or Heidi
Klum's favorite because it was "just better bra technology."
Yeah, my foot.
What happened? How did they stray so far from their brand
promise? VS did have very good success with its Pink line, for
younger women, but they may have lost the market that has more
money to spend: Women who are "of a certain age."
*Online resources like Quantcast (http://www.quantcast.com/), Alexa (www.alexa.com), Klout (www.klout.com) and Technorati
(http://technorati.com/) can provide statistics that can help you determine the credibility of each particular source, blog or Web site.