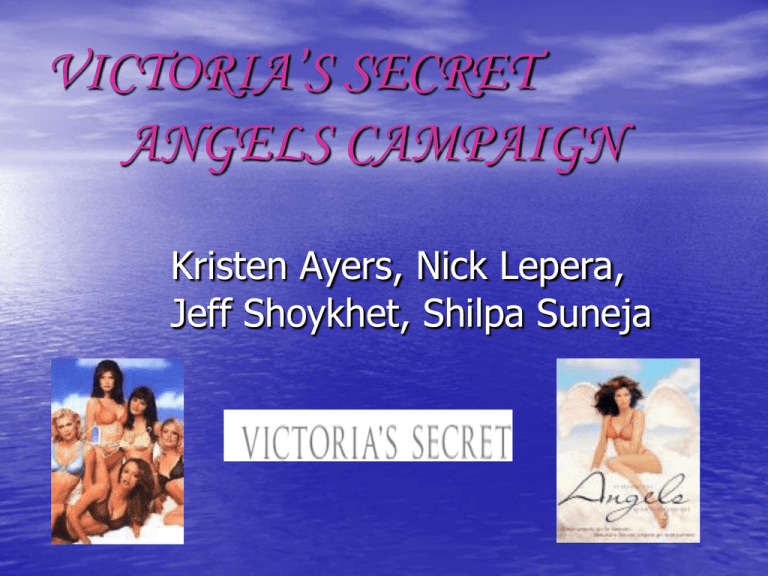 VICTORIA'S SECRET
ANGELS CAMPAIGN
Kristen Ayers, Nick Lepera,
Jeff Shoykhet, Shilpa Suneja
Background
• 1970-San Francisco by Roy Raymond
• 1982-Became part of Limited Brand
– Grew from 3 stores to over 1000 stores
• Campaign started for Valentine's Day
•
in 1999
Initial campaign increased sales
– 2000: 956 million
– 2001: 962.4 million
– 2004: 995 million
• Currently over 400 million catalogue circulation
Positioning
• Competitors: Frederick's
of Hollywood, Trashy
Lingerie (more erotic)
and La Senza (less
expensive), Hennes &
Mauritz (using
supermodels)
• Victoria's Secret is known as
THE BEST BUT… Gap and
Abercrombie & Fitch
could be a possible threat
in the long-term
Target Market
• "She's not a person or an embodiment, but
•
an aspirational client envisioned for the
brand…She's in her late 20s, has lived in
Europe, has a job, and is very fashionable.
She's a woman, not a girl, and is somewhat
worldly and interested in traveling" Wendy
Burden, VP Operations
18 to 34 year old women (Appeal also to
men's fantasies)
Objectives of Campaign
• Increase market
•
•
share
Build brand
awareness
Build brand equity for
current customers
Customers' and Competitors' View
Customers:
• Attitudes: like feeling
sexy, romantic, beautiful
• Preferences: classier,
more pure
• Intentions: To satisfy
inner desires
• Behavior: To be fulfilled
by buying product
Competitors:
• Hard to penetrate market
• Trying a more risqué
approach to differentiate,
drawing attention (School
Girls)
Model of Information Processing
• Exposure: TV ads, catalogue, online fashion
•
•
•
•
•
show, television fashion show (all have one clear
message)
Attention: use emotional appeal to
persuade/communicate message(Using the
product on supermodel)
Comprehension: Simplistic, picturesque
Yielding: credible source
Retention: Appeal is Unique, SEX SELLS, Known
models used
Behavior: Linked to self-image: AIDA, go out
and buy, to feel "like an angel"
Fashion Show
• http://www.cbs.com/specials/victorias_sec
ret/video.shtml
FCB GRID
• Victoria's Secret is a high involvement, high feel product
•
•
•
(Experiential Hierarchy)
Deals with emotional appeals linked to self-image
Campaign did an excellent job in appealing to those
looking to improve their self-image
Made customers feel like they can be sexy if they wear
the Angels line.
Strengths
• Website had highest
• Catalogue promoted
•
•
•
•
•
•
•
•
ratings in history (1.5
million viewers)
"Naughty but nice" was
unique, eye-catching
Brand name recognition
Using supermodels as
demonstrators
Use of a fashion show
House of Style
appearance
Hedonic appeal
Heavy product use in
advertising
•
•
•
campaign and product
Used sales promotion
tactics (coupons, etc.) to
attract customers to retail
store
Used vibrant colors
(product) and cloud
scenes in advertisement
Financial backing
Clear, concise message
Weaknesses
• Overly sexual content
• FIX-Find better time slots for
• Online crash
• FIX-They did-paying closer
(consumer could form negative
attitude)
• Promoting exclusively with
Victoria's Secret catalogue
• Recent Trend- Consumers
spending less on impulse items
commercials and use different
clothing (use of slips)
attention to forecasting
demand
• FIX- Advertise through other
print such as Cosmopolitan
and People
• FIX-Promote user friendliness
of product (Comfort, ex., Body
by Victoria)
Future Creative Approaches
• Pay-per-view for the fashion show (FCC
demands)
• Mini-movie- "Good versus Evil" (put as
trailer in movie theater)
• "Angel Search" for next angel to be used
in campaign (local level, involving stores)
– Victoria's Secret stores-broadcast finals on
national television (play by play)
More Future Opportunities
• Christmas Holiday Charity Event—toys for
•
tots
Auction off once-worn-by-Angel lingerie and
wings for charity
Thank you. We hope you have
enjoyed our presentation!
Questions?