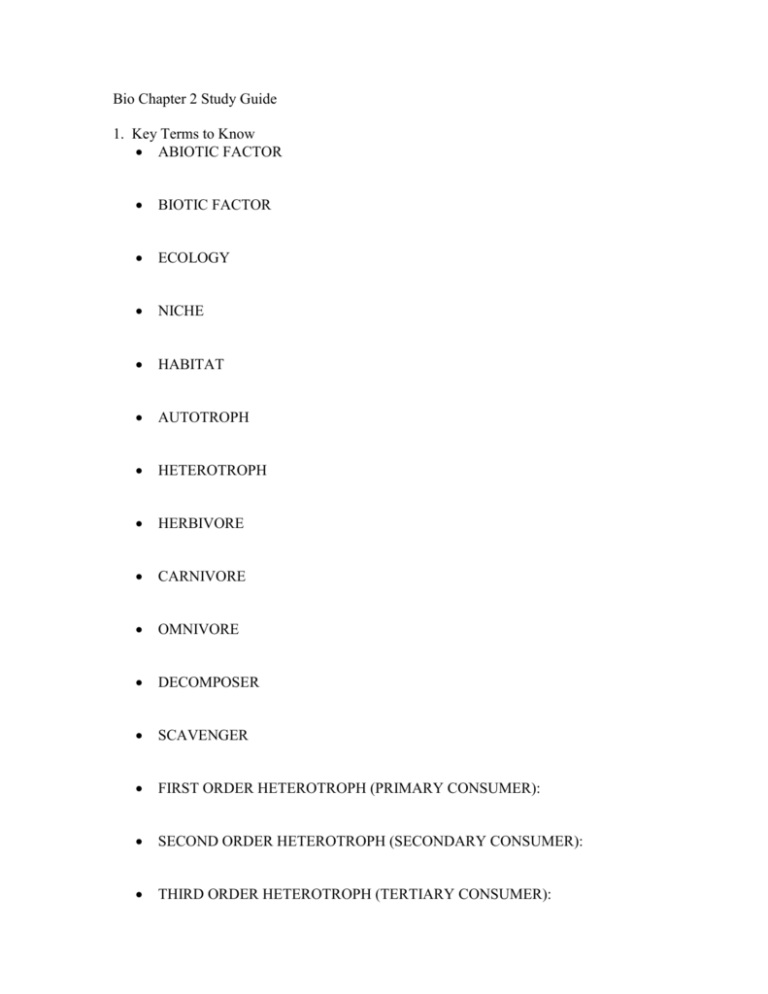 Bio Chapter 2 Study Guide
1. Key Terms to Know
 ABIOTIC FACTOR

BIOTIC FACTOR

ECOLOGY

NICHE

HABITAT

AUTOTROPH

HETEROTROPH

HERBIVORE

CARNIVORE

OMNIVORE

DECOMPOSER

SCAVENGER

FIRST ORDER HETEROTROPH (PRIMARY CONSUMER):

SECOND ORDER HETEROTROPH (SECONDARY CONSUMER):

THIRD ORDER HETEROTROPH (TERTIARY CONSUMER):

TROPHIC LEVEL:

FOOD CHAIN:

FOOD WEB:

POPULATION:

COMMUNITY:

ECOSYSTEM:

BIOSPHERE:

ORGANISM:

PARASITISM:

COMMENSALISM:

MUTUALISM:

SYMBIOSIS:
2. Compare and contrast a niche and a habitat
3. Describe how the amount of available energy changes as you move from the
producers to the top predators in a food chain, food web or energy pyramid. EXPLAIN
YOUR ANSWER!
4. Explain what the arrows in a food web or a food chain indicate? Draw a simple food
chain with three tropic levels to illustrate your explanation.
5. Compare and contrast a population, a community, and an ecosystem.
6. Be able to identify the autotrophs/producers, and the heterotrophs (specifically
carnivores, herbivores, omnivores) from a food web.