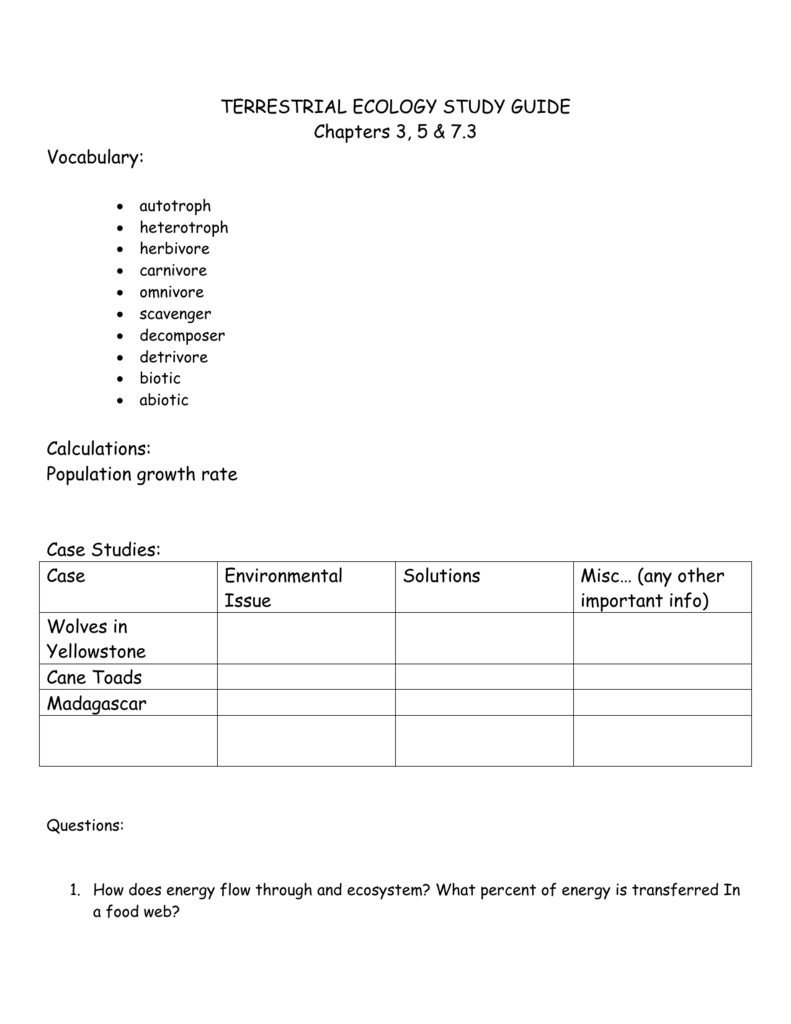 Vocabulary:










TERRESTRIAL ECOLOGY STUDY GUIDE
Chapters 3, 5 & 7.3
autotroph
heterotroph
herbivore
carnivore
omnivore
scavenger
decomposer
detrivore
biotic
abiotic
Calculations:
Population growth rate
Case Studies:
Case
Environmental
Issue
Solutions
Misc… (any other
important info)
Wolves in
Yellowstone
Cane Toads
Madagascar
Questions:
1. How does energy flow through and ecosystem? What percent of energy is transferred In
a food web?
2. Describe the following "players" in an ecosystem:
 Producer
 Consumers – primary, secondary, tertiary & quaternary
 Decomposers
3. Describe the following relationships:
 Symbiotic
 Parasitic
 Commensalism
 Mutualism
4. Define and provide an example of:
 Keystone species
 Indicator species
 Foundation species
5. Draw the each of the cycles AND describe how humans are impacting each cycle:
a. Diagram of the Carbon Cycle:
b. Diagram of the Sulfur Cycle:
c. Diagram of the Nitrogen Cycle:
d. Diagram of the Phosphorus cycle:
6. What are the Earth's biomes? Where can you find them and what are characteristics of
each?
7. What is ecological succession?
8. List examples of ecological disturbances both natural and human caused.
9. What is primary succession? How does it differ from secondary succession?
10. What are pioneer or early successional species?
11. What is a climax community?
12. What are macronutrients? Micronutrients? (include examples)
13. How can nutrients be limiting factors?