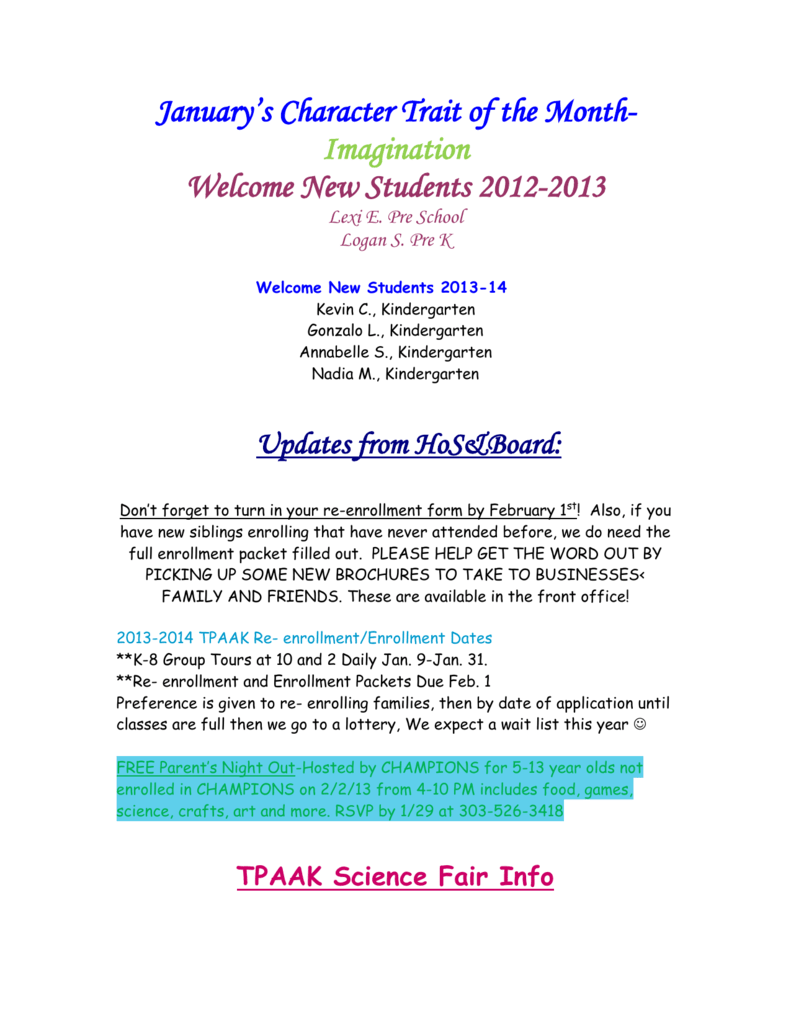 January's Character Trait of the MonthImagination
Welcome New Students 2012-2013
Lexi E. Pre School
Logan S. Pre K
Welcome New Students 2013-14
Kevin C., Kindergarten
Gonzalo L., Kindergarten
Annabelle S., Kindergarten
Nadia M., Kindergarten
Updates from HoS&Board:
Don't forget to turn in your re-enrollment form by February 1st! Also, if you
have new siblings enrolling that have never attended before, we do need the
full enrollment packet filled out. PLEASE HELP GET THE WORD OUT BY
PICKING UP SOME NEW BROCHURES TO TAKE TO BUSINESSES<
FAMILY AND FRIENDS. These are available in the front office!
2013-2014 TPAAK Re- enrollment/Enrollment Dates
**K-8 Group Tours at 10 and 2 Daily Jan. 9-Jan. 31.
**Re- enrollment and Enrollment Packets Due Feb. 1
Preference is given to re- enrolling families, then by date of application until
classes are full then we go to a lottery, We expect a wait list this year 
FREE Parent's Night Out-Hosted by CHAMPIONS for 5-13 year olds not
enrolled in CHAMPIONS on 2/2/13 from 4-10 PM includes food, games,
science, crafts, art and more. RSVP by 1/29 at 303-526-3418
TPAAK Science Fair Info
Get excited TPAAK! The annual Science Fair is coming up. Please look
through the information packet going home on Tuesday next week with
details and guidelines.
What: All students will complete a science project at home. Students can
choose to enter their projects into the fair for judging.
When: Students have until March 8th to complete projects at home. Projects
will be due to homeroom classes on Friday, March 8th. The science fair will
be held on Saturday, March 9th.
Where: The projects will be completed at home. The science fair will be in
the TPAAK cafeteria.
How: Students should complete projects with help from parents. They
should get creative and use the internet or the library for ideas. Students
should follow the steps of the Scientific Method!
Please contact Ms. Comerford for questions at [email protected]
Have fun and think like scientists!!!
~*~*~*~*~*~*~*~*
Midtown Arts Center's Academy is enrolling for K-12 acting,
musical theatre, and specialty classes! Sign up today before
classes are full!
These 10-week sessions will give your young performer the tools they need
to star on Broadway or simply star in their next school play! Specialized for
each age group, each class will focus on different elements of either Acting
or Musical Theatre technique ranging from music-reading, choreography, and
makeup to Shakespeare, improvisation, and theatre history.



Musical Theatre classes
 Grades 3-5: Tuesdays 4:30-5:45
 Grades 6-8: Tuesdays 5:45-7:00
 Grades 9-12: Tuesdays 5:45-7:00
Acting classes
 Grades 3-5:
Wednesdays 4:30-5:45
 Grades 6-8:
Wednesdays 4:30-5:45
Combo of both Acting and Musical Theatre
 Grades K-2: Tuesdays 4:30-5:45

Advanced Acting**
 Grades 8-12: Wednesdays 5:45-7:00
**Audition only class. Please contact the box office for more information.
Based on the core-curriculum style, students will receive instruction in all
aspects of their specialized class and will be age-appropriate in focus and
scope. Each class will culminate with a showcase of the skills learned over
the course of the semester held in our new Theatre One space.
Our fall classes run February 19 - May 1. Final performances will be held
on the weekend following the final week on May 4 & 5. There will be a weeklong break from March 18-22 for spring break. Tuition for each class is only
$239 and includes:




10 weeks of personal instruction from degreed professional actors (who are starring
in our Dinner Theatre and Young Audiences Series productions!)
The chance to perform in our brand new Theatre One space in front of family and
friends
Knowledge that will help young actors succeed in the professional theatre world
Priority registration for our upcoming Summer Academy Camps!
We offer a 10% discount for sibling groups, so be sure to sign up ALL of
your little performers!
Know someone who may be interested? If they give your name when they
register, YOU earn free tickets to the Dinner Theatre productions! Please
contact the box office for more details.
To register, simply call the box office at (970) 225-2555 or register quickly
online
Need-based scholarship opportunities are also available. For more information,
SAVE The Date:
Jan 28- 4th gr to Da Vinci Exhibit
Middle School Info Night- Jan 29 6PM
5-8 gr Author/Writer's wkshp- Jan 30
January 31- Donuts with mom 6-8 am, 6-8gr Da Vinci trip
February 1- Re enrollment packet due date
February 1- $1 to wear your favorite football jersey
February 5- PTLO Mtg- 6PM
February 8- E-learning day- NO School
February 11-22 3rd gr TCAP Testing
February 11- 5-6th gr Eco Week presentation
February 12- Bd. Mtg. 6PM- Free Childcare
February 18- No School!
~*~*~*~
Colorado Charter Schools Rally at the Capitol
Celebrating 20 Years!
Mark your calendar for the 2013 Colorado Charter Schools Rally. The event will
take place on Thursday, April 11 from 11:30 AM to 1:00 PM, on the west steps of
the Colorado State Capitol in Denver.
This year is our chance to show our state's elected officials the "face" of the 20th
generation of Colorado's charter schools students, and thank them for passing the
Colorado Charter Schools Act back in 1993. We want to have as many charter
school students at the Capitol on April 11 as possible.
The Colorado Charter Schools Rally is a great learning opportunity for students of
all ages. Take advantage of this chance to learn more about our state's legislative
process.
In addition to the rally, many other activities will be available including tours of the
Capitol, a display of charter school student artwork, opportunities to visit other
Denver attractions such as the U.S. Mint, museums, and more.
Art Room help needed:
Ms. Andrejasich is in need of help in these areas of the artroom. Some work can be
brought home and returned to school if that helps.
Times are flexible if you can spare an hour or two a week helping to keep the art
room in order and running smoothly! Thanks so much!
Students are in charge of art supply care in the art room but I check them often in
order to save on replacement costs.
Refill glue bottles, keep them clean
Color pencils, markers and crayons all in order
Check paint brushes and sinks to keep clean
All paints in proper cabinets and closed
Paint shirts hung up or bagged for laundry
Check clay tools and clay bags
Recycle dry clay, needs to be smashed put in large containers and soaked
Reference files in order
Art Library books on proper shelves
Sort art supply donations
Tables, stools and floor clean
Projects sorted and stored for yearend displays
Displays prepared and set up
Calling all young artists:
Submit your artwork for a chance to see it on the Google homepage. The
competition is open to students K-12 nationwide from January 15th through March
1st.
This year's theme:
"My Best Day Ever..."
For more information visit: www.google.com/doodle4google
Winning student receives a $30,000.00 scholarship to the college of their choice
and a trip to New York! The winning school receives a $50,000.00 grant for
technology!
BATTLE OF THE BARDS POETRY CONTEST
Teens (grades 6-12) and Adults! Write a poem and submit your entry in
Poudre River Public Library District's "Battle of the Bards" poetry contest.
Entries muse be received between February 1 and February 15, 2013.
Complete contest rules, how to enter, and prize information is available at
http://www.poudrelibraries.org/contact/pdf/contest.pdf.
SATURDAY STORYTIMES
Popular Saturday Storytimes continue at Council Tree Library where library
staff will share their love of books through stories, songs, fingerplays, and
more. This storytime is for children of all ages and their families. Saturdays
at 10:15 a.m. No registration needed.
ANIMAL AFTERNOON
Practice your reading with Larimer Animal People Partnership volunteers and
their special story-loving critters. Enjoy good books and the opportunity to
read to friendly animals. For children in grades K-5. 40-60 minutes. 3:00 p.m.
Old Town Library, 1st Sunday each month
Council Tree Library, 2nd Sunday each month
Harmony Library 4th Sunday each month
AFRICAN DRUM AND DANCE WORKSHOP WITH FALE
Old Town Library
February 9, 2013, 2:00 p.m.
Celebrate Black History Month by learning African drumming, dancing and
singing. Fale (Fort Collins African Drum & Dance Troupe)will lead kids of all
ages in a one-hour workshop that highlights the fundamentals of West
African Drum and Dance. This free program is open to all ages and sponsored
by the Poudre River Friends of the Library.
LOVE MY LIBRARY CONTEST
Poudre River Public Library District is once again having an "I Love My Library"
essay contest for library-lovers of all ages. Five winners will be picked, one from
each category according
to age: young child, youth, teen, adult, and senior. The winners will be awarded a
prize and winning essays will be featured on the District website. Essays should be
no more than 500 words and children ages 6 and under may draw a picture instead.
Submissions should be sent to Webster House, Attn: Library Lovers at 301 E. Olive,
Fort Collins, CO 80524 no later than February 28, 2013. Be sure to add your name,
address, phone number and age. For more information contact the Library District
at 221-6740.
Yoga for Parents!
There's an exciting new opportunity for parents in the Fort Collins
area who are interested in doing yoga! Since so often parents find it
difficult to arrange childcare so that they can go enjoy a yoga class, two
certified yoga instructors are offering yoga for parents! Bring your kids
with you, and one of us will look after them while the other guides you in a
relaxing and rejuvenating yoga experience.
The classes are held at Front Range Classical Ballet Academy, at 11:15
every Saturday morning. Just $8 covers the cost of a yoga class led by a
professional yoga instructor, and a fun and engaging childcare experience for
your child.
We hope to see you there!
-Alexi Atkins and Abrona Ferrari
Week of 1/28- 2/1 Lunch Menu
Monday, January 28th – Sloppy joe sandwich served with whole kernel corn and
fresh fruit
Tuesday, January 29th – Cheeseburger served with steamed California blend and
fresh fruit
Wednesday, January 30th – Pig in a blanket served with green beans and fresh
fruit
Thursday, January 31st – Chicken sandwich served with green peas and fresh fruit
Friday, February 1st – Pepperoni Pizza served with carrots and fresh fruit
*~*~*
TPAAK's Mission Statement
The mission of T.R. Paul Academy of Arts & Knowledge is to teach
students the joy of learning and the importance of expressing
individual talent artistically and academically while enhancing
community and culture.