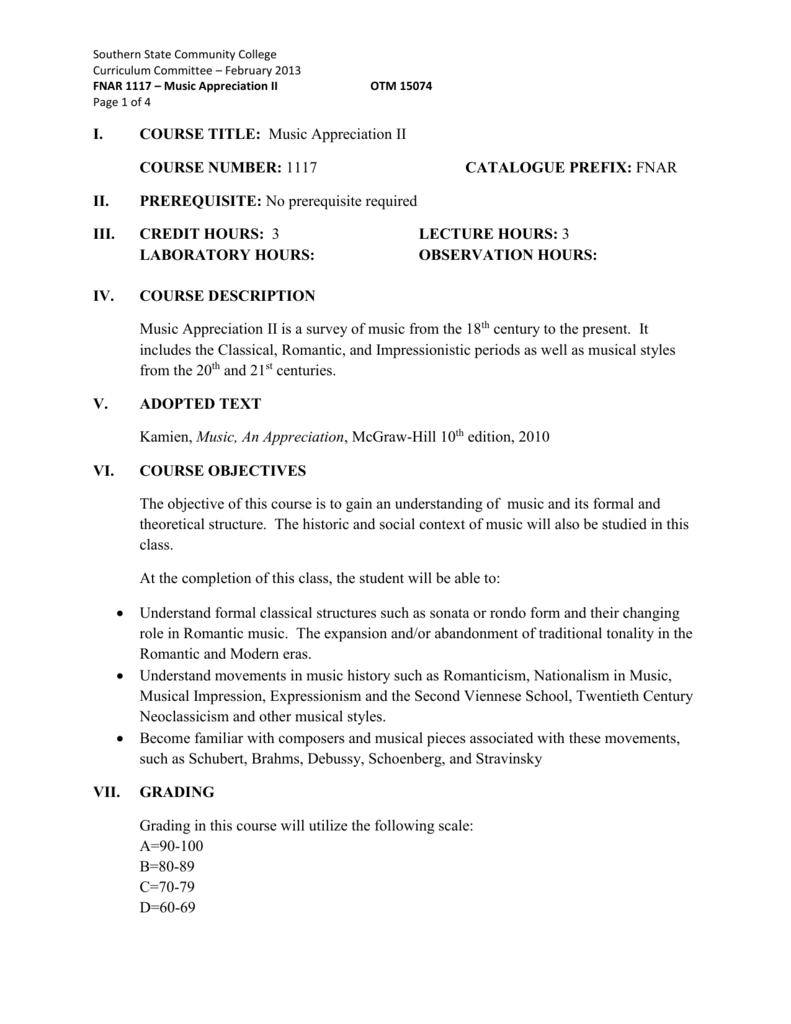 Southern State Community College
Curriculum Committee – February 2013
FNAR 1117 – Music Appreciation II
Page 1 of 4
I.
OTM 15074
COURSE TITLE: Music Appreciation II
COURSE NUMBER: 1117
II.
PREREQUISITE: No prerequisite required
III.
CREDIT HOURS: 3
LABORATORY HOURS:
IV.
COURSE DESCRIPTION
CATALOGUE PREFIX: FNAR
LECTURE HOURS: 3
OBSERVATION HOURS:
Music Appreciation II is a survey of music from the 18th century to the present. It
includes the Classical, Romantic, and Impressionistic periods as well as musical styles
from the 20th and 21st centuries.
V.
ADOPTED TEXT
Kamien, Music, An Appreciation, McGraw-Hill 10th edition, 2010
VI.
COURSE OBJECTIVES
The objective of this course is to gain an understanding of music and its formal and
theoretical structure. The historic and social context of music will also be studied in this
class.
At the completion of this class, the student will be able to:



VII.
Understand formal classical structures such as sonata or rondo form and their changing
role in Romantic music. The expansion and/or abandonment of traditional tonality in the
Romantic and Modern eras.
Understand movements in music history such as Romanticism, Nationalism in Music,
Musical Impression, Expressionism and the Second Viennese School, Twentieth Century
Neoclassicism and other musical styles.
Become familiar with composers and musical pieces associated with these movements,
such as Schubert, Brahms, Debussy, Schoenberg, and Stravinsky
GRADING
Grading in this course will utilize the following scale:
A=90-100
B=80-89
C=70-79
D=60-69
FNAR 117 Music Appreciation II
Page 2 of 4
F=below 60
VIII. COURSE METHODOLOGY
This course will utilize the Connect-Kamien software in conjunction with the adopted
text. Students will also access music through Classical Music Library and Naxos Music
Library. Assignments will be submitted electronically.
IX.
COURSE OUTLINE AND SCHEDULE
Week 1
Kamien Part 5 The Classical Style Overview
Week 2
Overview continued
Week 3
(Kamien Part 5) 3. Sonata Form 4. Theme and Variations 5. Minuet and Trio 6. Rondo
Week 4
Review, Test 1
Week 5
7. The Classical Symphony, 8. The Classical Concerto, 9. Classical Chamber Music 10. Joseph
Haydn
Week 6.
11. Mozart
Week 7.
12. Beethoven
Week 8
Review, Test II (Miderm)
Week 9
Kamien Part 6 The Romantic Period 1. Romanticism in Music 2. Romantic Composers and
Their Public 3. The Art Song 4. Franz Schubert
Week 10
FNAR 117 Music Appreciation II
Page 3 of 4
5. Robert Schumann 6. Clara Wieck Schumann 7. Frederic Chopin 8. Franz Liszt 9. Felix
Mendelssohn
Week 11
10. Program Music 11. Hector Berlioz 12. Nationalism in Nineteenth Century Music 13. Peter
Ilyich Tchaikovsky 14. Bedrich Smetana 15. Antonin Dvorak
Week 12
Review, Test 3
Week 13
16. Johannes Brahms 17. Giuseppi Verdi 18. Giacomo Puccini 19. Richard Wagner 20. Gustav
Mahler
Week 14
Kamien Part Seven The Twentieth Century and Beyond 1. Musical Styles 1900-1945 2. Music
and Musicians in Society, 3. Impresionism and Symbolism, 4. Claude Debussy, 5. Maurice
Ravel
Week 15
6. Neoclassicism 7. Igor Stravinsky 8. Expressionism 9. Arnold Schoenberg 12. Bela Bartok
13. Dmitri Shostakovich 14. Charles Ives 15. George Gershwin 16. William Grant Still 17.
Aaron Copland
Week 16
Finals Week Comprehensive Final
X.
OTHER REQUIRED BOOKS, SOFTWARE AND MATERIALS
No other materials are required
XI.
EVALUATION
This course utilizes the Connect-Kamien website from McGraw-Hill. Students will
complete assignments from each section on line. In addition, there will be tests given in
the classroom, a listening log, and a term paper to be completed by the student. These
criteria will be evaluated by the following percentages:
Tests
40%
FNAR 117 Music Appreciation II
Page 4 of 4
XII.
Assignments
20%
Listening Log
20%
Term Paper
20%
SPECIFIC MANAGEMENT REQUIREMENTS
A sound system to play musical examples is necessary. Also required will be a computer
and projector for power point presentations and classroom access to the Classical Music
and Naxos libraries.
XIII. OTHER INFORMATION
FERPA: work submitted in this class may be seen by others. Others may see your work
when being distributed during group project work or if it is chosen for demonstration
purposes. Papers may be submitted to other entities to determine if references are cited
appropriately. Plagiarism is a serious offense. Work submitted by the student must be
the student's own creation . The instructor reserves the right to fail any student who
submits failed or plagiarized work.
DISABILITIES Students with disabilities may contact the Disabilities Service Office
Central Campus at 800 628-7722 or 937 393-3431.