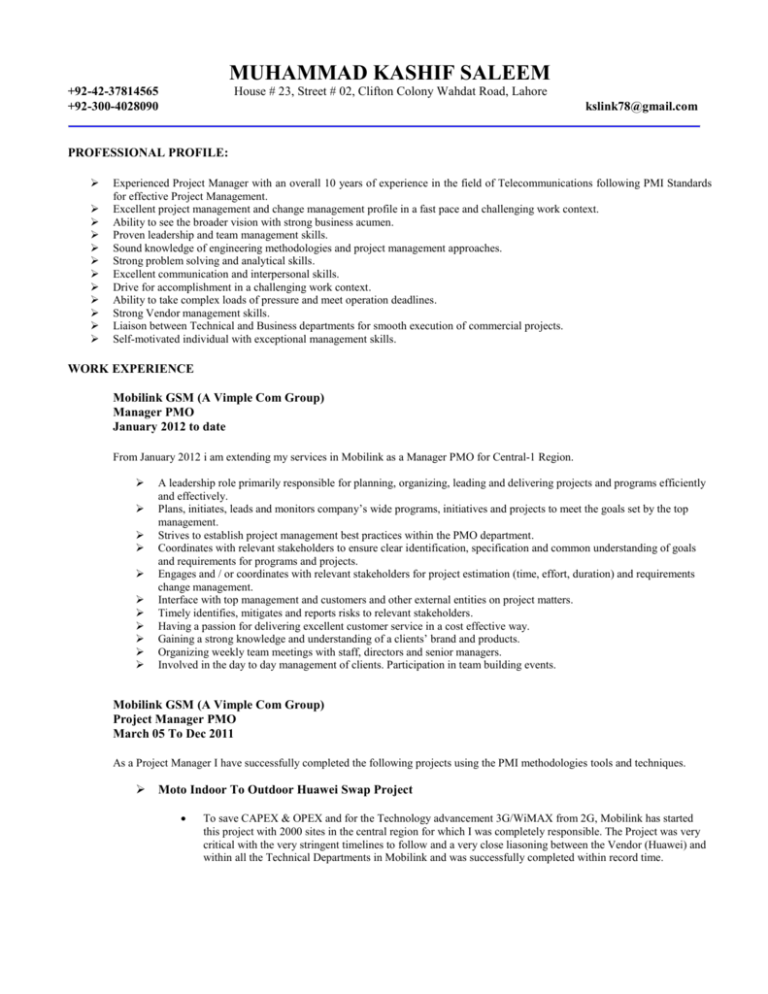 MUHAMMAD KASHIF SALEEM
+92-42-37814565
+92-300-4028090
House # 23, Street # 02, Clifton Colony Wahdat Road, Lahore
kslink78@gmail.com
PROFESSIONAL PROFILE:












Experienced Project Manager with an overall 10 years of experience in the field of Telecommunications following PMI Standards
for effective Project Management.
Excellent project management and change management profile in a fast pace and challenging work context.
Ability to see the broader vision with strong business acumen.
Proven leadership and team management skills.
Sound knowledge of engineering methodologies and project management approaches.
Strong problem solving and analytical skills.
Excellent communication and interpersonal skills.
Drive for accomplishment in a challenging work context.
Ability to take complex loads of pressure and meet operation deadlines.
Strong Vendor management skills.
Liaison between Technical and Business departments for smooth execution of commercial projects.
Self-motivated individual with exceptional management skills.
WORK EXPERIENCE
Mobilink GSM (A Vimple Com Group)
Manager PMO
January 2012 to date
From January 2012 i am extending my services in Mobilink as a Manager PMO for Central-1 Region.











A leadership role primarily responsible for planning, organizing, leading and delivering projects and programs efficiently
and effectively.
Plans, initiates, leads and monitors company's wide programs, initiatives and projects to meet the goals set by the top
management.
Strives to establish project management best practices within the PMO department.
Coordinates with relevant stakeholders to ensure clear identification, specification and common understanding of goals
and requirements for programs and projects.
Engages and / or coordinates with relevant stakeholders for project estimation (time, effort, duration) and requirements
change management.
Interface with top management and customers and other external entities on project matters.
Timely identifies, mitigates and reports risks to relevant stakeholders.
Having a passion for delivering excellent customer service in a cost effective way.
Gaining a strong knowledge and understanding of a clients' brand and products.
Organizing weekly team meetings with staff, directors and senior managers.
Involved in the day to day management of clients. Participation in team building events.
Mobilink GSM (A Vimple Com Group)
Project Manager PMO
March 05 To Dec 2011
As a Project Manager I have successfully completed the following projects using the PMI methodologies tools and techniques.

Moto Indoor To Outdoor Huawei Swap Project

To save CAPEX & OPEX and for the Technology advancement 3G/WiMAX from 2G, Mobilink has started
this project with 2000 sites in the central region for which I was completely responsible. The Project was very
critical with the very stringent timelines to follow and a very close liasoning between the Vendor (Huawei) and
within all the Technical Departments in Mobilink and was successfully completed within record time.

Site Sharing Project


In-Building Solutions (IBS)






Being the key interface between the Technical and commercial teams, PMO ensures that Mobilink "High-End"
customers get exceptional service. To provide seamless coverage different technical means are used including
Nano-BTS, Repeaters, Micro/Minis/Macro Sites. This is to ensure total customer satisfaction and to reduce
churn.
Reporting & Control






An initiative by the CTO, this project is aimed at standardizing all the SOPs, Process Flows and Job
Descriptions amongst the technical departments of Mobilink. The major deliverable is a standard document
which encapsulates details of all the technical departments. I am pivotal in implementation of this project.
Privileged Services to Corporate Customers


Project management for network rollouts and expansions in over 140 cities based on the internal customer
requirements and business needs.
Serving as an interface between different departments for smooth execution in all the processes including site
Identification, Acquisition, Build out and subsequent commissioning.
Experience of Rolling out of over 4,000 Cell sites in Central region.
Project Managed the Edge Activation in the Mobilink Central Region. The project was successfully completed
within the required timeline and Edge was activated on 111sites across the region.
Serving as a single point contact between Higher Management in the Head office and the Rollout teams in the
regions. In this regard maintaining the Project Update and raising Red Flags so that issues and slippages are
identified and resolved in their infancy.
Technical Procedure Standardization Project


The project is aimed at providing complete coverage to the buildings identified by Marketing. The high revenue
buildings are marked based on the high ARPU. The In building Coverage Solution Project of Mobilink Central
Region is effectively managed with the 90% success rate.
Network Roll Out for Central Region


In order to optimize costs and reduce OPEX, Mobile Operators have initiated site sharing project in Pakistan. I
was involved in this project since the inception, planning and subsequent execution phases. This project
involved rigorous liaison between stakeholders, risk identification, effective communication and monitoring and
control. A total of over 700 plus sites were smoothly shared between Mobilink and its competitors to reduce the
expenses.
Gather, compile and include inputs to Monthly/Bi-Weekly Reports.
Generating weekly, Biweekly & Monthly Periodic Reports on Project Progress.
Holding Weekly meetings on different Projects to avoid any kind of slippages in the projects.
Managing, processing and controlling all projects planning and scheduling documentations in accordance with
agreed procedures & SOP's.
Defining all kind of SOP's & SLA's with Internal and External Stakeholders.
Procurement & Contracts





Managing different types of contracts i.e. Fixed Prices Subcontracts, Indefinite Quantity Subcontracts and
Blanket Purchase Orders.
Analysis of various time & material subcontracts budgets, resolving subcontractor's problems with support
from the Subcontracts Director and in coordination with project technical teams.
Awarding task orders and their performance monitoring.
Negotiations and approval of budget for different task orders.
Analyzing and ensuring consistency of contract administration based on vendor feedback.
Nortel Networks
Project Coordinator Reporting & Control
March 18th 2002 to March 31st 2005
The main responsibilities included: 
Updating the Project Plan and Generating Periodic Reports on Project Progress.

Coordinating with BSS and Cell Planning, Production, Deployment and Acquisition Departments for Rollout Project.

Holding weekly meeting with QOS (Quality of Service) to identify various issues related to customer complaints and then
devising strategies to close all pending issues in time to achieve a high level of customer satisfaction.

Planning and coordinating with RF Planning, RF Optimization and QOS (Quality of Service) for addressing all
coverage/optimization related issues in the network.

Planning of special projects like HBA Reduction, Hardware swaps etc. This includes assigning deadlines and delivering the
results in time.
Mobilink GSM (A Vimple Com Group)
The work experience here at PMCL included two spheres of expertise. These are stated as follows:-
Customer Services Representative
February 2000-Februrary 2002
The main responsibilities included: 
Handling all sorts of customer complaints and keeping the diverse customer base satisfied.

Liaising between various Departments for the timely solution of Customer Complaints.
Education
Degree
Institute
Grade
MBA
B. Com
Higher Secondary
Al-Khair University, Lahore
Punjab University, Lahore
Govt. College of Science, Lahore
A
A
B
Professional Trainings









Successfully completed the Training Programme "Train The Trainer" and passed with distinction.
4 Days Project Management Training from LUMS
Successfully completed the People Manager Toolkit Programme (Feb 09-Dec09)
3 Days Project Management Workshop By ESI International Singapore
Six Days Project Management Workshop By PMI Earned 35 PDU's
Mobile Network Explained By Telecom's Academy UK
Received Certificate of Achievement for "Conquering Your Projects" By Business Management Consultants
Stress & Conflict Management By Navitus
Communication Skills By Gem International Productivity Solutions
ACCOMPLISHMENTS

Received Achievement Award for Being Number 1 region in Site Sharing Project.

Received Century Club Award twice for the year 2010 & 2011 (Century Club Award is awarded to the Top 100 employees of
Mobilink)

Was Awarded the Employee Of the Month on three occasions while working in Mobilink GSM.

Received Inter Departmental Recognition Award from CS-Club Indigo Team.

Received Achievement Award in recognition of Best Performance in Center 1 region.
REFERENCES
Will be provided as per requirement.