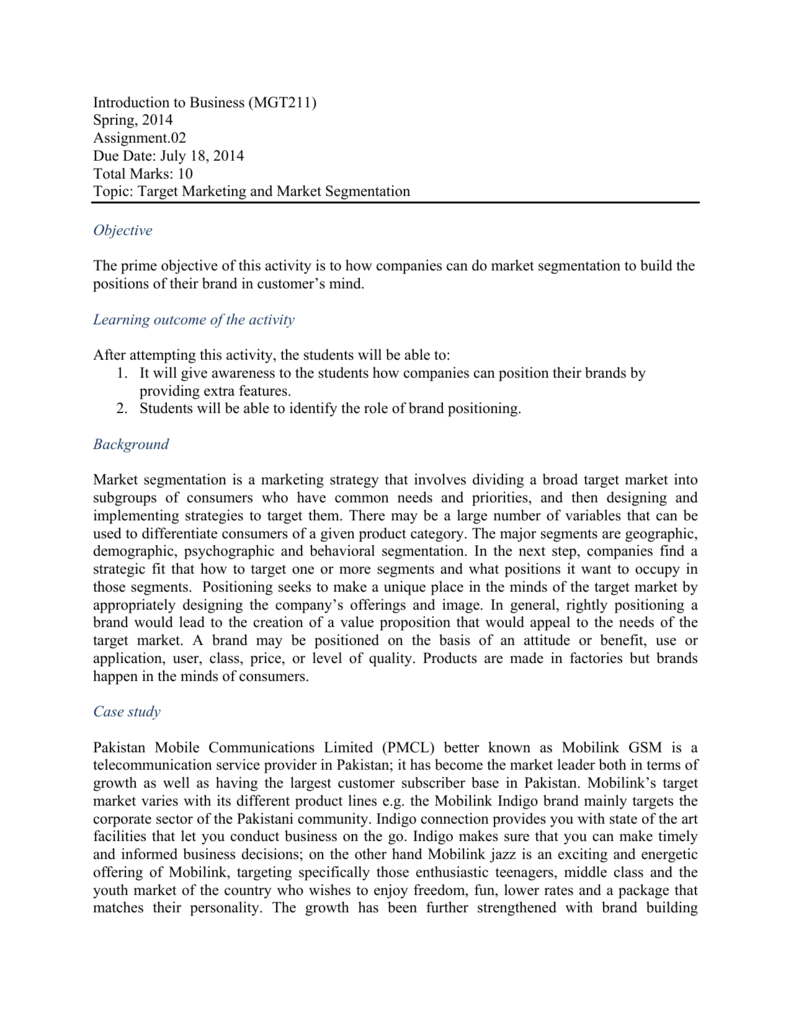 Introduction to Business (MGT211)
Spring, 2014
Assignment.02
Due Date: July 18, 2014
Total Marks: 10
Topic: Target Marketing and Market Segmentation
Objective
The prime objective of this activity is to how companies can do market segmentation to build the
positions of their brand in customer's mind.
Learning outcome of the activity
After attempting this activity, the students will be able to:
1. It will give awareness to the students how companies can position their brands by
providing extra features.
2. Students will be able to identify the role of brand positioning.
Background
Market segmentation is a marketing strategy that involves dividing a broad target market into
subgroups of consumers who have common needs and priorities, and then designing and
implementing strategies to target them. There may be a large number of variables that can be
used to differentiate consumers of a given product category. The major segments are geographic,
demographic, psychographic and behavioral segmentation. In the next step, companies find a
strategic fit that how to target one or more segments and what positions it want to occupy in
those segments. Positioning seeks to make a unique place in the minds of the target market by
appropriately designing the company's offerings and image. In general, rightly positioning a
brand would lead to the creation of a value proposition that would appeal to the needs of the
target market. A brand may be positioned on the basis of an attitude or benefit, use or
application, user, class, price, or level of quality. Products are made in factories but brands
happen in the minds of consumers.
Case study
Pakistan Mobile Communications Limited (PMCL) better known as Mobilink GSM is a
telecommunication service provider in Pakistan; it has become the market leader both in terms of
growth as well as having the largest customer subscriber base in Pakistan. Mobilink's target
market varies with its different product lines e.g. the Mobilink Indigo brand mainly targets the
corporate sector of the Pakistani community. Indigo connection provides you with state of the art
facilities that let you conduct business on the go. Indigo makes sure that you can make timely
and informed business decisions; on the other hand Mobilink jazz is an exciting and energetic
offering of Mobilink, targeting specifically those enthusiastic teenagers, middle class and the
youth market of the country who wishes to enjoy freedom, fun, lower rates and a package that
matches their personality. The growth has been further strengthened with brand building
activitiess that havee ensured that jazz and indigoo remain synonymouus for prem
mium
telecomm
munication services for which
w
they are
a close to thhe hearts and minds of tthe customerrs.
Requirem
ment:
Keeping in view th
he aforemen
ntioned bacckground annd case youu are suppoosed to connduct
positionin
ng analysis on
o the basis of price and
d service quaality of Mobbilink against its competiitors?
(Telenor,, Warid, U-ffone and Zon
ng) in this po
ositioning m
map?
Importa
ant Instruction: Firsstly you need n
to p
place the Mobilink in the maatrix relative
e to its competitors and then
n provide aa detailed
d description to sup
pport your arrgument along with the posittioning maap given. 55 marks for placingg the Mobilin
nk in the positioning map and 5 marks fo
or its logicaal reasonin
ng. Pricee (Highh) Servvice Quality (High) Servvice
Quaality
(Low
w)
Price (Low)
For your understanding, see the below example of developing a positioning map:
Important:
Grace period of extra 24 hours after the due date is usually available to overcome uploading
difficulties. This extra time should only be used to meet the emergencies and above mentioned
due dates should always be treated as final to avoid any inconvenience.
Important Instructions:
 Take help from internet for collecting the information.

Carefully watch relevant lectures and consult the relevant material from handouts along
with recommended books.

Attempt the assignment by yourself and it will be entertained positively.
Other Important Instructions:
Deadline:
 Make sure to upload the solution file before the due date on VULMS.

Any submission made via email after the due date will not be accepted.
Formatting guidelines:
 Use the font style "Times New Roman" or "Arial" and font size "12".

It is advised to compose your document in MS-Word format.

You may also compose your assignment in Open Office format.

Use black and blue font colors only.
Referencing Guidelines:
 Use APA style for referencing and citation. For guidance search "APA reference style"
in Google and read various website containing information for better understanding or
visit http://linguistics.byu.edu/faculty/henrichsenl/apa/APA01.html
Rules for Marking
Please note that your assignment will not be graded or graded as Zero (0), if:

It is submitted after the due date.

The file you uploaded does not open or is corrupt.

It is in any format other than MS-Word or Open Office; e.g. Excel, PowerPoint, PDF etc.

It is cheated or copied from other students, internet, books, journals etc.
Note related to load shedding: Please be proactive
Dear Students!
As you know that Post Mid-Term semester activities have been started and load shedding
problem is also prevailing in our country now a days. Keeping in view the fact, you all are
advised to post your activities as early as possible without waiting for the due date. For your
convenience; activity schedule has already been uploaded on VULMS for the current semester,
therefore no excuse will be entertained after due date of assignments, quizzes or GDBs.