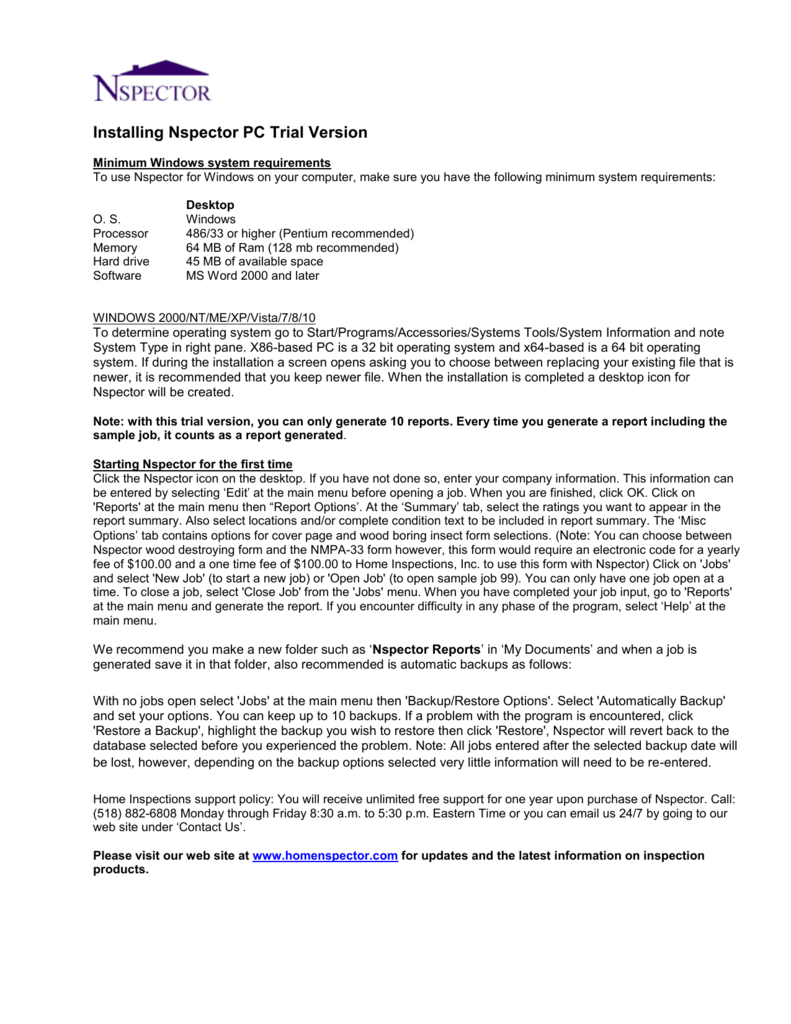 Installing Nspector PC Trial Version
Minimum Windows system requirements
To use Nspector for Windows on your computer, make sure you have the following minimum system requirements:
O. S.
Processor
Memory
Hard drive
Software
Desktop
Windows
486/33 or higher (Pentium recommended)
64 MB of Ram (128 mb recommended)
45 MB of available space
MS Word 2000 and later
WINDOWS 2000/NT/ME/XP/Vista/7/8/10
To determine operating system go to Start/Programs/Accessories/Systems Tools/System Information and note
System Type in right pane. X86-based PC is a 32 bit operating system and x64-based is a 64 bit operating
system. If during the installation a screen opens asking you to choose between replacing your existing file that is
newer, it is recommended that you keep newer file. When the installation is completed a desktop icon for
Nspector will be created.
Note: with this trial version, you can only generate 10 reports. Every time you generate a report including the
sample job, it counts as a report generated.
Starting Nspector for the first time
Click the Nspector icon on the desktop. If you have not done so, enter your company information. This information can
be entered by selecting 'Edit' at the main menu before opening a job. When you are finished, click OK. Click on
'Reports' at the main menu then "Report Options'. At the 'Summary' tab, select the ratings you want to appear in the
report summary. Also select locations and/or complete condition text to be included in report summary. The 'Misc
Options' tab contains options for cover page and wood boring insect form selections. (Note: You can choose between
Nspector wood destroying form and the NMPA-33 form however, this form would require an electronic code for a yearly
fee of $100.00 and a one time fee of $100.00 to Home Inspections, Inc. to use this form with Nspector) Click on 'Jobs'
and select 'New Job' (to start a new job) or 'Open Job' (to open sample job 99). You can only have one job open at a
time. To close a job, select 'Close Job' from the 'Jobs' menu. When you have completed your job input, go to 'Reports'
at the main menu and generate the report. If you encounter difficulty in any phase of the program, select 'Help' at the
main menu.
We recommend you make a new folder such as 'Nspector Reports' in 'My Documents' and when a job is
generated save it in that folder, also recommended is automatic backups as follows:
With no jobs open select 'Jobs' at the main menu then 'Backup/Restore Options'. Select 'Automatically Backup'
and set your options. You can keep up to 10 backups. If a problem with the program is encountered, click
'Restore a Backup', highlight the backup you wish to restore then click 'Restore', Nspector will revert back to the
database selected before you experienced the problem. Note: All jobs entered after the selected backup date will
be lost, however, depending on the backup options selected very little information will need to be re-entered.
Home Inspections support policy: You will receive unlimited free support for one year upon purchase of Nspector. Call:
(518) 882-6808 Monday through Friday 8:30 a.m. to 5:30 p.m. Eastern Time or you can email us 24/7 by going to our
web site under 'Contact Us'.
Please visit our web site at www.homenspector.com for updates and the latest information on inspection
products.